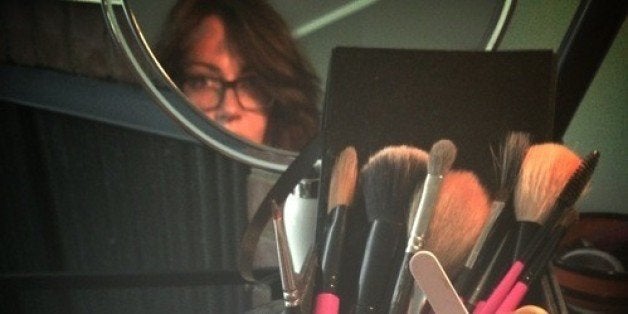 This is what I do. A kind of secret I'm letting you in on. I line my lips with a Nars rose tinted pencil, I pat my eyelids with fine Lorac powder, I dab a rosy MAC stain on my cheekbones -- which are lost these days but then like magic they appear, blossom colored, vibrant, almost like they used to be. I do this and more -- so much more -- after I brush my teeth, before I go to the gym, when I need to run to CVS for toilet paper, as I walk toward the ocean shore. I do this all the time. I am that woman.
You look nice without that stuff, my husband says, none the wiser that even when I appear bare-faced, I am not. It's painstaking, the blending, smearing, patting, so that nothing shows, but it's always there, a fine layer of dust and shimmer like a veil, shrouding me from the world because I don't know how else to do it.
At 10, I stand in Woolworth's and choose a 99-cent lipstick, because that's all I've got, a dollar and 25 cents, for tax. It smells like moth balls and plastic and leaves my mouth dry and caked, but now the coral will catch their eye and not the sad state of my front teeth. I want Mood Lipsticks and Kissing Koolers, but they're too expensive. I want Dial-A-Lash and Jane eyeshadows. I want the whole aisle. I dream of Maybelline.
At 12, I run my fingers over my forehead and feel the bumps, like grains of sand, white and tiny, pimples sprinkled from temple to temple and I want to cry. I swipe my skin with a white sponge, now soaked with Max Factor Silk Perfection in Deep Beige, even though I'm miles away from anything beige. I paint my face trying not to look at it. I dream of Prescriptives. I dream of beauty you can't buy at the supermarket, but I can't afford it, just yet.
At 17, I run into the bathroom, my boyfriend still sleeping, and I trace my fingers under my eyes and I fumble for my jar of concealer. My hands shake. I smooth my mouth with a tiny slanted sponge until my lips glimmer with Cover Girl Outlast Antique Rose. I pick the clumps of mascara from my eyelashes, tearing out one or two in the process. I reapply. I spend my teenage years doing this; reapplying. I love my boyfriend but he is new and he has never seen my face unmasked. I envy the boys with acne scars in broad daylight because there is nothing on TV to tell them they should hide their flaws.
At 21, Sephora changes my life. I can dawdle, my wrist a collage of colors and charcoal lines, my wrist stained for hours after. I am left to my devices, what will make me prettier better a painting come to life. I run into the store mid-auditions, after lunches, to freshen up, to try something I'd never buy like that 45-dollar Chanel bronzer.
At 30, I am smart, sassy, outspoken, married, a new mom. I am better than makeup but it's an old habit and those don't die, they can only dwindle if you look the other way, but I can't. I am sleepless and sore from breastfeeding. I am a walking zombie, but two coats of Great Lash calm me down.
I want to say makeup brings me happiness, because it does. But I don't know why I f**king need it so much. I don't know why my purse is eternally weighed down by expensive compacts and cover up sticks and blush brushes. I don't know why I can wear the same shirts for weeks and years but I buy new lip balms every few days and when I do I spend too much -- do you want a basket, honey? -- and I give away all my old shit to the babysitter's daughters and I am joyful as I unwrap the new stash, the beautiful cellophane tearing like translucent skin.
My mother curled her lashes with a kitchen knife and that was it. There was nothing to pilfer from her pocketbook or bedroom nightstand. She showed her freckles as they were. She had pretty, mauve lips that never saw a purchased shade, not until I began buying and sharing. So where, then? Where does it come from -- me at the vanity, expert now, at how to become flawless. It is a vestige of feeling hapless, worthless, less than, a foreigner. The one way to mesh in, to blend in, was by literally doing just that. By snapping my fingers and voila; a better version, a face like I dreamed of -- perfect, pleasant, like an American sitcom.
At 37, I go to a beach house with my family. I pack my pink Marc Jacobs cosmetics bag, just golden sun-kissed colors, copper shimmers, plus Bobbi Brown eyebrow pencil, plus a base, just in case, plus three different face creams. But somehow I've forgotten the mascara. The mascara is crucial. It brings out the blue in my gray eyes, and helps me look awake. It's not waterproof but that doesn't matter. For three days, I tan and swim and play board games with the neighbors and laugh and eat burgers grilled to perfection, all the while hoping no one notices my eyelashes, which, without help, look like thinning whiskers. I ponder running out for groceries and stopping by a drugstore, anything will do, Rimmel, NYX, whatever. But I don't. I tell myself I can do it. I tell myself I am a grownup, I am curvy and newly-bronzed from midday rays, and I am fine. My hair smells like sea salt and Pantene. I don't need makeup. I am laying in the sand, on the water's edge, and it doesn't matter what my eyes look like. My husband loves me and he's seen me worse. It's ok.
Why is it that a woman has such a hard time feeling good in her skin when her skin is stripped bare of potions and lotions and creams, when there is not filter or Photoshop? They will point and stare, and worse, they will leave a comment. Even those magazine editorials boasting "STARS WITHOUT MAKEUP" are touched up and perfected. I flip through the pages, through the morning time selfies and I know, I know there is concealer.
We get back home and I go upstairs and find the shiny tubes, so many, Black Noir, Volume Pump, Smashbox Photo Op. I take a shower and wipe my face clean. And then I cover it all up.
I go downstairs to feed the dog.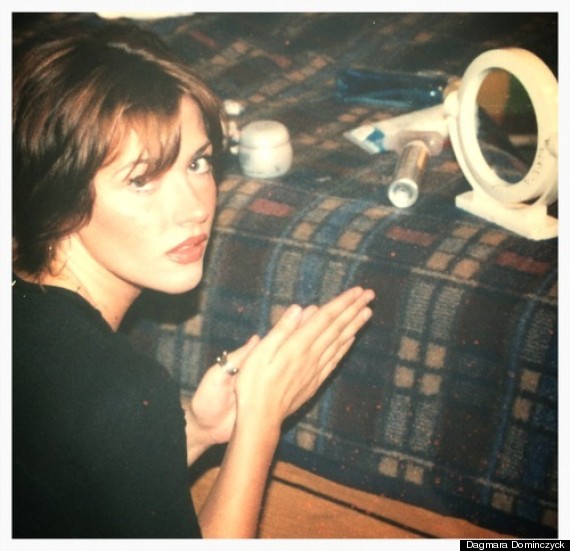 Calling all HuffPost superfans!
Sign up for membership to become a founding member and help shape HuffPost's next chapter