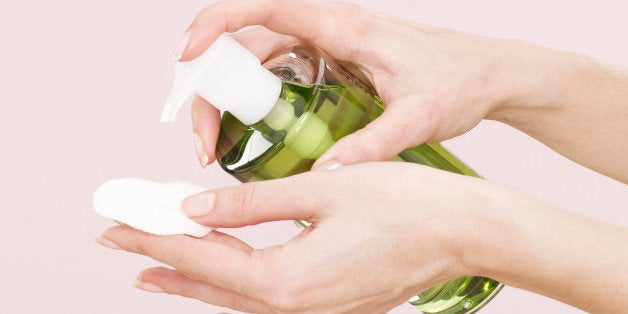 Whether your beauty routine involves applying several layers of foundation or you prefer to keep things simple with just a little mascara and lip gloss, at the end of the day, you've got to get that makeup off. (If not, you could end up looking like this.)
The editors here at The Huffington Post swear by countless makeup removers, from Lancôme Bi-Facil to Pond's cold cream to Cetaphil lotion. Once we've discovered a product that gets the job done, it's hard for us to try something new. But could our makeup removers actually be bad for our skin?
Most makeup removers are harmless for your skin, but ingredients matter.
According to board-certified dermatologist Dr. Jeanine B. Downie, any harmful effect will depend on the individual product and sensitivity of the person's skin.
For example, if you have very sensitive skin or chronically dry eyes, you may notice that you react differently to certain makeup removers. Alcohol-based removers can be especially irritating or drying to the skin. Downie also cautions that unconventional makeup removers, such as baby oil, can block pores significantly and cause breakouts in acne-prone patients.
"Although quick and easy to apply, many makeup removers contain active cleansing ingredients, which may remain on the skin unless washed off," explained Dr. Susan Stuart, founder and medical director of La Jolla Dermatology. "If they remain, the residue from them may expose the skin to excess amounts of various chemicals including emulsifiers and surfactants. These can dry the skin and also irritate it. Some of them also contain various preservatives including formaldehyde, which can be an allergenic, as well as fragrances."
Your skin's sensitivity determines the type of makeup remover you should use.
Using the right makeup remover is vital to keeping skin looking youthful and flawless, according to Dr. David E. Bank, director and founder of The Center for Dermatology, Cosmetic & Laser Surgery.
"Sleeping with makeup on can lead to acne breakouts, accelerate the aging process and make the skin look dull," he said. "There are a plethora of cosmetic products out there that can confuse anyone, so if you are not sure what your skin type is or what product is best for your skin, consult your dermatologist."
If you have rosacea or eczema, use a hypoallergenic fragrance-free makeup remover. Cream or liquid cleansers work well for individuals with sensitive skin. And if your skin is more tolerant, you will be better able to handle makeup remover cleansing cloths.
The most important thing when choosing the perfect makeup remover? Avoid those that contain alcohol, fragrances and preservatives whenever possible, Stuart says (and products from brands like Simple, Ahava and BareMinerals do all these things without costing a fortune).
Handle your eye area with extreme care.
Eye makeup such as mascara is more stubborn to remove, especially when it's waterproof. "For eyes, it's very important to take all of your eye makeup off with a remover targeted for that area. Leftover mascara can lead to eye infections, discoloration and puffy eyes in the morning," said Dr. Bank.
Don't just swipe on your eye makeup remover in haste. Place a cotton ball with remover over your lids, hold it for a minute to dissolve the product, and then wipe away. Do not rub the delicate under-eye area. Once the mascara comes off, face cleanser can be used in the next step.
After using a makeup remover, always wash your face.
If you assumed that you could head straight to bed after wiping off your makeup, you're wrong. "It's essential to remove your makeup with makeup remover before cleansing. This will prevent clogged pores, pimples and breakouts and ensure that you clean your face properly," Bank said.
If you have oily or combination skin, use a cleanser or face wash with salicylic acid or benzoyl peroxide. For dry skin, use a creamy, gentle cleanser or a foaming face wash that will not dry out the skin too much.
Massage gently with your fingertips in circular movements, and use lukewarm water and a facial sponge to deep cleanse. Dr. Bank suggests avoiding scrubs if you have sensitive skin or acne, as they can aggravate the condition.
Are you washing your face correctly?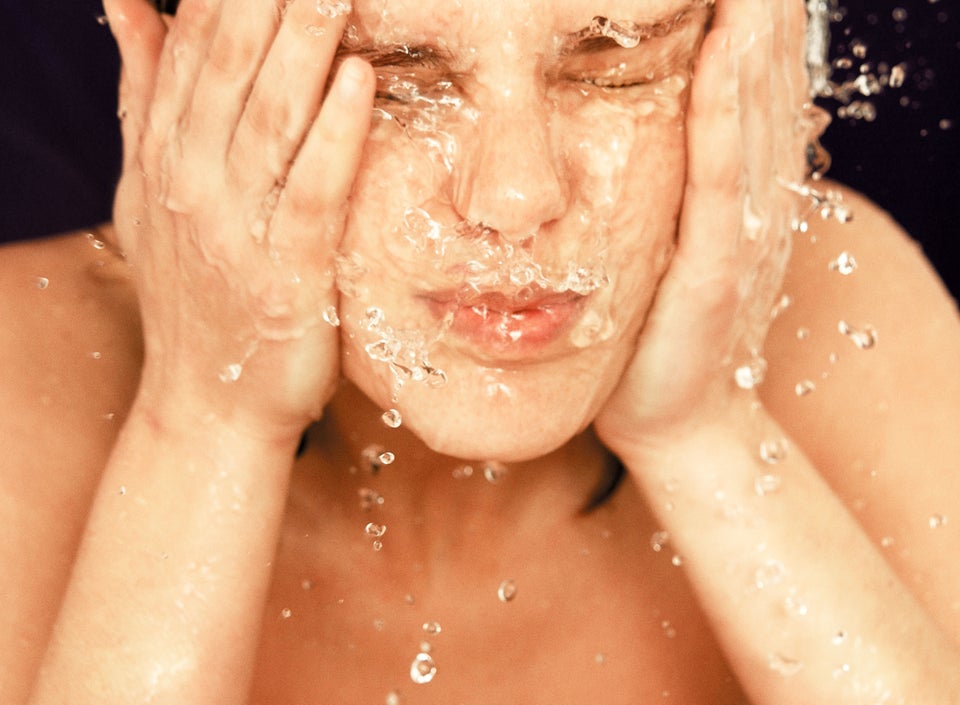 Face Washing Tips
Want more HuffPost Style beauty content? Check us out on Twitter, Facebook, Tumblr, Pinterest and Instagram. (For everything else check out our main HuffPost Style Twitter, Tumblr, Pinterest and Instagram @HuffPostStyle.)
---
Do you have a beauty story idea or tip? Email us at beautytips@huffingtonpost.com. (PR pitches sent to this address will be ignored.)
Related