 I met Neil (or rather Aniello, as I still call him) about five years ago when I was looking for a freelancer to help me develop Alchimie Forever in New York City. For a couple of years, he helped develop Alchimie Forever in leading boutiques, and over the years, we went from being colleagues to becoming friends. Today, Neil is National Makeup Artist with niche brand Jouer Cosmetics. For a third year in a row, he worked Fashion Week with Jouer Cosmetics and Kate Spade. In need of makeup knowledge and tips, I turned to him for advice.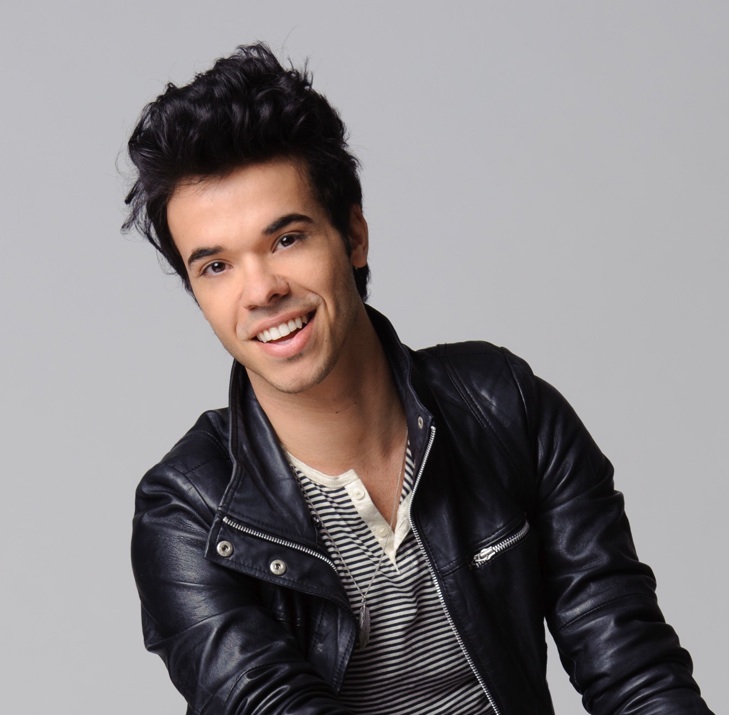 Tell me about how you come up with the looks to present during Fashion Week?
Jouer Cosmetics has been the makeup sponsor for Kate Spade for the past few seasons, and so I get together with celebrity stylist Brad Goreski and Kate Spade Creative Director and CEO Deborah Lloyd a few days before the shows, to review the collection and create the complete look. It's a super fun and creative process, focused on what we believe will be trending for next season.
What are you seeing in terms of makeup trends for fall 2013?
The looks we put together the makeup trends for fall 2013 really focused on skin. We created really clean skin, with the goal being a perfect, yet effortless complexion. The look for fall is all about gorgeous, matte skin. Looking at the eyes, I saw a lot of winged cat eyes, angular eyes, and color focusing on the darker side of the spectrum; dark eye liners are also very popular. With matte skin and angular eyes, the lips are left to make the color statement. Overall, color was everywhere on the lips, ranging from red to deep purple and hot pink. For Kate Spade, we used a high gloss red lip, our Simone lipstick followed by our Lip Enhancer, which is clear high-shine lip gloss. This glossy lip looks fabulous against very matte skin.
How does this contrast with what you are expecting to see this spring?
Spring 2013 is all about dewy skin, everything is fresh and glowing with a lot of warmer colors. With the blossoming of the seasons, we will see a lot more peach and pinks. Aqua eye-shadows will make a statement for spring, whereas the lips will be more muted. Basically spring and fall will be opposites of each other!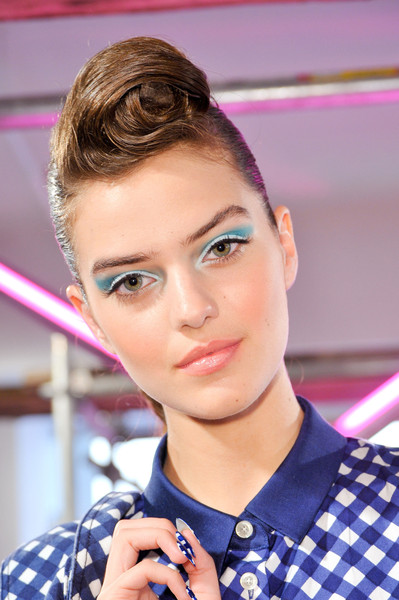 Outside of Fashion Week, for the everyday woman, what are your favorite looks?
Across the board, on every woman, I love fresh dewy skin during the day. This usually involves downsizing your makeup regimen and limiting it to concealer, a tinted moisturizer and your favorite mascara. Less is definitely more, and showing fresh skin always work. For the lips, I love something as simple as clear lip gloss, with just a tad of shine, which will give you a healthy glow overall. Always, day or night, I love ultra-black mascara.
For a night look, in contrast to my go-to day look, I prefer the skin more matte. Use a matte foundation, or a matte moisturizer. During evenings, you typically take more pictures, so keeping it matte is essential. Similar to what we did with Kate Spade, I love an effortless, soft smoky eye. If you think black is too intense, you can easily do a smoky eye in brown or navy. Always make sure to use a pointed definer brush and smudge it around your eyes. Don't make it too precise... With a smoky eye, I like the lips more natural, but not totally nude. Look at your natural lip color and pick a color that is one shade deeper but nothing more. A totally nude look will make you look too washed out in photographs. For cheeks, I love blush, it gives your complexion a pop of color and dimension. Berry and peach tones tend to be universally flattering.
What are some professional tricks in terms of makeup application that women everywhere can use when applying makeup at home?
My top favorite tips have to do with the questions I get from my clients...
1. How do I prevent my eye shadow from creasing?
I am a fan of using an eye primer before applying eye shadow. It will both cancel out any redness on your lid and will open your eyes up. It will also grip your shadow and keep it matte longer. Basically primer is meant to hold on to pigment as long as it can.
2. How do I best apply mascara?
I have developed my own technique for applying mascara! I like to use mascara on both sides of the upper lashes. Typically, you apply mascara to the lower side of the lashes (the side closest to your eyeball). I like to also apply mascara to the upper side of the lashes (the side closest to your eyelid), curling it upward. I find that this gives lashes a more dramatic, a fuller appearance, but without clumping.
3. How can I make my lips look fuller?
Don't be afraid of lip liner, it is making a comeback! Follow your natural lip shape, right outside the line, which will give you more volume. Make sure your liner always matches your lipstick. To top it off, applying a bit of gloss in the center of the lips (both top and bottom) will also give the illusion of more volume.
4. How can I better define my face?
I am definitely a fan of contouring, because it can enhance the shape of your face. Bronzing falls in the same category; it gives your face a bit more structure. I love a deep color matte bronzer to contour with, applying it in the hollows of the cheeks from the center of your ear going all the way across the cheekbone, finishing right before the nostril. This will make your face look slimmer and will make your cheekbones appear higher. Apply your blush after that, on the apple of your cheek working outward. Also work that deep matte bronzer around the jawline and into the neck, which will also slim the neck area.
What are three makeup must-haves do you think every woman needs?
I love this question! If you were to get stranded on a desert island, this is what you would need:
1. Jouer's tinted moisturizer, Luminizing Moisture Tint (it comes in different shades), which is across the board an amazing product for glowing skin. It's your SPF, moisturizer, and foundation all in one. It's wonderful for the daytime, it makes your skin look even, flawless, and still gives you sun protection.
2. Ultra-black volumizing mascara. Every woman can wear ultra-black, regardless of skin tone or eye color. I steer away from waterproof mascara, which can irritate the lashes over time.
3. Always use color either on the lips or the cheeks. That pop of color will give life to your skin. Either or works, as long as you are incorporating some color... Make sure these are in your purse are all time... and in your office drawer, and in your bathroom vanity.
What are your makeup pet peeves?
Well, I do have two...
1. The wrong color foundation or too much bronzer. Basically, anytime you can see a difference in color between your face and your jawline or neck color, you need to change foundation or bronzer. Always match your foundation to your neck color. Also, make sure you blend your foundation into your jaw line appropriately. Bronzing should be light and believable, so apply your bronzer to where the sun naturally hits your face, namely your forehead and around the bridge of your nose, and make sure you blend it into the neck and jawline.
2. Matte lipstick on dry lips never looks good to me either. If it's winter, or if your lips are naturally prone to being dry, always opt for a moisturizing lipstick, not a matte one. Also, treat dry lips the way you would dry skin -- moisturize, moisturize, moisturize!
What about makeup for men?
As a man, there is certainly no shame in wanting your skin to look as good as it can, in the most natural way possible. Personally, I am a total concealer fan. It helps with blemishes and dark circles, and can really improve the appearance of one's skin. I also love mattifying products for men. If you are shiny in your T-zone, use a powder in your skin shade, or Matte Touch by Jouer, which is a clear mattifying balm that really helps quell shine. I have done grooming music artists, including the singer John Legend. Men are definitely becoming more appearance conscious, which is a great thing! Just like women, men should be able to look good and feel good, and not be afraid to be groomed!
Popular in the Community