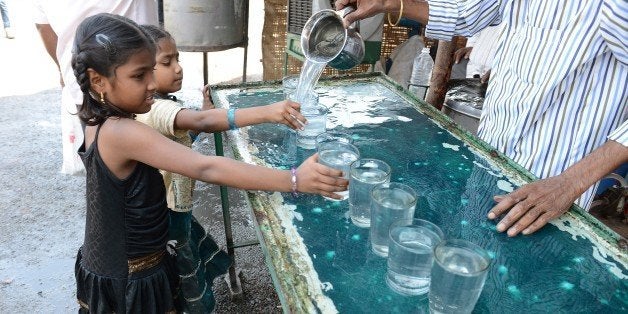 In recognition of World Water Day 2015, we re-commit, refresh and strengthen our efforts to solve the global water crisis.
Achieving affordable access to safe water and sanitation for all has been one of humanity's most intractable problems. This is despite the fact that billions of us take these services for granted. We have known how to deliver affordable, safe water for more than 100 years yet for more than 2.5 billion people these services are absent.
Some of the reasons this problem persists include the high cost of infrastructure, complex governance, lack of proper operations & maintenance, unrealistically low water tariffs, poor water utility management, poorly targeted subsidies and misguided development assistance.
Yet, today, like every day, people are finding water somewhere. They are coping and making decisions with incredibly difficult trade-offs. Do they drink the water from the brown stream outside their home or walk five miles to a "cleaner" stream? Or do they purchase water of marginally better quality from a private water vendor that will cost 25 percent of their income that day? Should the pay to use a public toilet, or risk their safety by waiting for nightfall to defecate alongside the railroad track?
Beyond the day-to-day decisions, there are also difficult long-term decisions for people to make. Should they purchase a simple water filter that might cost two month's wages? Should they purchase a rainwater harvesting system that might cost six month's wages? Should they save for months if not years to pay the connection fee to gain piped water access to the local utility? Should they make the substantial investment in building a toilet at their home or installing a simple latrine?
While access to clean water and sanitation is still a massive problem for billions, over the past two decades more than 2 billion people have managed to cope with these trade-offs in a way that has allowed them to gain access to improved water supplies and sanitation. While some have benefitted from top-down aid and subsidies, we know many more have secured improved water and sanitation through their own financial sacrifices and tapping into informal credit markets -- loan sharks. These realities and our insights inspired us to think more in terms of system change than delivering heavily subsidized solutions to those living in poverty. By nudging financial systems, hundreds of millions of people could gain access to water and sanitation even in the absence of subsidies at the household level. To set this in motion, capital for water and sanitation services for those living at the base of the economic pyramid must be ubiquitous and affordable.
We have learned that even those earning as little as $1.25 per day will access financing to help them seek new options for meeting their needs. We believe that hundreds of millions of those lacking critical water and sanitation services can be reached by continuing to remove financial and other roadblocks, allowing them to move from unserved potential beneficiaries to empowered customers.
For decades, the sector has approached household level water and sanitation access for the poor through raising money and disbursing it in the form of subsidies to cover the cost of wells and toilets. This charity-led approach is not sustainable or scalable at a level needed to confront the global water crisis. For a large segment of the population in need, it is unnecessary to rely upon charity dollars.
Water.org has made great strides in demonstrating the viability of the market at the base of the economic pyramid that could be unleashed if fueled by affordable capital. The research of others points to a multi-billion dollar market that is primed to tap into affordable finance to secure water and sanitation solutions. Addressing the water and sanitation needs of those that can participate financially will leave charity dollars for those living in abject poverty and help break the cycle of poverty.
To truly grasp the effect of the WaterCredit solution, we follow Grace's story in Kenya:
Grace and her family had always hoped to afford a rainwater catchment system and water tank. She imagined the day when her young daughter wouldn't have to walk to collect water. Grace and her daughter used to collect water from a nearby stream and it was a time-consuming chore, during which she dreamed of a better way. Through Water.org's WaterCredit, Grace and her husband got a loan to purchase a rain catchment system and a water tank. Now, each rainy day brings an abundance of water such that Grace has enough and can share it with her neighbors, improving the lives of her family, and the community where they live.
It is through our strategic alliances -- our strongest partnerships with organizations, corporations and their foundations -- that Water.org has been able to impact the lives of people like Grace in key geographies worldwide. This growing community of donors and influencers including the IKEA Foundation, PepsiCo Foundation, Caterpillar Foundation, The MasterCard Foundation, Conrad N. Hilton Foundation, Bank of America Foundation and Swiss Re Foundation has continued to support Water.org in its effort to innovate and accelerate progress against the global water crisis. To date, Water.org has mobilized more than $30 million in commitments to expand and scale WaterCredit worldwide from its strategic alliances, representing an incredible opportunity to enhance financial inclusion for water and sanitation needs at the base of the economic pyramid. The Clinton Global Initiative (CGI) has been an incredibly helpful platform for Water.org, helping the organization meet and start its relationship with some of these critical supporters. In particular, Water.org initially met with the IKEA Foundation at CGI's Clinton Global Citizen Award ceremony in 2012, which launched the beginning of a long-term partnership between the two organizations. To date, the IKEA Foundation has awarded Water.org with $6 million in grant funding to accelerate the growth of WaterCredit in Bangladesh and its innovation pipeline. These efforts will empower a minimum of 178,000 people with access to safe water and/or sanitation.
While Water.org has achieved great progress over the years, there is still much to be done. In the spirit of the World Water Day, we would like to take this opportunity to once again thank the enablers that have supported us, and welcome those who wish to join us in our mission to achieve universal access to water and sanitation.
World Water Day is March 22; please join @Water this #WorldWaterDay to help make every day water day for people in need. http://WaterDay.org
Calling all HuffPost superfans!
Sign up for membership to become a founding member and help shape HuffPost's next chapter