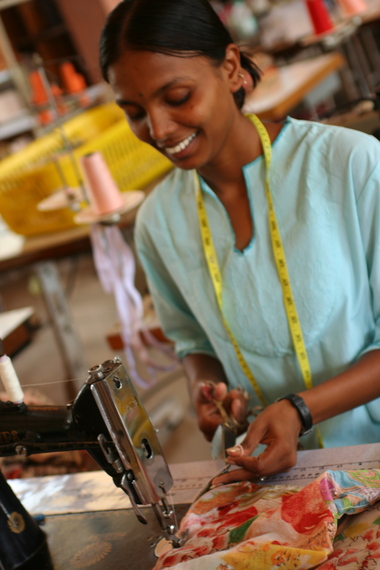 In 2005, Shannon Keith and her husband were working with an NGO in a small rural village in India. They had come to install fresh water wells, but something seemed off. It was not until Keith began to talk to the women of the village that she realized the area doubled as a red-light district.
"All of the children were fatherless and not going to school -- and the more questions I asked, the more devastated I became," she recalls. Many of the women had been tricked or coerced into the sex industry: falsely promised a job working as a nanny or a hotel employee. Others had become sex workers because it was the only way to provide for themselves and their families. Keith's heart broke as she heard story after story of young girls being sold into the sex trade and orphans picked up off the street by pimps.
Keith felt she had to help in any way should could. She quit her job as corporate sales representative and founded Sudara, a name inspired by the Sanskrit word meaning "beautiful." Sudara began making pants reminiscent of the traditional Punjabi trousers worn throughout the region. They named the pants "PUNJAMMIES™" as a tribute to this tradition and a means to pay homage to the survivors' country of origin.
Sudara was established to provide training and jobs for survivors of human trafficking. By creating employment, and thus the opportunity for economic independence, Sudara offers an alternative pathway for women and children who have been otherwise unable to leave the sex industry. "There are a number of ways a woman enters the sex trade," Keith explains. "In India, it most often boils down to lack of jobs, resources, and education, which results in a woman either entering or returning to the sex trade because she simply has no other option to survive."
Today, Sudara focuses on empowering and educating their employees. Each woman has a chance to develop a trade that she can rely upon after she leaves the sewing centers. "My logic is if I can make a dent in India on this sex trafficking issue, I can make a dent in the worldwide problem," she says. "Our ultimate vision is to see women once enslaved in the sex trade have opportunities to support themselves and their children with skill and dignity, to heal in body and spirit and to live in true freedom for the rest of their lives."
To learn more about Sudara and their PUNJAMMIES™, click here.
Calling all HuffPost superfans!
Sign up for membership to become a founding member and help shape HuffPost's next chapter