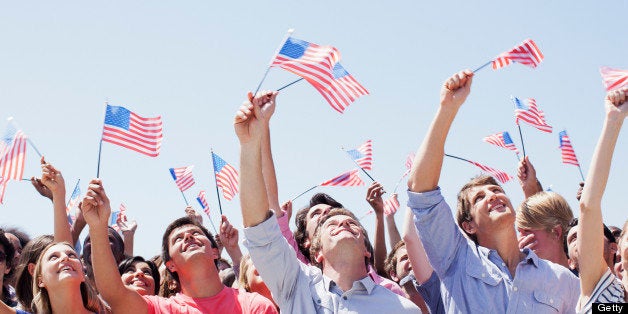 I love the July 4th holiday! Independence Day is not just a great time to be with family and friends watching fireworks and enjoying the perfect barbeque. It is also a time to reflect on the many gifts we, as Americans, have been given every day, as a community and as a country.
The first Americans as well as our Founding Fathers (and Mothers) left us an incredible legacy of philanthropy, as Americans relied on each other -- not a state religion, church or monarchy -- in order to create a thriving democracy. Their revolutionary spirit set up the standard for hospitals, libraries, schools, churches, orphanages and poor houses that are still such an important part of our country. In fact, charity is so engrained in the American spirit that more than 12 million Americans, which is almost 10 percent of the work force, have a career in the nonprofit sector. And with charitable donations totaling over $316 billion in 2012, it is clear that philanthropy is still as important as it was in 1776.
So why not honor our country this year by giving back this Fourth of July? There are so many unique ways of Making A Difference while enjoying a fabulous holiday.

Making A Difference in your community

If your community is having a parade or a fireworks display, be sure to look for ways you can contribute. A donation of your time or your money can help unite your community this summer.
Many cities and towns have sporting events, such as softball tournaments, marathons, kickball tournaments and golf outing, to raise funds for much needed projects in the community. Consider participating in a charitable event to raise money for worthy cause. Active.com is a great source to find if your community is hosting a charitable run or walk this Independence Day. You will be making a difference while enjoying some exercise!
If you are having a party at your house, why not consider adding a charitable component to your celebration? Ask family and friends to bring a non-perishable food item to be donated to a local food bank via the Feeding America network. Or ask for a donation to a charitable cause close to your heart. These little things will turn your gathering into something much more!
Making a Difference for military personnel

The Fourth of July is also a perfect time to remember the work and the sacrifice of our servicemen and women as well as veterans. If you know military personnel, you can write a thank you letter telling them how much you appreciate what they do for the United States of America. You can always check in with your local VFW or American Legion to find out what is happening in your community and how you can participate or help. If you want to reach out to military beyond your community, look at the Any Soldier website and discover how you can send mail or a care package to those serving overseas. You can also find ways to support returning veterans who have been hurt in the line of duty by helping The Wounded Warrior Project.
Another way to honor our servicemen and women is to visit the cemetery and read the headstones of those military service men and women who died. Take some time to quietly thank them for the ultimate sacrifice they made.
To be sure, some will say our government should take care of these things listed in this blog, but I would say let's follow the example of those who came before us and take care of each other.
Making A Difference on this July 4th holiday
Here are five tips and recommendation on easy ways to make a difference while spending time with your family this Fourth of July:
1. Simply spend time with your family this weekend. Talk and listen to stories, and remember the sacrifices of our Founding Fathers (and Mothers!).
2. Organize with a good old-fashioned picnic with your neighbors and friends celebrating being American. Take up a collection at the picnic for one of your favorite causes or charities. Ask folks to donate $5, $10 or $20 to make a difference!
3. Take time to read the Declaration of Independence. By simply reading what our country's founders wrote long ago, you will be making a difference!
4. Visit a VA hospital on July 4th and thank those who served our country.
5. Volunteer to help with your community's local parade or fireworks display. Many cities now have to raise money for both as government funding and budgets have decreased. You can help by making a financial donation or volunteering.
Bonus Tip: Fly the American flag! Show your patriotism and love of this country!
The great part about Independence Day is that it connects all Americans, regardless of age, race, ethnicity or religion. Unite with your community this Fourth of July and honor our great country by Making A Difference (M.A.D.)! What will you do to be M.A.D. on July 4th?
Related
Popular in the Community