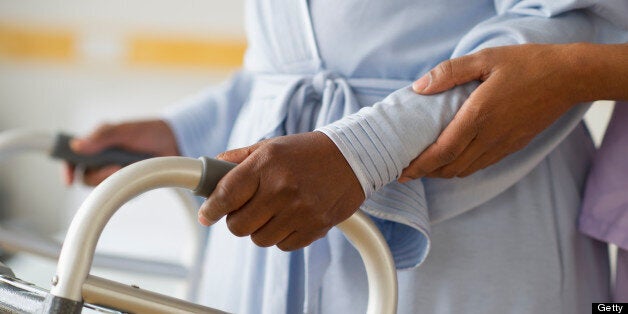 Adam Simning wants to make a difference.
Specifically, he wants to do something about the pervasive mental health needs of this country's older population.
There's only one hitch: It's going to take him about 10 years to get all the training he needs to pursue his chosen field of geriatric psychiatry. Simning graduated from Pomona College in California in 2005 with a bachelor's degree in molecular biology. Then he enrolled in the M.D./Ph.D. program at the University of Rochester in New York, beginning a long road of study:
4 years of medical school.
4 years of residency in psychiatry.
1-2 years in a geriatric psychiatry fellowship.
On top of that, Simning put in four extra years of schooling to earn his Ph.D. He wants to conduct research on the mental health needs of older adults while maintaining a clinical practice.
We need more people like Adam Simning. But it takes a lot of dedication to complete -- and pay for -- 14 years of clinical and academic training.
Why stick it out? It's all about dedication. Simning says he wanted to "do something that could be meaningful for a group of people that are invisible to many others."
Aging Americans who have mental health needs are indeed an invisible group -- and they can use all the help we can give them.
I served on the Committee on the Mental Health Workforce for Geriatric Populations, which wrote the report. I've spent the last year traveling the country to spread its important messages:
Mental health issues are pervasive among older adults. At least 5.6 million to 8 million -- nearly 1 in 5 -- older adults in America has one or more mental health and substance use conditions. Depression and dementia are the most prevalent.
Those issues are growing more serious. The number of adults age 65 and older will reach 72.1 million by 2030. The mental health needs of this population will increase in tandem. Left untreated, these conditions will decrease quality of life, boost health care costs and threaten health outcomes for our most vulnerable citizens.
There won't be enough health professionals to diagnose and treat mental health conditions. Unless things change, aging baby boomers will have trouble getting the help they need.
Clearly, we need to do more to support health professionals like Adam Simning, who are taking on years of expensive education and training in order to serve this growing, and often forgotten, segment of our population.
But we also must recognize that even if we support the education of training of more geriatric psychiatrists like Simning, there will never be enough of these clinicians to address the mental health needs of older adults.
That's why we need a team approach to adequately meet the need for mental health care for older adults living in communities across the country. That team must include elders and their families, as well as other professionals like service coordinators in housing and frontline workers in nursing homes and home care.
Some service coordinators working in federally subsidized housing communities are already being trained to support the mental health care system.
There is research-based evidence that these service coordinators are very effective in identifying mental health needs among residents and helping these residents obtain the help they need.
Service coordinators already have relationship with the older residents living in affordable housing communities. They see these residents regularly. They interact with them in good times and in bad.
So they are in a much better position to recognize the types of mild depression that threaten physical health and quality of life -- but are also so easy to conceal from doctors during the 7-minute office visit.
PEARLS is a community-based intervention program that uses problem-solving strategies to treat depression in older adults. Service coordinators play a key role in making this worthwhile program accessible to older adults who need it the most.
The mental health needs of older Americans -- and the workforce that will help address those needs -- is an issue that we ignore at our own peril. That's why it has been so gratifying to see the IOM report raise awareness and spur action that could bring about lasting change in the way our mental health, health care, and housing systems interact.
Evidence of this change came in early June when Sen. Susan Collins (R-ME) and Sen. Barbara Mikulski (D-MD) introduced the Positive Aging Act of 2013 (S.1119).
If enacted, the bill would support evidence-based demonstration projects that use interdisciplinary teams to provide integrated mental health care in settings that older adults can access easily.
Another bill, Building a Health Care Workforce for the Future Act (S. 1152), introduced by Sen. Jack Reed (D-RI) and Sen. Roy Blunt (R-MO) in mid-June, would make it easier for students to pursue careers in health care. It would also encourage health professionals to work in medically underserved communities and in practice areas with the highest need.
Behavioral health and geriatrics are clearly two of those high-need areas. It's time that we make sure that they are also high-priority areas for policy makers, health care providers and senior housing communities.
Popular in the Community