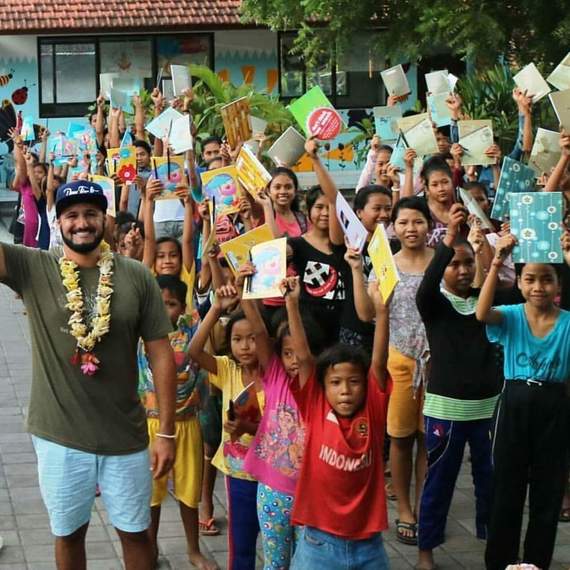 As we journey through life, the opinions of people more often than not get to us. While some opinions trodden us to the ground, others help lift us to our greatest potential. However, we should always remember that when challenges like those set in, they allow our core values to truly shine through.
Integrity - the essence of being whole and undivided with myself and with others was thought to me by my mother. A compassionate lady, she also showed me, through actions more than words, what it meant to give unconditionally. In order to steer my life compass back to its course in making an impact on the world, I had to learn to rise above the voices of society, find my own inner voice and gave my very best 110% in everything I do.
Yet, being a social entrepreneur and a conservationist was neither a conclusion drawn overnight on how I wanted to live my life, nor had it even crossed my mind. It was not until in 2010 when I met my best friend Nicholas Byrnes, a Byron Bay, Australian native who taught me to how to distant myself from societies' ego and to rise above to make a different in the world.
I began my soul searching journey; learning and reading on how to be conscious of my surroundings, body and soul. What I found was that the world is our source of natural beauty, yet it is being threatened by devastation. The sudden realization that rather than hope for others to make a change for a more sustainable and 'healthy planet', I could help make that change jolted me into action.
It was then that I began my involvement in creating global awareness in making "Recycling Sexy"- an initiative which generates awareness in pollution, particularly plastic pollution affecting our oceans and marine life. My idea was to come up with a simple yet profitable solution that could globally bring about positive impact on our land and ocean.
Spotting an opportunity in the textile industry to make recycled clothing a profitable social enterprise while playing a major role in reducing pollution and degenerative impacts on Mother Nature's flora and fauna, Day For It, Hat Co was born.
Grounded on the conviction for a 'purpose driven life', Day For It with its tagline 'Live. Learn. Love. ' is a global movement where hats become a platform allowing people of all walks of life to put on their thinking caps in support of Mother Nature and all her splendour. The movement also becomes a constant reminder of how we can serve the world while embracing life to the fullest.
Pumped with the knowledge and zeal of how social enterprises are capable of bringing positive impact on society and with a driving force to carve an altruistic career as a way of life, I recently launched h20 Yacht Co. h20 Yacht Co is a Premier Yacht Brokerage company committed to distribute a percentage of our sales towards children's education and ocean awareness, the two areas I am most passionate about.
I truly believe that life is series of small opportunities from the people we meet, to the choices we make. By having the courage to take the first step, I now live a purpose driven life. Our future needs effort. And because of this, I'm willing to give my time, blood, sweat and sometimes tears, to make a change for the betterment of our children and our planet.
Throughout my journey in learning to give back to Mother Nature and society, I discovered what it truly meant to live life to the fullest. The words of Winston S. Churchill rings true... "We make a living by what we get. We make a life by what we give."
Because "Everyday is a chance to LIVE to the fullest,...to LEARN to be a better person,... and an opportunity to LOVE more openly" , I challenge you to empower yourself and others to achieve your world changing ambition.
Albert Einstein once said "Only a life lived for others is a life worthwhile."
So, if you've always wanted to make an impact, don't wait. Start today. Today is the day for it.
Pioneers for Change is a seed-bed for innovative thought. An activator of personal potential. A catalyst for collective energy. A community to drive social change.
Our annual, international Fellowship is open to anyone aged 28 - 108 years old. We gather change-makers -- a business person, a community person, an investor, a thinker or doer -- who are willing to harness their talents, energy and resources as a force for good. Pioneers for Change is an initiative of Adessy Associates.
Adessy Associates believes a better world is possible, and equips and enables organisations and individuals to make positive change happen, and contribute to a sustainable future. We focus on benefit for people, planet and profit. Our bespoke services harness sustainability, innovation, consciousness and purpose. We are proudly B Corp certified.
About Paul Triporo
Paul Anthony Triporo, the vision behind social enterprises Day For It, Hat Co. and h20 Yacht Co. was born in Hurst, Texas- a small but big town in the Dallas Fort Worth. He enjoys simple things in life: his family, hot showers, cold tequila and his mother's cooking. Paul found his passion and commitment as a conservationist through his best friend Nicholas Byrnes. Believing that laughter is priceless, Paul thrives on humour and in making people smile. His belief is transpired in his commitment to give back to society and being a voice for Mother Nature.
REAL LIFE. REAL NEWS. REAL VOICES.
Help us tell more of the stories that matter from voices that too often remain unheard.