On October 29th, the women of Mary's Place by the Sea will know if they have won a million dollars. Or $250,000. Or nothing at all.
Regardless of the final outcome, this small nonprofit in Ocean Grove, New Jersey will have done everything in its power to prevail in Revlon's "Love is On" Million Dollar Challenge. "We've put every ounce of our collective energy into this. There's nothing left on the table," according to founder Michele Gannon.
With less than a week left in the Challenge, Mary's Place is in third place behind two much larger charities. And in the final days of the completion, it truly is shaping up to be a David vs. Goliath battle.
Let's start at the beginning: Mary's Place by the Sea was founded by two women with a vision (Michele Gannon and Maria McKeon) in January 2009. They established Mary's Place as a respite home for women who are receiving treatment for all forms of cancer.
Over the past six years, over 5,000 guests nationwide have received integrative services ranging from oncology massage, individual counseling sessions, guided meditation, reflexology, journaling, yoga and nutrition education and counseling complementing their traditional medical treatment. All services are provided free of charge. It costs approximately $250 to host a guest for one night.
"In the most challenging time in their lives, Mary's Place provides a place for rest and support. They are empowered with the knowledge aiding them in their battle with cancer," says Gannon.
Today, Mary's Place by the Sea faces its own epic battle. With the lease on their current building - a modest four-bedroom house just one block from the beach - ending in February, the nonprofit took a leap of faith and began construction on a new, larger facility to meet the demand of those in need. The new house will have ten guest rooms each with a private bathroom. The price tag is $2.7 million.
And that's where the $1 million contest comes in. On September 21st, Revlon launched the "Love Is On" Challenge to help charities dedicated to leading women's health issues raise as much money as possible over a six week period. The group that raises the most money takes home $1 million and the runner-up gets $250,000. The competition is managed by the online giving platform Crowdrise.
"Our staff and volunteers met and talked about it. We decided to go all in," Gannon told me in a telephone interview.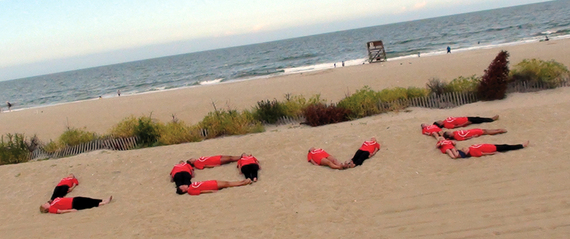 I've worked with lots of different nonprofit organizations over the years and I'm always impressed with their hard work and dedication. But from my vantage point, Mary's Place has taken this to a new level.
Over the past five weeks, their fundraising efforts have included:
•Dozens of special events - everything from gala dinners to yoga studio workouts to restaurants holding events with proceeds earmarked for Mary's Place.

•A specialized website with a homepage photo of women with cancer and staff clad in matching red t-shirts spelling the word "Love" in human formation on the sands of the Jersey Shore.
•Videos of four former guests sharing their stories and what love means to them.
•Forming 64 different fundraising teams asking friends and families to support them.
•The remarkable power of social media - with former guests and their loved ones sharing updates of the million dollar challenge with their own social media followings. Facebook is clearly the network of choice among this group.
As I write this blog, 779 donors have given $119,185 to this heart-of-gold, hometown charity. That's a larger number of donors than any other group in Revlon's "Love Is On" Challenge.
But it's not the largest amount of money raised. The current first and second place competitors are national organizations with annual budgets exceeding $20 million, professional fundraising teams and powerful databases of well-heeled donors. Both are dedicated to funding cancer research.
So, can this "little nonprofit" somehow manage a victory? Mary's Place by the Sea has no plans of throwing in the towel. Tactics for the final week include a bucket brigade led by local high school students, a volunteer telethon and a final appeal.
Michele Gannon reflected when I asked my final question in our telephone interview: "Do you think you are going to win?"
"Win or lose, we're a better organization because of this challenge. We believe that the plan is already written, we are tilling our field and preparing for rain. Our group of supporters is stronger and bigger than ever. Regardless of the outcome, Mary's Place will continue our mission of providing women with cancer a place to heal: mind, body and soul. You can count on it."
Have faith. And remember, against seemingly all odds, David did beat Goliath and with that win was assured of a place in history that he was Making A Difference!
Interested in donating to Revlon's "Love Is On" Million Dollar Challenge?
Click here to visit the Leaderboard and donate to Mary's Place by the Sea or any of the 100+ non-profit organizations participating in the Challenge.
The challenge ends on Friday October 29th at noon EST.
Related
Popular in the Community