As a photographer, Roland Bello made frequent trips to Europe. His friend Tania Vargas, a new mom working in marketing, always had the same request: bring back children's underwear. She found the style and quality unbeatable. From there, the requests spread to friends, and after a few years Roland and Tania considered opening an imports store in New York. There was just one problem, they couldn't find a supplier. So, they started from scratch and founded Goatmilk Kidware.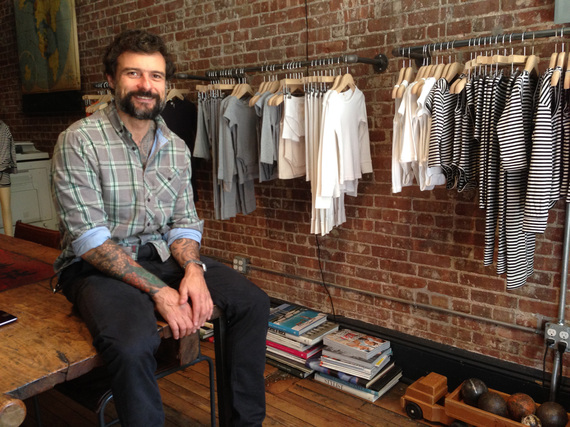 Roland Bello inside Goatmilk's NYC store (photo by Alex Schattner)
Alex Schattner: How did you and Tania meet?
Roland Bello: We met while working together in New York. I'm a photographer and she was an ad account executive. Even when she moved around to other companies, we kept in touch, and became friends. When I traveled to Barcelona on business, Tania--who had kids--requested that I bring back underwear for them. In Europe, they had a design and aesthetic that was missing in the states. There's a greater focus on quality and simplicity. It's more like what we grew up with, whereas now most kids' underwear is covered in cartoon characters.
From then on, when I traveled to Europe, I always got the same request.
How did you want to make Goatmilk the same/different?
R: After a few years we realized that there was a hole in the market here. We considered importing items, and becoming wholesalers for European kids' basics, but it was difficult to find manufacturers to work with who had the stuff. As the idea evolved, we decided to manufacture it ourselves. Meanwhile, we had ongoing careers. This was a project for our free time, and it required a lot of research, and business planning.
What was the biggest challenge?
R: What took the longest was figuring out where and how to make the product, ship it, and still sell it for a price that people are willing to spend on children's underwear. We're not talking a dress--that's outerwear. That's easier to put at a higher price, because you see it.
Why do you think other brands didn't cross the Atlantic?
R: Some of them have, but not the ones that do our kind of stuff. Petit Bateau and others crossed over, but there's not a whole lot of variety. And those brands weren't using only organic cotton like we are.
How do you ensure the quality?
R: The factory we work with in India has been certified as green. They produce goods according to a global standard.
Because our collection is small, we haven't had to go back and forth to India--although if they were closer, I'm sure it'd be a little easier. I think as our collection grows, that might have to change.
What is the design and prototyping process like? You also worked as a fashion illustrator, right?
To size the clothes, we work with a children's wear technician each season.
Tania Vargas: We take a look at what we have and what is missing in the collection. We create a proto type either from technical specs or we are inspired by vintage pieces we have from our childhood but with a modern sensibility.
Where is the cotton grown?
R: It comes from India, too.
Does the length of their monsoon season play a role?
R: We haven't been in a situation when we didn't have cotton, but it definitely gets more expensive. But, one of the things we discovered is, India is the capital of organic cotton.
How have you raised money?
R: Just from our savings. We didn't want to get investors involved, because we wanted full control over the branding and merchandise. We knew what we wanted it to be.
R: For a while we thought Petit Bateau was, and they probably still are, but they're not all organic, so our product is a margin above them.
T: Flora and Henri (US brand), Milibe (Copenhagen brand), but I would say we are still a little different. Crew Cuts is also someone that I feel does a lot of the same things when it comes to the basics. But the quality is different. Both in construction and fabric.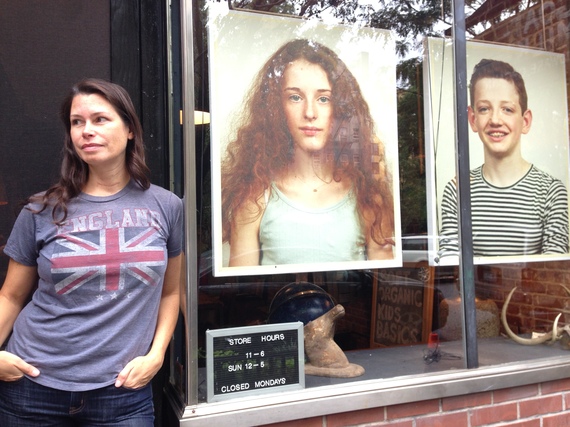 Tania Vargas outside Goatmilk's NYC store (photo by Alex Schattner)
Your styles differ, too. Petit Bateau is bubblier. How would you describe Goatmilk's style?
R: A little more sophisticated. A little hipper, and cooler. Tania and I feel that the children's market is oversaturated with the idea that everything with kids has to be balloons and colors. Our clients prefer neutral tones. Our clothes aren't really edgy, but they're edgy in that they're different than what's expected.
T: We also feel that our basics don't have to change every season. It's that piece that you love and you can still get it every year as your child grows.
How have retailers responded?
R: I think a lot of stores are glad to have something different. It doesn't mean that their entire store is going to become like us, but they like the variety. We've never heard from anyone who said, "You guys are too dark?"
T: And since we have inventory all year, they can order whenever they like to help round out their assortment. Stores love that option.
How do you reach out to them?
R: We send big email blasts. We've built up a list of strong retailers throughout the country. I think people prefer to check their email when they have the time, and can make a decision without pressure or a sales pitch.
And then you send them samples?
R: Yeah, we send them samples, and a lookbook. Because we're small, we can give personalized service. Although, a lot of people just like the styles right off the bat, and place small orders to see how it sells.
Did you shoot the promotional video and lookbook.
R: I took the pictures, and a friend/colleague of mine took the video.
Where did you find the models? They're very distinctive.
R: Friends of friends. A lot of people like the idea of having their kids photographed for something. It doesn't necessarily mean they're going to make their kids models, but they like the one-chance opportunity. The kids have fun with it.
We put the word out there, and it spread. We had a lot of kids interested, and then we picked a few. We weren't looking for the traditional 'model' child. We show those kids who you don't necessarily see in advertising, who the masses don't necessarily see as what beautiful kids look like. Our message is, "All the kids are beautiful."
What stores would you love to be in?
R: We're pretty happy where we're at now, but we would fit well in Barney's or Bloomingdale's. Our product is definitely high-end. You spend a bit more money, and get a better quality product.
What are Goatmilk's plans for the future?
R: Our immediate plans are to continue expanding the line. We want to develop ready-wear (outerwear). And, further down the line, we want to create stuff for adults, because we keep hearing from jealous parents.
Related
Popular in the Community