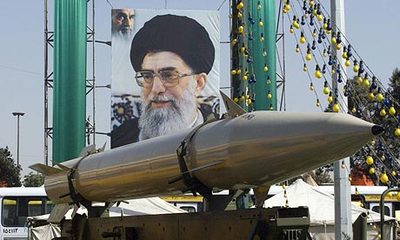 As the June 30th agreement deadline approaches, it has me wondering how the P5+1 will guarantee Iran doesn't obtain nuclear weapons. While my work as a rabbi doesn't include agreements and safeguards on nuclear nonproliferation -- though I did study that in university back in the day -- one of my areas of expertise as a rabbi is certifying the production of kosher food.
Having practical and theoretical experience in negotiating and monitoring production agreements, I know how challenging oversight can be. In the case of assuring the production of kosher food we have excellent guidelines established by the Talmud. These guidelines include the essential elements of any deal to produce kosher food, the means of inspection and how to manage problems as they arise.
If we were to apply the stringencies of Kosher certification to an upcoming nuclear deal with Iran, what would that include? In other words, if Iran were seeking kosher certification that it wasn't building nuclear weapons, what would that deal look like?
According to Jewish law, factories or establishments that want certification of providing kosher food must agree to two major areas of verification. The first is on-site inspections of facilities by representatives of the agency, which includes unhindered and unannounced visits. Additionally, some facilities or establishments, owing to the nature of what they produce, require full-time kosher supervision and the use of kosher seals. The second is the kosher certification contract. This contract is based on the legal concept that a professional does not compromise their professionalism because they have an interest in maintaining their reputation and credibility. In this way factories and restaurants are able to enter into agreements with kosher certification organizations to provide kosher food.
Accordingly, a kosher deal with Iran meant to ensure that it doesn't produce nuclear weapons would have to include unhindered and unannounced on-site inspections. Since nuclear weapons verification is a serious and complicated matter, a kosher supervision agency would likely require full-time supervision. Therefore, the use of seals, remotely operated cameras and detection equipment, would be needed at every possible site. The Vienna based IAEA, responsible for monitoring and inspecting nuclear sites worldwide, must have the ability to not only inspect in person whenever they want, but install technology to allow constant verification.
While this might seem overly intrusive, if we are to apply the needs of kosher food verification to Iran's nuclear ambitions, we need to use the strongest means of verification and inspection possible. Getting inspectors to a site without alerting the Iranians would be hard. So the IAEA need to be there all the time, just like a kosher supervisor needs to be on-hand at places that handle the most complicated kosher products.
The second part is the written contract, a detailed agreement between the parties. At minimum a kosher certification contract includes all the agreed upon ingredients, manufacturing procedures, and significant monetary penalties to the company should any of the terms of the agreement be broken.
Let us put to the side for the moment that fact that Iran has shown an ongoing unwillingness to act professionally to preserve their reputation and lack credibility because of nondisclosure of nuclear sites and other broken agreements.
What would a contract with Iran need to include? It's likely more complicated than a kosher recipe for bread.
According to experts in non-proliferation, a deal would need to include:
1. Dismantling Iran's nuclear weapons infrastructure, including enrichment or reprocessing capacities.
2. Material Accountability. This includes tracking and testing all inward and outward transfers and the flow of materials in any approved nuclear facility.
3. Lengthy and phased relief from sanctions applied by the international community.
4. Tough, "snap-back" sanctions should the agreement be violated.
5. A long deal. This deal has to do with the safety of the world, and it must include safeguards in terms of decades, not years.
Thankfully congress now has the power to review any final agreement reached between the P5+1 and Iran and they need to ensure any deal with Iran uses even more rigorous standards than we need for kosher bread or a restaurant. If a company messes up with the bread recipe, they can always recall the products from the markets. If an unscrupulous restaurant owner sneaks in non-kosher meat, the kosher certification can be immediately revoked and the public warned.
However, If Iran gets a nuclear bomb, there is no recall of the product. The most volatile region of the world will be caught-up in a nuclear arms race. The safety and security of Israel and the world will be in jeopardy.
Related
Popular in the Community