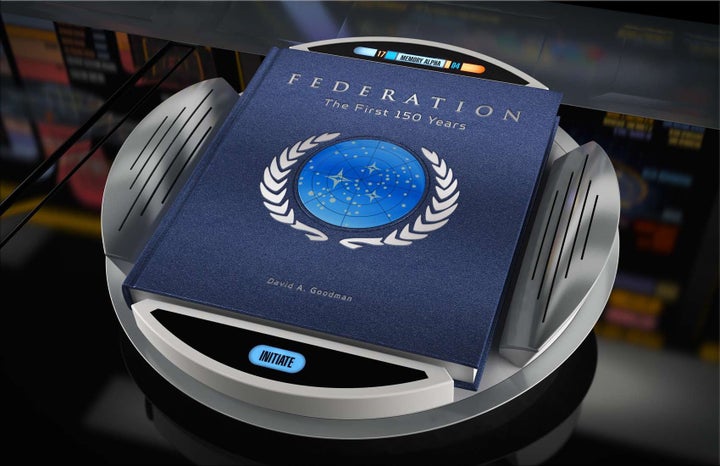 becker&mayer! Books is a book packager specializing in unique formats and lively illustrated books. We work with publishers in the US and abroad, including Random House, Simon & Schuster, St. Martin's Griffin, Harper Collins, and Scholastic. One of the strengths that b&m offers to our publishing partners is our strong working relationships with top licenses, such as Lucasfilm Ltd. and CBS Consumer Products (the license holder for Star TrekTM).
CBS Consumer Products and b&m have been working together for years--our licensed Star Trek titles have gone to a variety of publishers, including Abrams and Chronicle Books. Our most recent collaboration, Star Trek Federation: The First 150 Years, is releasing this holiday season. This title is unlike any other Star Trek book out there. Housed in an electronic display pedestal that includes audio narration by George Takei, the original Lieutenant Sulu, this illustrated history of the Star Trek galaxy was a huge undertaking.
The project originated when CBS Consumer Products came to b&m with the idea of creating a Star Trek book along the lines of our deluxe illustrated edition of David McCullough's 1776. They wanted an expansive history with removable documents and a special case. Creating alternate formats--crazy cases with electronics, books with sound modules, and removable special features--is one of becker&mayer's specialties and a way we have been able to distinguish ourselves as a book packager.
The project was designed to be an Amazon exclusive, published under their sci-fi imprint 47North. More than just a book about Star Trek (of which there are many), it had to be over-the-top--something that fans would be clamoring for. The conceit was that this in-world volume, written by a historian, was commissioned on the 150th anniversary of the founding of the United Federation of Planets (kind of like the United Nations in the Star Trek universe) and would come with a pedestal as though displayed on special exhibit on Memory Alpha (the Star Trek equivalent of the Library of Congress).
In addition to figuring out how to make the coolest case we could, there was the significant challenge of finding a writer who could take all of the disparate storylines of the various Star Trek shows and movies (known to fans as the canon) and piece them together to form a cohesive history of this expansive world. (The book covers the years that preceded man's deep-space exploration--aided by the warp-drive engine--up through the eras covered in Star Trek: The Original SeriesTM and Star Trek: EnterpriseTM, leaving off about fifty years before Star Trek: The Next GenerationTM.) We needed to go outside of our typical stable of pop-culture writers. CBS Consumer Products put us in touch with David A. Goodman, a television writer and lifelong Star Trek fan. David's unique ability to embody the many characters and voices of this epic history made him the perfect fit for the job. I should also mention we were on a very tight schedule, and we needed someone who wasn't afraid of our deadline!
Over the course of just a few months, David worked closely with the good folks at CBS Consumer Products to create a story that wove through the Star Trek canon, always keeping continuity at the forefront, while filling in areas that the shows and movies didn't touch.
On top of this, David was charged with creating fifty-odd documents associated with the formation of the Federation--everything from the Articles of the Federation to Romulan intelligence reports (written in Romulan script and translated) to captain's logs from Starfleet ships. David used a huge variety of real source documents for his reference materials--everything from the Preamble of the Constitution to a JFK speech to Hawaii's Declaration of Statehood.
Along with our design staff, the author and license collaborated on what elements needed to be illustrated and what the style of illustration should be--as part of the conceit the art needed to appear to be pulled from multiple sources over the 250 years that the book covers. b&m hired four artists to tackle the fifty illustrations: Mark McHaley, Cat Staggs, Joe Corroney, and Jeff Carlisle. Our designers worked with CBS Consumer Products to create documents from alien races, sometimes having to create written versions of these alien alphabets since there were no source materials to pull from. They also recruited staff volunteers to provide handwriting for the many handwritten pieces included in the book. Rosanna Brockley, one of the designers on the project, got the honor of being the "hand" of Jim Kirk.
Beyond all the moving pieces of the book was the question of the pedestal. Initially, we imagined a display case that unlocked and opened when a code was entered. This was simplified to hitting an Initiate button, but concerns about the mechanics of this type of design steered us to toward a version that, instead of locking the book, provided a narrative introduction along with lights mimicking a museum display. This worked perfectly with our exhibit conceit, but introduced the question of whose voice would be the narrator. CBS Consumer Products was able to get George Takei to sign on--reprising his role of Sulu (though we promoted him to admiral)--and record the nearly sixty-second introduction that plays when the pedestal is turned on.
A project this complex and ambitious wouldn't have been possible without the close collaboration of the license, contributors, and creative staff here at b&m. Everything from the material the cover is wrapped in to whether or not we could include a real-world dedication in a fictional in-world history was discussed and evaluated.
The end result is a Star Trek book truly like no other. Federation: The First 150 Years will release on December 4 and is available for pre-order at Amazon.com.
See images of Federation: The First 150 Years: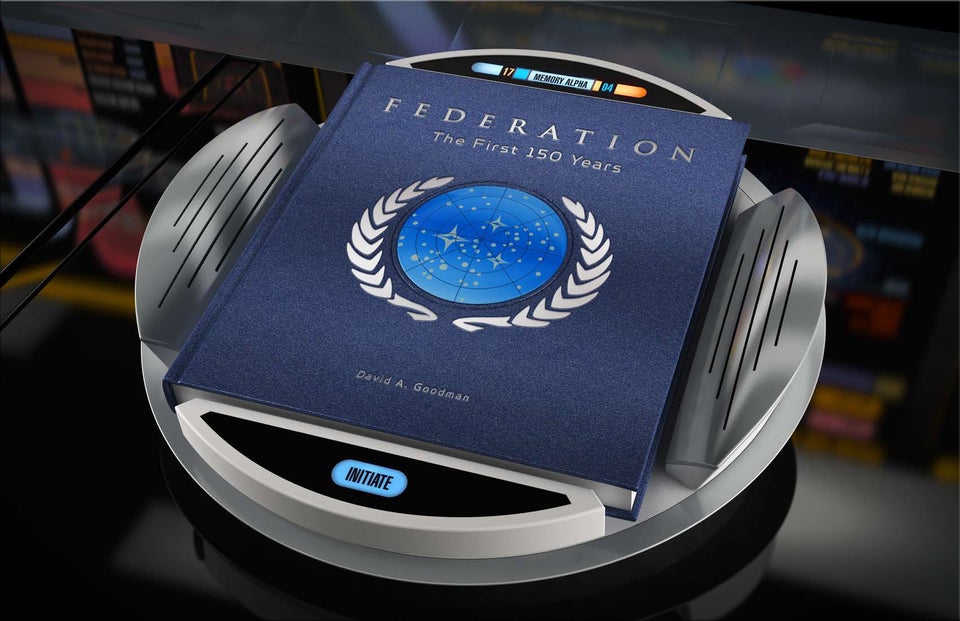 Federation: The First 150 Years
Related
Popular in the Community