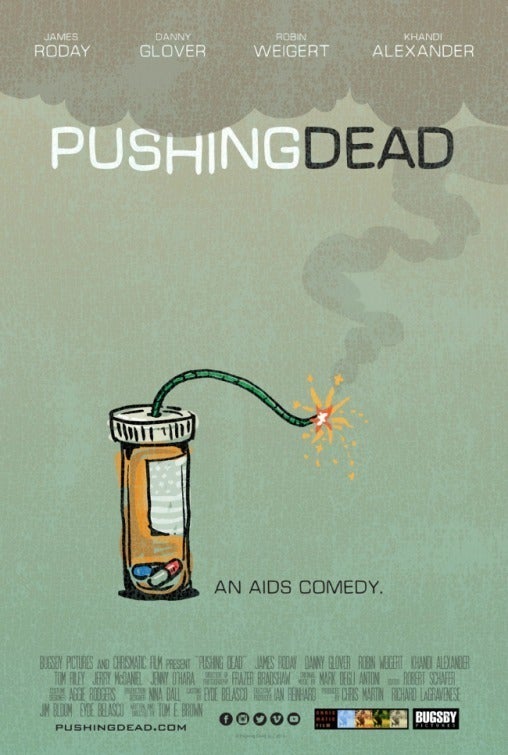 Telling the journey of how the independent film Pushing Dead came to be is sharing the story of one person's relationship with the essence of time and its grasp on the human psyche. Seventeen years ago Tom E. Brown wrote his first feature length comedy about a group of San Francisco residents, a makeshift family of sorts, and how they cope with personal challenges. It debuted this year.
So, why did something so mundane as laughing about how people deal with life's setbacks take so long to make? It might be because the film business is a risk and investors want movies with a sound return. This usually means getting the right actors, right crew, right everything. But beyond the logistics and financial hurdles of filmmaking was the idea that for the first time audiences would be laughing about— AIDS.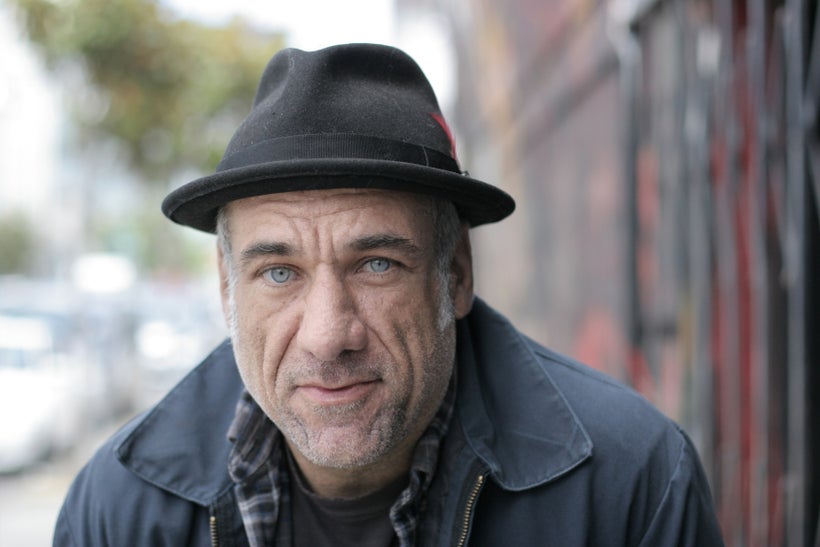 I didn't set out to make an AIDS movie or a dark comedy. I set out to make a movie about coping. Life is funny. I have been positive for thirty-one years. I have a different perspective. I made a movie about my world. It's goofy.
Tom was diagnosed in 1985. He wrote and produced the shorts Don't Run Johnny (1997), Rubber Gloves (1998), and Das Clown (1999) and wrote Pushing Dead in 1999. Tom was accepted into the Writer's and Director's Lab programs at Sundance in 2000. As he continued to work on getting Pushing Dead into pre-production he continued to write and produce other short films like , Trademan's Exit (2015). His shorts, some with similar dark comedy topics, earned many film festival awards.
While Tom came to terms, two years after his diagnosis, with living with a chronic disease and was living in San Francisco, a more historically diverse and open community than the rest of the United States, the rest of America was not ready to see thriving queer characters, the complexities of healthcare with a chronic illness, and the network of people that choose to be family to each other as they try to live regular American lives.
Maybe Tom had a crystal ball that predicted his idea would come to fruition decades into the future and would be chatting with me on the day of a historic election, that has proven, like Pushing Dead, that sometimes life can be unexpected, odd, and at times goofy and dark. "This movie would of been very different if I had been able to make it sixteen years ago. People weren't ready," says Tom. They are ready now.
The film takes us into a world where time seems to be playing tricks. Dan Schauble, played by James Roday, is dealing with being positive for twenty-two years and has not found a place of ease. Having lost his partner years before he and his makeshift family, made up of Danny Glover, Khandi Alexander, and Robin Weigert, seem to keep waiting for his death. Schauble manages his time between a strict medicine regiment, that gets disrupted when his mother sends him a hundred dollar check that makes his income too high for his healthcare benefits, and trying to break what appears to be an eternal writer's block.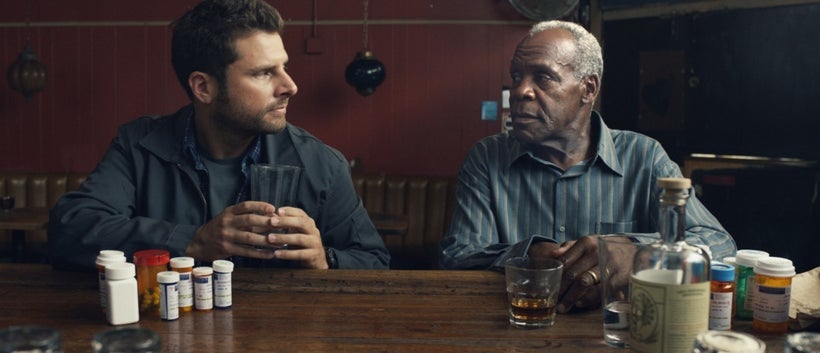 Pushing Dead goes beyond the single focus of a person dealing with AIDS and shows us how Dan attempts to help his support family cope as they learn to live with their own metaphorical deaths like, the mourning of those who are left behind; the death of young love in long term relationships; the end of who they thought they were or wanted to be and who they have become. Dealing with endings also means dealing with fears. The film deals with our fear of time, how we use it, keep track of it, celebrate it, try to control it, and how it marks us.
It is this fine line where life's daily tensions are not only a bit insane but can also be comical. Pair that with a prominent, white, stuffed monkey; a very odd little girl that randomly and somberly appears and has worldly messages for Dan and a downright creepy marionette and you have the first AIDS comedy.
This is not a laugh out loud slapstick movie. What Tom E. Brown has succeeded in doing is given us a lighter perspective on what happens when we stop trying to control what is often out of our control. He reveals the simple joy of acknowledging the raw humanity that connects us.
The film weaves the similarities in how we carry our burdens, and what happens when we choose to shift our focus from despair to gratitude and acceptance for what we do have like, kindness, friendship, family, love, creativity and... cheese crackers. Each imperfect yet singularly can give us so much joy and perspective.
Listen to Tom discuss his inspiration to make AIDS something we can laugh about, the concept of time within the AIDS community, why he didn't give up on the movie, and his advice to aspiring filmmakers.
Calling all HuffPost superfans!
Sign up for membership to become a founding member and help shape HuffPost's next chapter
This post was published on the now-closed HuffPost Contributor platform. Contributors control their own work and posted freely to our site. If you need to flag this entry as abusive,
send us an email
.