Every day of the week, The Pollination Project (www.thepollinationproject.org) provides $1000 in seed funding to a deserving individual who is working to make the world -- or just their own community -- a better, more peaceful and more sustainable place.
When we began one year ago, many wondered what good $1000 could do to address critical issues such as environmental sustainability, social justice, and community health and wellness. However, having hit a milestone of one year of daily giving, and $365,000 in "green energy" fueling change and possibility in the world, we would like to introduce you to several people who made such an impressive impact with their grant that we've awarded them another grant to continue seeding the change.
Here are the extraordinary people and ideas we are celebrating this week:
Vasanthi Kumar is introducing humane education lessons into school textbooks and teachers' manuals published by education boards across India. Though vegetarianism is not uncommon in India, and some animals are occasionally worshipped, as the cofounder of Stray Relief and Animal Welfare (STRAW) India, Vasanthi saw rampant animal cruelty. Her "Compassionate Classrooms" program began with the Educational Board of Karnataka, a state in the south of India. Tens of thousands of students in the state are being taught compassion for all living things and respect for the environment, and in the years to come, millions of students. Her ultimate goal is to bring "Compassionate Classrooms" to all 35 states in India.
Elle Morgan created a nature and arts immersion program called The Elements of New Life Scripts to help adjudicated teenage girls "rewrite" the stories of their lives. She spent her initial grant turning seven acres of wilderness in the Appalachian Mountains of Pennsylvania into a magical place for the girls to come on retreats. In 2014, Elle will use her second grant to expand the property to include a yoga platform and much more. Please see Elle's story here.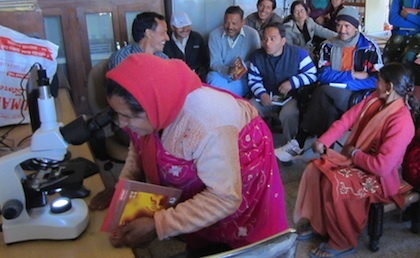 Marilyn McHugh and Chris Kennedy founded The Hummingbird Project on the belief that a coalition of individuals, each working for positive change, can have a great impact on the world. They focus on cultivating a living soil, growing healthy food, and capturing renewable energy. In 2013, they used their grant to help 900 subsistence farmers in Lucknow, India transition to organic farming techniques, including purchasing a microscope and projector so farmers can see healthy organic soil with their own eyes, a generator and fuel for electricity when needed, and printed information that can be disseminated even more widely. Read how they did it here.
Raghu Makwan, who lost the use of his legs due to childhood polio, started Tyaag Nu Tiffin ("Food of Sacrifice") with the help of friends who began sacrificing a meal per week so others could have something to eat. Three years later, with the help of the Pollination Project grant and a community of supporters who continue to sacrifice a meal per week, the project now serves 17 housebound elders in the slums of Ahmedabad, India. Tyaag Nu Tiffin has transformed from serving food to a vehicle for others to give. Read what his team wrote about this wonderful man here.
Humpback whales travel the Pacific Ocean every winter to their breeding grounds near the equator. The whales now have a breeding environment that is much less polluted than it was a year ago, thanks to Amy Work and Geoporter, who received a grant so residents of Bahia Ballena, Costa Rica, could use GPS units and Geographic Information Systems (GIS) technology to track community resources. For five months, residents categorized and mapped trash along the streets and beaches in town. With more than 50 inches of annual rainfall, it doesn't take long for trash in the streets to make the short journey to the ocean. Along with trash, technology helps them track the whale sightings during the different migration seasons, helping them understand the patterns today as well to see changes in whale numbers, location, and arrival and departure dates in the future.
Banga Sadrack is an environmental and animal rights activist in Cameroon who launched a citizen campaign to protect the endangered elephants of the Boubba Ndjinda reserve. Save the Elephants, the first animal rights campaign in the country, resulted in 100 soldiers being deployed to protect the park and the elephants. The campaign also educates the public and tourists to refuse to participate in the ivory trade. "Something extraordinary had to be done by someone ordinary," said Banga. Read his story, in his own words, here.
Vincent Atitwa provided seeds, starter plants, and training to 25 families in the Matungu Sub County, Kenya, so they can grow their own food and then pay it forward to others in the form of new seedlings. Said Vincent, "Advances in health, financial services, and technology have illuminated a clear development path for the poor. Unfortunately, development theory alone never fed a child. The great need now is for social entrepreneurs to find ways to distribute these interventions to actual people who need them most." Read his story here.
Jamila Banks founded the Youth Earth Club in Los Angeles, a program teaching "at-risk" and low-income kids about taking better care of the earth. To date, she's offered 20 weeks of dynamic, creative and hands-on environmental training to 60 elementary school students, and has done it all for free. She will launch her next 20-week program in spring 2014. Trust us: it's way more powerful in Jamila's own words.
Congratulations to our grantees this week for continuing their outstanding work.
These are just a few examples of what a little seed money can do when put in the hands of someone with a vision and a plan to change the world.
If you were given $1000, how would YOU seed the change?
The Pollination Project makes $1000 grants every day, 365 days a year to individual changemakers. Please go to our website at www.thepollinationproject.org for funding guidelines and application.
Related
Popular in the Community