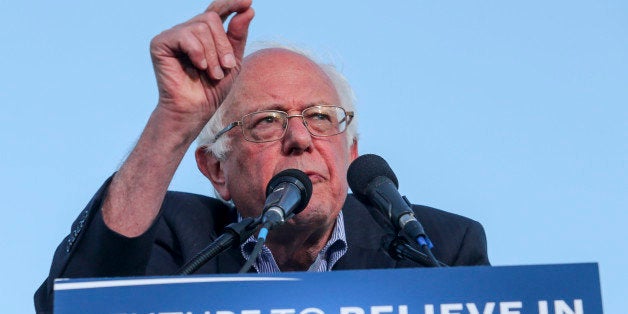 You may want to skip this post if you're one of those who thinks there's no difference between the two major political parties. Or between what Republican or Democratic presidents do once in office. Or between Hillary Clinton and Donald Trump.
But before moving on, you should know that this is about your patron saints, Ralph Nader and Bernie Sanders. For Ralph, it's pretty much about doctrine. Both parties are owned by Wall Street. For Bernie it's that, but also a very selfish utilization of a party he doesn't have much respect for, let alone belong to.
This week Ralph is sponsoring what the fliers around DC say is a "Historic Civic Mobilization." Those who are all too aware of the difference in how Republicans and Democrats govern might see that headline and hope that Ralph is convening the four-day "Breaking Through Power" conference to find every conceivable way to stop Trump from becoming the next President of the United States.
Nope. Way too much to hope for.
The long list of speakers for the event is impressive; they are leading advocates for protecting the environment, promoting gender rights, universal health care and consumer rights.
And Ralph's invitation says that the event will be "an opportunity to celebrate the 50th anniversary of his book from the 1960s, Unsafe At Any Speed. Fair enough. He deserves credit for exposing the US auto industry's blatant attempt to undermine safety over a number of years. His persistent and passionate advocacy probably saved many lives and prevented countless injuries.
And in the decade that followed, his example inspired many of us to work in various citizen action movements. I was one of them, becoming the first director of the Connecticut Citizen Action Movement, inspired and supported by Nader in our native state.
At 29, I ran for Congress, and though I won as something of an "outsider" running against the Democratic Party establishment, I saw myself as a staunch Democrat and very proudly so.
Ours was the largest class of newly-elected Democrats in post-war history. Most of us had run against that entrenched and stubborn party leadership. But we knew the party we belonged to; we knew that our aspirations for reform would rise or fall as Democrats and with other Democrats. We were often critical of the party, but it was unthinkable to consider leaving it.
It wasn't long into my four-term tenure that Ralph had disdain for that kind of commitment and loyalty. His reputation was being transformed from a crusader for consumers to an angry, unreasonable and often unfocused whiner. It was sad to see someone who was in some ways a visionary be blind to the increasingly progressive agenda of our party.
It was, of course, that agenda that stopped Republicans from having a lock on the presidency from 1980 until now.
But for Ralph and his self-absorbed independent candidacy in 2000, we would have had eight fewer years of GOP rule.
The two-term Clinton and Obama presidencies both faced a united Republican party veering right and pledging to stop anything the president wanted to do. What would the country be like today if they had succeeded in having their way on clean air, clean water, gender equality, funding for infrastructure, privatization of Social Security or forcing the super wealthy to pay their fair share?
Ralph and his political soulmate, Bernie, don't buy into any of that. They are not Democrats. And they have, at best, played bit roles -- Ralph on the outside, Bernie on the inside -- in these battles to stop the far right agenda.
Look back at the major progressive coalitions of the past quarter century. Look for any evidence that either Nader or Sanders played any significant role in creating those efforts or doing the brutally hard work of beating back the other party. That kind of work takes a desire to get in the trenches, often for years, and to work with coalition partners, most of whom are loyal Democrats.
So now Bernie's increasingly destructive effort is tied to what its supporters say is a national movement to launch primaries against incumbent Democrats in Congress. Yes, those same people who have done the hard work and manned the barricades to stop the far right agenda. Are Ralph and Bernie aware that Democrats in the House and Senate have never been more progressive and more united against the other party, the one that's on the wrong side of history?
Never mind. They're not listening. Why acknowledge that, let alone support these lawmakers when you can just spend your time raging against the machine?
So they rage on, bringing us closer and closer to a point where perhaps the most dangerous man on the planet is the big winner.
The agenda for Nader's conference this week:
Day One - "Breaking Through Power"
Day Two - "Breaking Through the Media"
Day Three - "Breaking Through War"
Day Four - "Breaking Through Congress"
How about a "Day Five?" "Breaking Through Ignorance To Stop Donald Trump"?
Don't hold your breath. The statement at the top of the event flier states, "Making Change; It's Easier Than You Think"
Toby Moffett is a former member of Congress from Connecticut and the only full-time "Nader Raider" to serve there. He is now a senior adviser at Mayer Brown, LLP
Calling all HuffPost superfans!
Sign up for membership to become a founding member and help shape HuffPost's next chapter