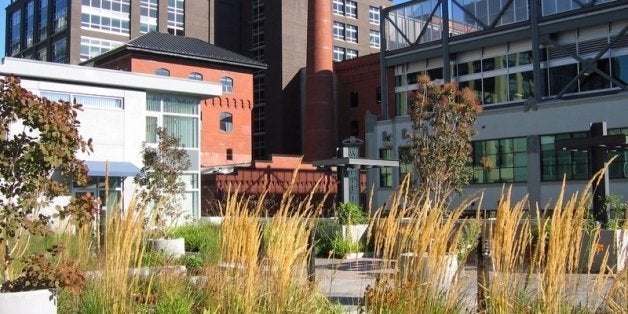 The post-2015 Sustainable Development Goals on the agenda at the United Nations summit later this month reflect a world that is becoming much more urbanized. An increasing number of cities are dealing with multiple stresses, such as demographic and population shifts, new economic drivers, social equity, consumption of energy and natural resources, and rapid advancements in technology. Each of these challenges is related to Goal 11 -- Sustainable Cities and Communities -- as each is influencing decision-making regarding sustainable urban development for the future. However, the issue of climate change has further sharpened the 21st century emphasis on growing sustainably.
Urban planning and development has been and will be increasingly affected by the impacts of climate change, including rising sea levels, extreme heat, drought and storms of greater intensity. These destructive weather events are serving as a wake-up call that we must rethink what, where and how we build for the future.
As the sustainable-cities movement has gained momentum, we are seeing a rising number of innovative approaches to the planning, design, development, financing and insuring of real estate. And, as these strategies have evolved, we are seeing greater acceptance of the reality that it is not always possible -- or wise -- to keep building homes and businesses in the same places and in the same way they have always been built. This is compelling the real estate industry to work ever more closely with the public sector and other community stakeholders to develop and operate properties in a way that better protects both the built and natural environment.
Buildings contribute nearly 40 percent of global climate-changing greenhouse-gas emissions, and to combat the worst impacts of climate change, we need to address the energy use behind these emissions. Three important aspects of building energy impacts are location, construction and operation, and there are opportunities to reduce emissions associated with each of these.
We are learning much about sustainable practices from members of the Urban Land Institute's Greenprint Center for Building Performance, which is a worldwide alliance of leading real estate owners, investors and strategic partners committed to improving the environmental performance of the real estate industry. Greenprint members have committed to a 50-percent reduction in carbon emissions by 2030; and since the group was established in 2007, a cumulative reduction of 10 percent has already been achieved. Early next month, we'll be releasing Greenprint's latest year-to-year progress report, and we are fully expecting this trend of declining emissions to continue. The strategies Greenprint members are using to reduce emissions as well as conserve energy and land are making a tangible contribution toward more sustainable cities around the globe.
ULI's research on building sustainably and adapting to climate change includes analyses of the types of risks and types of assets that merit protecting, and the potential damages a city might face when dealing with adverse events. We've explored how sustainable development can be encouraged by strategies related to land use; infrastructure and technology; finance, investment and insurance; and leadership and governance. We've looked at how community size, location, and density all factor into planning and growing more sustainably. And what we're finding is this: Many of the same practices that lower urban carbon pollution and make cities more resistant to extreme weather and rising sea levels also make them healthier and more attractive places to live, which strengthens their triple bottom line of social, environmental and economic performance.
To become more sustainable, an increasing number of cities are taking a holistic approach that involves a combination of these strategies:
Developing compact, walkable, mixed-use communities: Community design influences how residents relate to each other. Communities that are highly walkable and which encourage a high degree of social interaction have lower carbon footprints and are more resilient to disasters, because the residents are more apt to know each other and help one another. These types of communities also foster greater inclusivity and social equity.
Investing in social capital: The public and private sectors are working together to establish greater social infrastructure with community amenities (such as open space, parks and trails) that provide opportunities for people to meet each other, and improve connectivity to other parts of the community. These same facilities can also buffer storm water and heat waves or provide emergency escape routes.
Building resource-efficient and durable housing: Communities are encouraging the development of housing that is not only better able withstand extreme weather, but which reduces energy and water use, resulting in lower utility costs.
Continuously adapting for a changing context, be it environmental or economic: Being resilient means focusing on adaptation and flexibility of space, so that building uses can change over time to 1) meet new needs and preferences of residents, and 2) be better equipped to withstand environmental and economic stresses.
Climate change may have made pushed sustainability to the front and center as an urban priority, but what has resulted is that more cities are discovering that what's good for the environment is also good for quality of life. A global goal of creating sustainable cities and communities could best be achieved by thinking of sustainability in terms of livability, health and prosperity. It's not about how much cities can withstand -- it's about how well they thrive.
This post is part of a series produced by The Huffington Post, "What's Working: Sustainable Development Goals," in conjunction with the United Nations' Sustainable Development Goals (SDGs). The proposed set of milestones will be the subject of discussion at the UN General Assembly meeting on Sept. 25-27, 2015 in New York. The goals, which will replace the UN's Millennium Development Goals (2000-2015), cover 17 key areas of development -- including poverty, hunger, health, education, and gender equality, among many others. As part of The Huffington Post's commitment to solutions-oriented journalism, this What's Working SDG blog series will focus on one goal every weekday in September. This post addresses Goal 11.
Calling all HuffPost superfans!
Sign up for membership to become a founding member and help shape HuffPost's next chapter