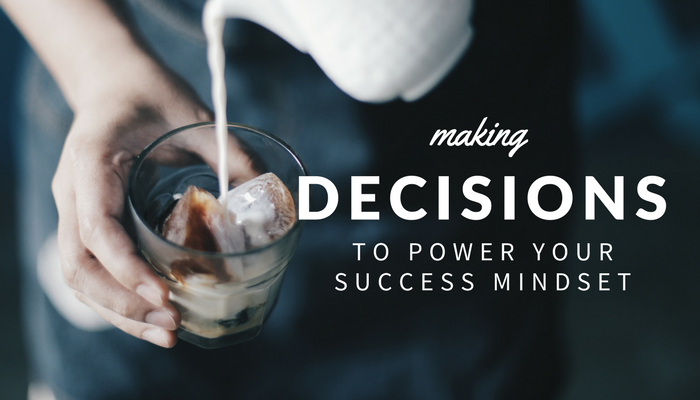 Your Decisions Power Your Success Mindset
My 26th birthday fast approaches. (It's on Wednesday, June 28.) And I've spent much of this weekend feeling sorry for myself because my 27th year on earth is coming and I'm not where I hoped I'd be.
I shared my upset with my biz bestie, Sarah, and she started the reframing for me, pointing out that I have so much more confidence and clarity than I did a year ago. And also that there are so many avenues by which I allow money to find its way to me.
She's right, of course. And I thanked her and acknowledged that she's spot-on there.
I do truly love the word "sulk" by the way. It's like silk… It's glamorous. Really luxurious actually.
Yet at 26, as a woman who has had the vision of speaking on stage in front of thousands but whose current audience is a much smaller number, I don't have that luxury.
I don't talk about wasting time (that's one of the four things you shouldn't let bother you) but still, I'm aware there are much better ways to spend my time.
But all day, as I've tried to write — I've probably put 600 words on the screen TRYING really hard to say something important and worthy of your attention — I kept coming back to feeling impotent.
For someone with big, big dreams, focusing on what you don't have makes you feel nothing short of impotent. I choose that word very deliberately here.
I introduce myself to others and in various places online as the World's Teacher of Access Your Godliness and the author of Daily #TRUTHLETTING, so I'm growing ever more conscientious of showing up to the keyboard each day. I have a list of people who subscribed to receive my daily Truthletter, and I feel the need to perform. Actually, more than that, it's a desire.
I know that writing makes me feel better — no matter what state I'm in when I start, the act of writing raises my vibration. And I think that right there is the key to why I couldn't write at 8:30 a.m., or at 1 p.m., or even when I tried again at 5 p.m. Because I hadn't actually made the decision to feel better. To reframe all the Debbie Downer thoughts running rampant in my head.
Have you ever seen that skit from Saturday Night Live? Rachel Dratch played Debbie Downer, who spoils every conversation with information about a new disease, political news, or killer bees, and right after she deadpan delivers her lines, a horn goes, "Womp wompppp." The theme song of the skit even goes: "You'll beg her to spare you / Debbie, please! / But you can't stop / Debbie Downer."
Our brains can be like that. Ruining everything, even when you beg for it to stop.
But really, you CAN stop your Debbie Downer brain. It's a muscle you have to exercise so it gets big and strong.
So I was struggling to write and hungry. I took a walk to grab some food and on my way, I worked through my issues.
I realized that I have chosen — mostly out of habit, out of a glamorization of sulking — to feel horrible ahead of my birthday. I have chosen to be moody and withdrawn and frustrated.
Having chosen that, I can decide if it serves me, and if it doesn't, decide to change it. That's how this whole damn thing works.
WE are the ones who get to choose. You can choose how you feel in any moment. And a little hint? You should always choose to feel better, whatever that might look like for you.
I go to my journal frequently to ask and answer the question, "What feels good right now?"
Guess what? They're always just THOUGHTS.
The thought of money coming in feels good. The thought of cuddles with my boyfriend, had earlier in the day, feels good. The thought of my MacBook Air in rose gold feels good. The thought of those spring rolls I'm going to eat when I'm done with this #truthletting session feels good. The thought of my friend Tavon (thebeefcakemarketer.com) telling me he's moved by my writing feels good. The thought of your comment on this post, letting me know how you relate, feels good.
See? They're all thoughts.
So if what feels good right now are all thoughts, surely you recognize that the stuff that feels bad right now are thoughts. Just thoughts.
On some level I've always known this, or least known it for a while, but I am always amazed and grateful for the clarity that writing gives me. So yeah, when we feel good, it's all just THOUGHTS, and when we feel bad it's all just THOUGHTS.
It means that a success mindset is the result of repeatedly deciding to think the good-feeling thought.
This is actually what Abraham Hicks talks about: choose better-feeling thoughts.
So I was walking tonight and allowing my negative thoughts to wash over me. And one-by-one I picked through them, choosing better-feeling thoughts.
Choosing to feel good and happy. Proud of myself and how far I've come in my life. And excited about my future.
Tavon told me something he'd heard from Mel Robbins. That she suffered really bad anxiety, such as in moments before a speech, and she'd reframe it. "These are the feelings of excitement. I'm excited to do this," she'd say to herself.
What's felt like disappointment about my life looking different now than I hoped it would be on my 26th birthday? That's really EXCITEMENT for all that's to come in the next year.
Just the other day, my coach Jen messaged me. "Right from the freakin' beginning! You were 'seeing' yourself in the matrix as the confident and sexy and leading woman that you wanted to become and now you're physically embodying what we first practiced a year ago. I say, keep practicing Lady. Head out in your most confident feeling self and prance that shit around town. You ARE that woman in the cocktail bar. I can feel that actual moment coming where you're there and having the deja vu moment. Manifest that shit!"
I'm stepping into the woman I visualized last year becoming, and I choose to honor that, to feel good knowing I'm everyday stepping more into her skin.
I choose to feel good about being in my 27th year on Earth. So many more will follow and I'll unlock doors to so many deep chambers within me, letting out better and better Rosellas. ;)
Repeatedly deciding to think in ways that empower you and recognize your own magnificence is what you have to do to reach the success you desire. It's not the easiest thing to do, because the easiest thing to do is to make your decisions on autopilot and live out the crapfest that thinking creates in your world, but you are certainly capable. And it can be done with the support of a mindset coach who helps you repeatedly step into the woman you desire to be.
Oh, and always trust- Your truth unlocks a whole big crazy cool life. Share if you dare! With fervent hopes you'll return the love (truth),Rosella
P.S. Do you find yourself worrying that you won't have any friends if you meet your goals for this next launch? Do you hear a voice inside of you say, "I'm afraid my clients won't get results," whenever you go to create or sell an offer? Do you want to help a lot of people but wonder how to do that?
These are things that I help clients with during my 90-day coaching package.
Whether or not we decided you're a fit for my 90-day coaching package, you'll leave this call with: * A snapshot of where you're at so you can illustrate this place in your story for your tribe* Identify 3 drains on your focus and energy so that you can plug these leaks* Identify 3 areas or actions that feel really good to focus on and will shift your reality* Begin thinking like the next-level version of you providing the level of service and making the income you desire
Here is what life will look like after we work together: You wake up excited to do the work. In fact, most nights you don't even want to go to bed because you so enjoy the way you spend your days. You're addicted to journaling because you know how to write your dreams into reality. You've created a body of content that has brought you more friend requests, email list signups, and Facebook group members than you've had in the year before we started working together. You are comfortable with money, checking your bank balance without fear. You're even down 10 or 20 pounds without effort or deprivation because life is so, so good you don't use food as a pick-me-up anymore.
Here's my Fancy 3rd Person Bio:
Rosella LaFevre is the world's teacher of Access Your Godliness. She mentors women entrepreneurs who are struggling with dissatisfaction and subsequent guilt, and helps them learn to access their Godliness to create everything they desire. She is also the author of daily #TRUTHLETTING, refreshingly honest writing about building a better life and business. Sign up to receive her writing via email.
Related
Popular in the Community