As the writer-producer of my latest webseries, Fake It Til You Make It, I can honestly say I exhausted all of my resources for the first time in my life. I spent less and achieved more. Execution was a logistical hell and I'd do it all over again in the blink of an eye.
Two days before principal photography, my old friend Xavier insisted on flying himself in from Texas to lend a helping hand. I have nothing for him to do. My girls from @Springcart have been on it with styling, art direction, location scouting, etc. Todd Pellegrino (Mayne Street/ESPN), my ace in the hole director, arrives from NY, working from stills, he's never visited a single location. An actress-friend I casted months ago bails on me with a Generation X, 'MY-Bad' text. I've yet to secure my last day party house and my first day location owner has mysteriously stopped returning my texts. Time to take a hint.
Day 1. TGIF love equity saves the day. Rich and Beth Correll open their mansion for me to shoot. Like the U.S. to China, I'm forever in debt. Wayne Brady arrives minus his wardrobe. Who dropped the ball? Doesn't matter. Wayne calls his housekeeper. Xavier sticks out his hand, "J, gimme your car keys." I never hear from my original location provider, a family friend. That's L.A. for you. The @WilloughbyRoad food truck guys are a smash hit for lunch. First day in the can!
Day 2. Xavier and I are so paranoid about Daylight Savings we both mistakenly set our Blackberrys to go off at 5:30 am. My boy Mark gets stuck in New York due to weather, which means I must personally drive an hour away to Future Hall-of-Famer Michael Strahan's house; Mike has generously loaned me his Mercedes SLR for the shoot. Old Man Stray opens the door, wiping sleep from his eyes. Looks at me like I'm Tom Brady and he's about to have a D-line flashback. I offer him a hot chocolate. 2 hours later, my carstruck crew leaves his $500K SLR parked under a tree filled with birds. Ready, aim, shit! Mentor Terrace Condos (Pasadena) are a perfect location. The crew wears shoe booties to protect the white carpets. My lead actress wrestles her heart out in a scene with a seasoned female wrestler. Fist pump, yes! We picked the right babe. Michael needs his car back. Gotta find a carwash at 6 pm on a Sunday. Shit!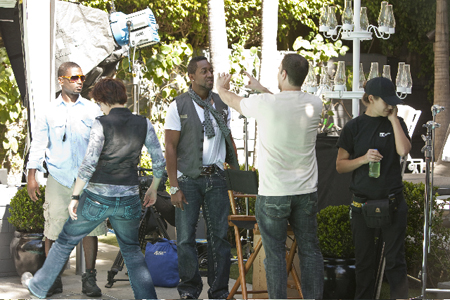 Day 3. 7 am. SLR out, Ferrari in. Peter Garland, restaurateur, owns the The Bar Room and Porta Via in Beverly Hills. He gives us access to both. Class act. One to shoot our scenes. The other for makeup and C-stands. Gotta be out by 11. We're done at 10:27. Beverly Hills Parking Maids are itching to write us tickets. The second location is my attorney's parents' house. Murphy's Law -- the city decides to lay hot asphalt directly in front of our location house. We beg the street crew to "jackhammer" in between takes. Third location is the Viceroy, Santa Monica. The sun is setting and my crew is looking at me like the infected people from I Am Legend. One minute past 12 hours and they're going to eat my face. I'll be forced to pay time and a half -- CUT! It's the first day we don't make our shot list. Ferrari owner wants her car back. Another midnight car return with a 7 am call the next day.
Day 4. Wake up at the Viceroy in a room filled with camera equipment. Something tells me Alec Baldwin wouldn't go for this. We start an hour earlier to make up for the previous day. Viceroy is accommodating and we are ahead of schedule. Xavier goes ahead to check into our second location, Hotel Oceana. Tries buying lunch for the crew but Bay Cities Italian Deli isn't feeling my Amex.
Our 'we don't have' list is growing fast. We don't have an office to shoot a scene, so Todd grabs three chairs and uses camera angles to fake an office in our Oceana suite. Brilliant call. A Mexican Lady who sells roses in the next webisode -- we don't have her cast yet. My producer tries selling me an Italian lady she can "rely on." I live in L.A. Throw a rock and find me a Latino. Xavier (who is Mexican) casts the role from Oceana housekeeping. My production coordinator, Kristin, thinks we've lost our minds.
We still don't have a party house for our last day location. My boy Mario, who is L.A. after-party royalty, calmly eats sushi beside me. "J, I'll get you a house." The other shoe drops. A terrific actress who was set in stone has been pulled by her manager for a CW pilot audition. My manager, Chris, is freaking. I tell him to shoot me her phone number. Never met this young lady but her voice is soothing. If I switch her workday I will risk losing two other locations and a hot guest star in UFC fighter Rashad Evans. She's that good. I switch the days.
Day 5. Still no party house with 3 days to go. My boy Jay Jackson's dad has loaned us his crib. The unreliable Mexican lady from Oceana housekeeping is first on set. Comedy. Production leaves my wardrobe in a parked van in Pasadena. Xavier slaps the S on his chest, "J, gimme your car keys." During a playful photo shoot, I accidentally spill champagne in the eyes of my prize actress for whom I switched workdays. If I were trying to sleep with this chick I'd be down 1000 points right now. We film 2 limo scenes in the cul-de-sac and stay long enough for my boy's father to officially kick us off the premises. I'd like to say I've been kicked out of better places, but I can't LoL It's my favorite house in L.A. Steve Jax, you rock!
Day 6. Our one day off. Mario's got a party house. I meet him at Dillons in Hollywood and he's got three bangers with him. Translation: Amazing looking chicks who will inevitably break your heart, but since all boys like roller coasters, bring 'em on. It hits me -- our waitress is hot. Eyes like pudding. I cast her for a scene at the party house. She seems down. We drive to the party house. Problem! "No Parking" signs everywhere. One of Mario's bangers randomly blurts out, "You guys should film your series at the house where I'm staying." 4 hours later, I'm shaking hands with Russell, an internet mogul in Hollywood Hills. His only stipulations: Be done by 10 and invite chicks with small butts. He doesn't like big butts. We've got our last location.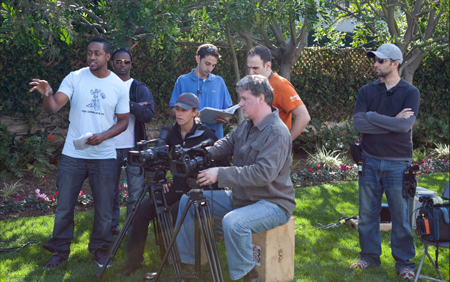 Day 7. Inglewood, CA. Four cop cars zoom right by us on the street but they are clearly comfortable with the number of White people in my crew, so we're good. And the neighborhood gangstas are so respectful they're crossing the street voluntarily to avoid being in our shots. Debbie Allen graces our set and cusses me out in character from an apartment balcony. Classic scene! Company move to West L.A., Xavier and I drive to the wrong park for lunch. By the time we arrive, we're looking at an empty tray of hummus. My production coordinator avoids eye contact. I'm feeling moist inside but my inner Bruckheimer remains calm. Two of our actors have hard outs at 6pm. We don't even start shooting until 3pm, like usual Todd makes it happen. I get a text from Rashad Evans. He's in for Saturday.
Day 8. Last day of shooting. I'm scrambling to get friends to play background at the party house later. Xavier takes the truck to pick up Rashad Evans. My last exotic car hook up is a bit tricky ;-) When the smoke clears, I'm tearing down the 405 freeway in a Lamborghini with production blowing up my phone. Rashad is a natural, knows his lines and everything. I want to strangle my publicist for missing an interview opportunity here. Onto our last location. Lucky for us, Russell lets us into the party house early. The hot waitress from Dillon's shows up on time. Russell is pleased with the size of her butt. Parking is an issue at this locale too. But we're making do. For our martini shot on the evening, an LAPD helicopter decides to circle overheard. Cops shouting, "John Bernard, come out with your hands up!" Sweet irony, this would happen in Hollywood Hills and not in Inglewood. It's a wrap.
All in all, I got the talented Wayne Brady to give me a day's work for the price of giving his daughter a well preserved Urkel doll. Some people throw big weddings. Others throw lavish birthday parties. I put a chunk of money into a paper shredder and blew out a kick ass webseries for anyone who's ever asked, "Whatever happened to Jaleel White?" Fake It Til You Make It is my Drizzy Drake Mixtape. Some things you do just because. Let the jokes fly!
LAPD? Did you ever catch John Bernard?
Jaleel White stars as Reggie Culkin in the new comedy webseries Fake It Til You Make It -- Google It Soon!
To my entire Fake It Crew -- Todd, Paul, Eric, Mr. Rations, Bea, Kristin, Greg, Reza, Ian, Rita, Iris, Eve, Dawn, Abigail, Matt, Zach (ur car is a star!), Jen, Megan, Chandra, levi, Bobby, Owen, Tim... I'm outta breath. You all inspired me to bring my A-game. This one was for the love of comedy.
Calling all HuffPost superfans!
Sign up for membership to become a founding member and help shape HuffPost's next chapter