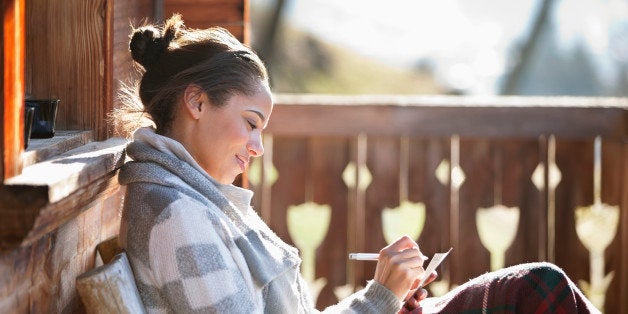 In the world of journalism I'm constantly on a deadline. For years I've experienced the adrenaline of working with a limited timetable under high pressure and higher expectations. This rush is something that I'm hoping to keep in my life for a long time to come.
Moving to Washington D.C. for a journalism internship is an experience just as fast-paced as it should be. Real-time reporting mixed with endless monuments, events and neighborhoods to explore left me planning my days for weeks in advance. I made a list and felt like I was racing to cross off as many museums, restaurants and tourist activities as I could.
I moved in when the calendar highlighted my arrival and I have a ticket booked home on a specific move-out weekend. These time constraints used to loom over my activities; everything seemed to be flying by so I could fit in alI that I wanted to do.
I was always thinking about the deadline, even when I wasn't in the newsroom. I began to realize that every moment was going by too quickly. I wasn't engaged in my day because I was constantly thinking about the next one.
I was rushing to accomplish rather than experience.

Everyday I exercise to keep my thoughts straight and my life in order. Unfortunately, a twist on my morning jog landed me a night in the emergency room-- reluctantly practicing how to use crutches on my newly bandaged, stress-fractured foot.
Running, usually a source of order, compelled me out of the bounds of confined sanity and into a slight diversion of disarray. I've had to suspend conventional travel in this city organized by the capacity of a well-run metro system. It's too difficult getting down into the subway and navigating the railcars with my ankle wrapped. I've had to walk, one slow step at a time, on bustling streets. I've had to call cabs and get stuck in excruciatingly frustrating traffic.
I am now moving slowly through a constantly bustling city. I've begun to take in the fast-paced corridors I was accustomed to racing down with my exacting routine a little more leisurely.
I hate this slow pace. I'm used to racing and adrenaline and pushing my bounds.
However, reluctantly, with this I had a necessary realization for my own sanity. Literally slowing down has caused me to figuratively slow down and enjoy myself.
I've changed my mindset in order to cope. I've come to appreciate the fleetingness of my days as the opposite of my initial perception of them -- I've begun to see them as lasting memories.
Lasting because I'm now wrapping my fingers around the ephemeralness of experience and trying to hold those slipping moments with clenched hands against my ribcage and push them into my heart. The moment goes by and I reach out to grab as much as I can, while I can, and pull it in close.
Having a finite amount of time in one place has brought me to a new appreciation about learning to live fully in the moment. I'm learning to take in all the details I can, absorb them into my being and cherish them.
Flying by and then being forced to slow down has taught me that I'm not only allowed, but should be encouraging myself, to pause amongst the whirling chaos and breathe in the experience. Focusing on the details, like who I was with and what I felt in that exact moment, has made me enjoyed my experience even more.
The sense of impermanence associated with a place and experience at a certain point of my life has made me value these moments like precious gifts; they are occasions to tuck into my memory and pull out later as cherished snapshots in time.