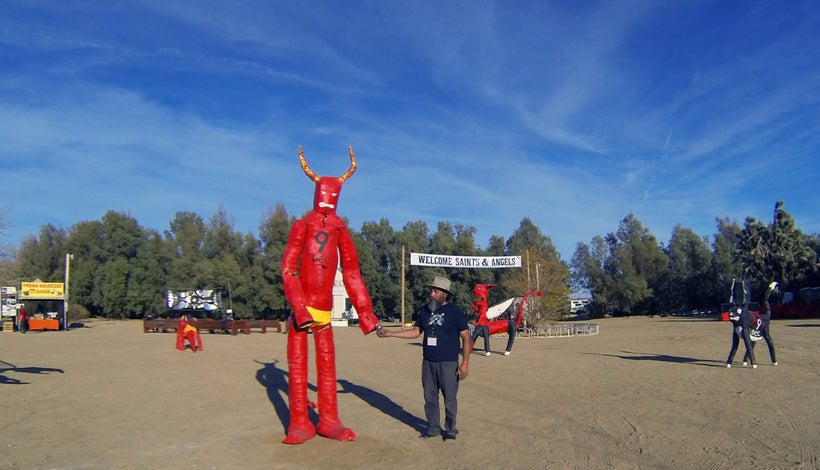 I capture a photo of festival founder Rolo Castillo sharing a beer with a 12-foot scowling red devil. He tells me he's built up quite a relationship with this devil as it's the very first large-scale papier-mâché figure he made. However he didn't stop there. Festival-goers arriving at the inaugural La Quema del Diablo festival at the Institute of Mentalphysics, also known as the Joshua Tree Retreat Center, are greeted by a veritable horde of vibrant red devilish creatures. I am captivated by a devil dog with bared fangs, yet somehow his big eyes and barrel-like form make him seem almost cuddly and not too far removed from the family pet. Maybe the devils that haunt us are not so scary when we are able to come together and face them armed with art, music and a spirit of camaraderie…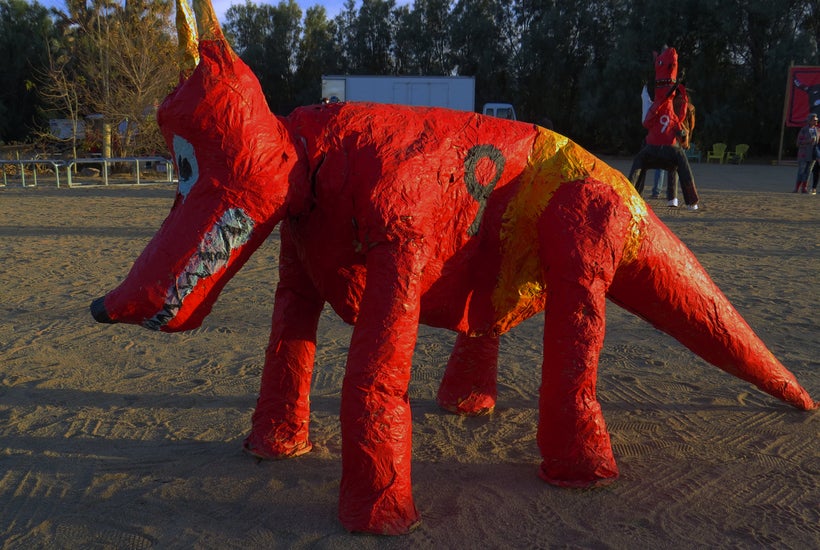 I ask Castillo about the evolution of the Joshua Tree festival. He tells me that a year earlier, during three months recuperating from surgery, he had plenty of time to consider his priorities. He decided he needed to move forward with implementing an idea he'd been percolating for creating a Quema del Diablo festival in the desert. Inspired by the Guatemalan tradition of burning effigies of the devil at year's end to release the bad and start fresh for the new year, Castillo felt it important to create an opportunity for people to come together and share in this process.
"The world's a little crazy right now. We all need some stress release and Christmas can be a difficult time for a lot of people. We wanted to make a holiday event for people whose holidays are not Christmassy."
And Castillo is no novice at event organizing. His earlier Quema del Diablo art and music crossover events had proved popular in Pomona, California. His philosophy is simple:
"Don't let the naysayers put you down and then things come to you… and it all comes together".
For the Joshua Tree festival he lists Michel Cicero, Bill Green and Bad Otis Link as his 'partners in crime' and there is a long list of contributors. The collective creative energy at Quema del Diablo is evident in the activation of the outdoor space. 'Frontierland' has been cleared, stages constructed and a café, bar and exhibition space installed. The festival is a fundraiser for the redevelopment of the farm at the Retreat Center that was established in 1946 on 420 acres of land with core buildings designed by renowned architect Frank Lloyd Wright and his son Lloyd.
Music is provided by Fingerprice, Regal Pooch, Celestial Mind, Steve Gregoropoulos, The Shade Asked the Shadow, Megan Hutch, Cody White and the Easy Ride, The Flusters, Bradley Palermo, Trumpets of the Young, Annachristie Saphire, Bradley Riot, Spencer Keizer, Kevin Stetz, Cuddle Party, Dead Poet Society, Lujuria, Damon Robinson, Jesika Von Rabbit, The Swords of Fatima and Killjoi along with DJ sets by Kim Green, Kate McCabe, Dave Catching and Ess O Ess.
Visual artists include Bad Otis Link, Dee Marcellus Cole, Emmeric Konrad, Jason Hadley, Marcel DeJure, Mary Hidalgo, Matt Aston, Tod Lychkoff, Ben Alanoff, Tania Jazz Alvarez, Conchi Sanford, Kat Green, Mayberry Walker, Rick Robinson, Oliver Manhattan, Pablo Romero, Thyrza Segal, Tony Mendoza, Steve Shigley and Kelly Witmer, Patrick Webster, Chris Wagganer and Martin Mancha.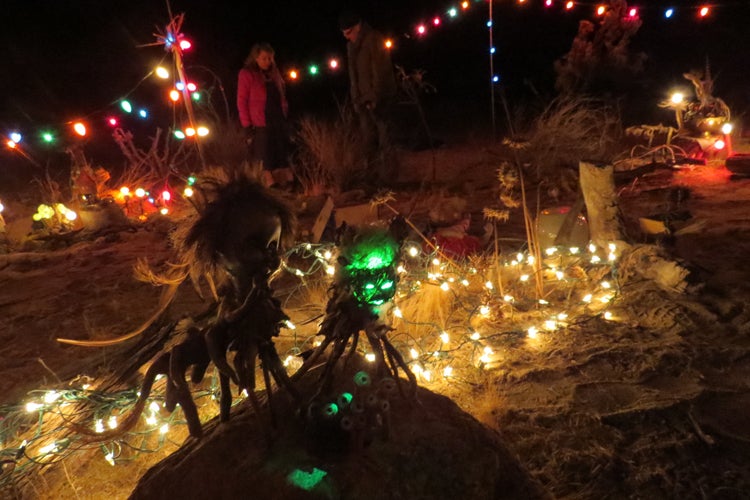 As the sun disappears, the twinkling lights of Thyrza Segal's Monster Park illuminate her spooky little creatures created from desert materials. Congregating nearby, The Holiday Squad marching band lead everyone on a rousing parade around The Burn arena. Although the wildfires in California have necessitated a fire ban in the area and derailed plans for an effigy burn, the fire pit is piled high in symbolic fashion.
Encouraged by feedback after the inaugural event, Castillo and his team are already making plans for La Quema del Diablo 2018.
"People want to be more involved. We aim to get better, not bigger, investing more in production values, but keeping ticket prices accessible and attendance numbers capped at 2,000. "
I plan to revisit my Oliver Manhattan devil horn headwear and return for the Dec 7 festival in 2018. Having enjoyed the process of releasing some demons in 2017, I'm sure I'll have no shortage of fresh little devil dogs nipping at my heels next year.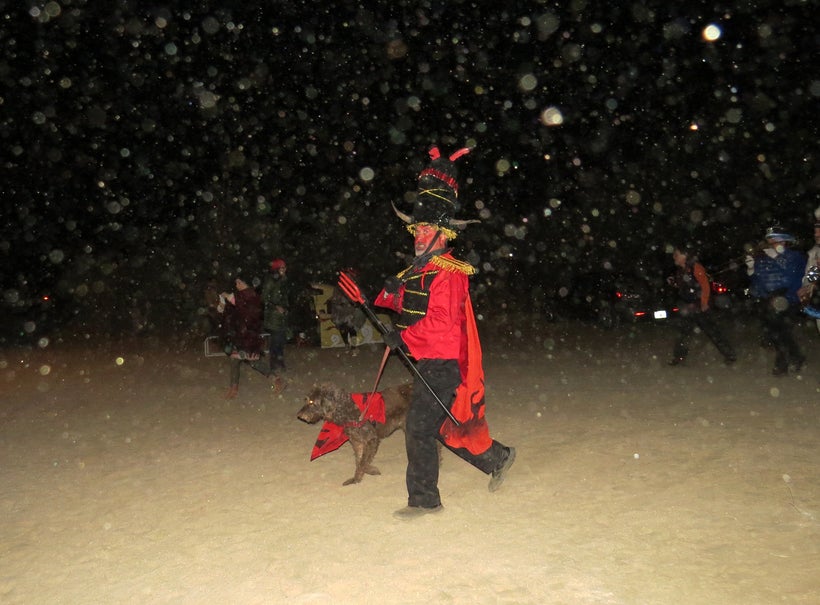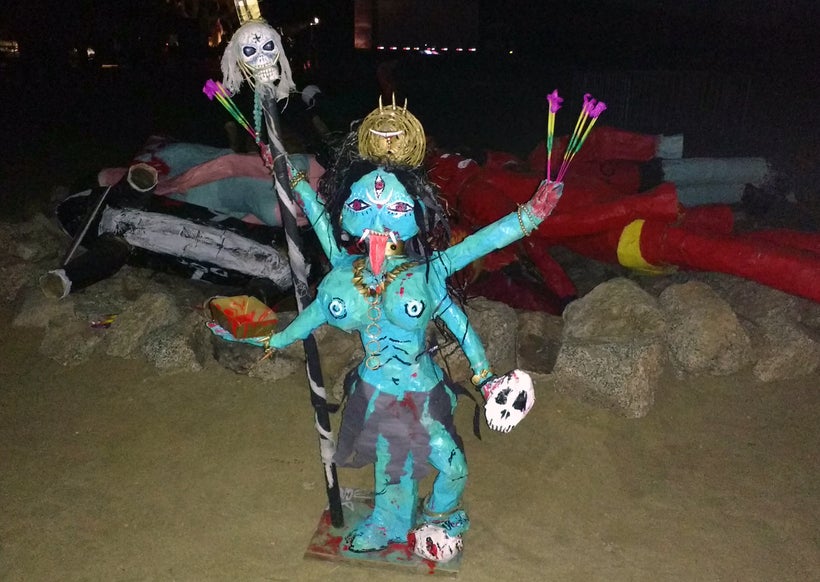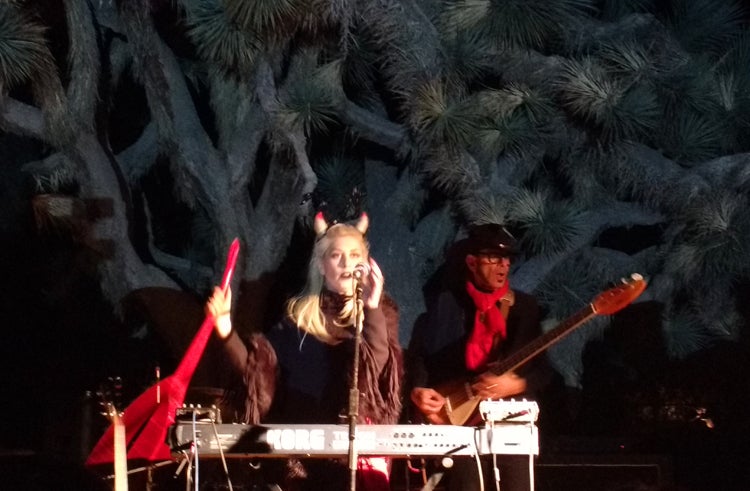 REAL LIFE. REAL NEWS. REAL VOICES.
Help us tell more of the stories that matter from voices that too often remain unheard.
This post was published on the now-closed HuffPost Contributor platform. Contributors control their own work and posted freely to our site. If you need to flag this entry as abusive,
send us an email
.