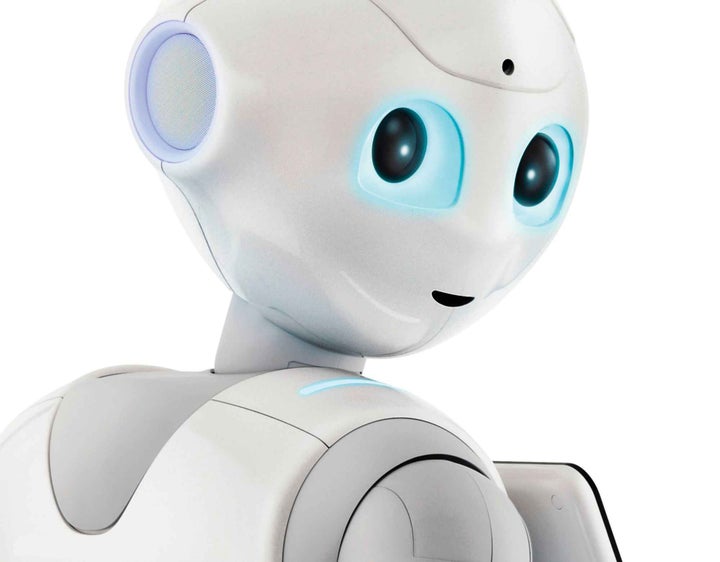 Writers polish jokes for a robot that assists train station visitors. U.S. warehouse "pickers" direct a robot they call Superman to transfer items through the building, saving them countless steps. Relay, a hotel butler, quickly delivers extra towels or toothpaste to guests.
These examples of how robots have joined the workplace were highlighted at the Collision 2017 technology conference in New Orleans this week. The market for collaborative robots is estimated to reach more than three billion dollars by 2022.
This "cobot" approach to the workplace poses a huge change management challenge. Many people fear losing their jobs to robots and in many cases, robots are entering workplaces where the average worker is not highly educated or computer literate.
But Fetch Robotics CEO Melonee Wise say within one week, most warehouse workers accept her delivery robots, which increase the efficiency of pickers by an average of 40 percent. Fetch robots can cover nearly 20 miles a day.
Wise says Fetch robots aren't taking work away from humans because U.S. warehouses have 600,000 unfilled jobs and average a 25 percent turnover rate. In addition, many warehouse workers are older and welcome help with physical tasks.
"I had one man tell me he could work an extra five years because his knees weren't going to hurt as much," says Wise.
Robots can make hotel service much more predictable, says Tessa Lau, who co-founded Savioke, which makes the hotel robot Relay. "If you don't want to wait thirty minutes to get something from the front desk, you can have a robot do it in five minutes."
Carbon Robotics CEO Rosanna Myers says their goal is to have robots perform the repetitive, difficult, and dangerous tasks that no human wants to do.
"I'm very optimistic," she says. "I think we'll get to the point where humans do what they do best and robots can amplify that."
Carbon Robotics develops robotic arms, primarily for light manufacturing, where Myers says ninety percent of tasks can be automated. Even though Carbon's robotic arm costs can be set up by a non-expert in hours, Myers understands that bringing robotics to a plant can be scary.
"We try to meet people where they are," says Myers. "Whenever you try to force people to change too much, there's resistance. One of the things we've done well is observe what people do so you can try to fit into their work flow and make it as intuitive as possible."
Pepper is a shiny white humanoid-looking machine, perhaps a cousin of Rosie from the Jetsons, who was designed to be adorable. At places ranging from train stations to shopping malls, Pepper greets people, answers questions and can even amuse them with games and dancing.
Humans fall in love with Pepper at first sight, according to Rodolphe Gelin, chief scientific officer at SoftBank Robotics. "They say, he's so cute, what can he do for me?" says Gelin.
This very social robot will even give you a fist bump. Pepper works autonomously, but will call on a human for help if he/she can't answer a question (Pepper has a fluid gender identity).
Gelin says Pepper hasn't taken away any jobs and has even created new jobs. AI has not progressed enough to allow Pepper to crack jokes on its own, so humans write its dialogue.
Wise says while robots will displace jobs, it's time to change the conversation. Instead of saying "bad robot," we need to have a social, economic, and political discussion about "how we need to change our culture to one of life-long learning and think about how people need to be trained to handle new technology."
Lau believes one of the best ways for people to prepare for robots is to learn how to use computers as tools.
"To the extent people can understand how to use this technology to make them more effective and productive, everyone wins," says Lau.
Myers thinks the concern over robots today is similar to the early days of computers when people worried about losing jobs.
"But I don't think any of us would want to give up the tools we have today – computers, internet, our phones," says Meyers.
All the robotics experts at Collision say the key to humans working successfully with robots is designing machines that are easy to use and that offer a clear benefit.
Wise says because her Fetch robots help warehouse workers with backbreaking tasks, they get names like Batman and Superman.
"Naming robots after superheroes is a good indication workers like them," says Wise. "Robots are their friends."
While all the roboticists foresee a future where people and robots work alongside each other, fear of robots won't disappear as long as humans worry about losing their jobs to even the cutest machine.
Related
Popular in the Community