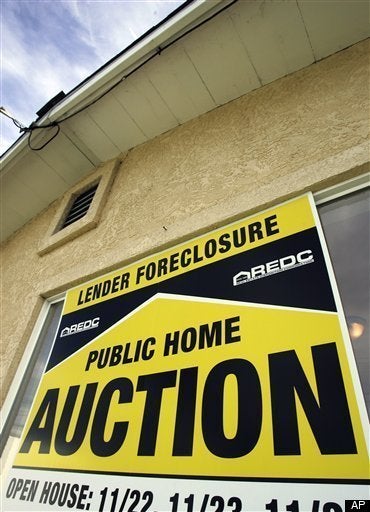 Twelve percent of distressed homeowners eligible for mortgage modifications under the Obama administration's signature effort to reduce foreclosures have been helped so far, the Treasury Department reported on Wednesday. That's an improvement over the previous monthly report on servicer participation in the Making Home Affordable modification program, which revealed that only 9 percent of eligible homeowners had started trial modifications from the start of the program in April through July.
Overall, 360,165 out of 2.9 million eligible distressed homeowners have started trial modifications under the $75 billion Home Affordable Modification Program (HAMP), which gives mortgage servicers an incentive to reduce monthly payments to 31 percent of a borrower's income. Nineteen percent of eligible borrowers were offered trial modifications, up from 15 percent in the previous report.
Servicers that offer modifications get $1,000 upfront and another $1,000 per year so long as the homeowner stays current, and homeowners can get $1,000 a year toward reducing their principal for up to five years.
"At this early date, HAMP has already been more successful than any previous similar program in modifying mortgages for at-risk borrowers to sustainably affordable levels, and helping to avoid preventable foreclosures," said the Treasury Department's Michael Barr in prepared remarks before the House Financial Services Subcommittee on Housing and Community Opportunity.
"Nonetheless, we recognize that challenges remain in implementing and scaling up the program, and are committed to working to overcome those challenges and reach as many borrowers as possible."
Frustrated that lenders had been sluggish to help homeowners and slow the rise in foreclosures, the Obama administration scolded bank CEOs in a July letter.
"We believe there is a general need for servicers to devote substantially more resources to this program for it to fully succeed and achieve the objectives we all share," wrote Treasury Secretary Tim Geithner and Housing and Urban Development Secretary Shaun Donovan.
In early August the Treasury shamed servicers by releasing specific bank-by-bank data on participation in the program. The nation's largest, Bank of America, had done modifications for a mere 4 percent of eligible borrowers. In August, Bank of America improved to 7 percent.
Yet the improvements aren't likely to mollify frustrated homeowners and bank critics.
"Several months into the Home Affordable Modification Program...homeowners and their advocates report that the program is not providing a sufficient number of loan modifications to homeowners, the modifications offered often do not meet the guidelines of the program, and the program itself still presents serious barriers to mass loan modifications," said Alys Cohen, a staff attorney with the National Consumer Law Center in prepared remarks before the housing subcommittee.
"Moreover, even if HAMP operated at its full capacity as envisioned by Treasury officials, HAMP's loan modifications still would be substantially outpaced by foreclosures, and the modifications themselves lack the mandated principal reductions that many believe are necessary to stem the foreclosure tide."