Moments into its first episode, "Making It," NBC's new competition show celebrating the talents of eight crafting enthusiasts, establishes itself as a balm for the world-weary.
"Life is stressful enough," co-host Amy Poehler says. "Let's make a show that makes you feel good."
Buoyed by the enthusiasm of its hosts, Poehler and "Parks and Recreation" co-star Nick Offerman, "Making It" is feel-good reality TV, less inserted than lovingly decoupaged into the summer lineup. All soft colors and smocks and sunshine, it is the latest entry in our welcome vogue for comfort programming — television that "feels like slipping into, like, a warm bath," in the words of executive producer Nicolle Yaron, who developed the show with Poehler.
Reality and competition shows predicated on pleasantness and good intentions, rather than conflict and drama, are not a new concept. But shows like "Making It," joining "The Great British Bake Off," "Queer Eye" and "Nailed It!" among others, seem to be having a moment in our current era of head-spinning news cycles.
"It's the kind of show you can watch with your kids and be rooting for people and also be inspired. I don't do well with competition shows that stress me out. There's enough things to be anxious about," Poehler told Variety last month. "It will make you cry, but in a really good satisfying way, after you've had a glass or two of wine, and don't we want that from our TV?"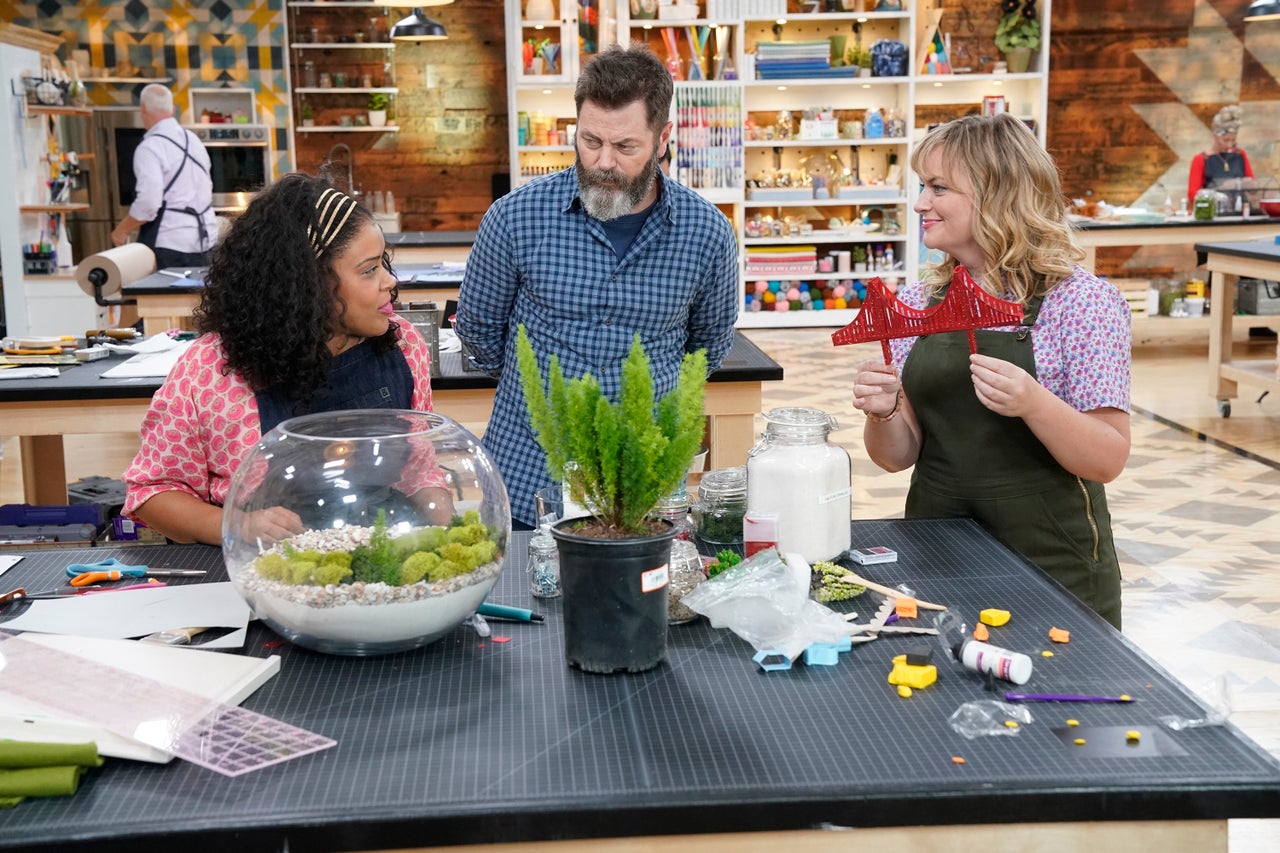 "It's lovely to see that all of these things are happening as a trend," Yaron told HuffPost. "It's really life-affirming. It's very nice for the soul."
"Making It" has a diverse parentage. According to Yaron, the show's creators looked to elements from "RuPaul's Drag Race," "Top Chef," and early seasons of "Project Runway." She also cited more unexpected sources of inspiration, from "American Ninja Warrior" to "Family Feud" to "The Voice," which she produced — arguing that all of these shows represent a shift toward television featuring competitors that are "sweet and fun and funny, not necessarily just like, 'I'm coming here to win.'"
"Making It," like its forerunners, prides itself on its good-natured participants, known as "makers," who take on different do-it-yourself crafting challenges, showcasing skills like sewing, woodworking and découpage. Downplaying the show's $100,000 cash prize, Offerman, a skilled woodworker himself, tells viewers in the first episode that "the real prize is a job well done."
Think of it as the Yankee cousin to "The Great British Bake Off," frequently cited by Poehler as an influence. As warm and fluffy as a winning sponge cake, "Bake Off" has developed devoted fans on both sides of the Atlantic, premiering on the BBC in 2010, before airing in the U.S. on PBS and Netflix as "The Great British Baking Show," beginning in 2015.
A lot of elements in "Making It" seem almost directly borrowed from the idyllic baking competition, which is shot under a tent in the British countryside. Like Poehler and Offerman, original "Bake Off" hosts Mel Giedroyc and Sue Perkins trade pun-filled repartée in between segments talking to participants about their techniques.
Competitors on both shows lend each other a hand in moments of crisis. As the clock ticks down during a "Bake Off" challenge, one baker helps another shake her stuck pastries out of the pan; on "Making It," one maker helps another blow-dry wet paint on his wood sculpture before time runs out.
Contrast that with more traditional reality shows, in which producers and casting directors often seem to look for people with a penchant for creating on-air clashes.
Yaron thinks the camaraderie on "Making It" is just a natural outgrowth of the participants' personalities.
"I think the community of makers is like that," Yaron said. "They were really collaborative, and they were really sweet to each other. We did not produce them to help each other. They just did."
During the casting process, she said, producers "just fell in love with some people who made cool stuff. They were just so lovable."
There is craft, too, in the show's aura of pleasantness. Like "Nailed It!" and "Bake Off," "Making It" uses pastel- and candy-colored sets. The makers compete inside of a barn, which Yaron said was built to "pay homage to everyone who tinkers in their garage."
"Making It" and "Bake Off" both feature outdoor scenes, incorporating natural light for a softer look, as opposed to some of the more conventional reality shows that are shot on a soundstage with glaring lights. The latter is also a fixture of award shows, according to Yaron, who has also worked as a producer for the Oscars and the Emmys, where lighting changes are key to creating "the gravitas of the moment," she said.
By contrast, "when you have a show that takes out the gravitas, you don't need so many moving lights."
Yaron hopes that the show "inspires people to be kinder to each other and to make more things," she said.
"I'm trying to incorporate more craftiness into my life," Yaron said, pointing out that she sent paint-by-numbers kits as thank-you gifts for people who worked on the show, and has taken on some crafting projects of her own — "though not successfully," she joked.
She posited that these shows about creativity might be part of an even larger societal shift. Because we spend most of our days glued to our screens, we might be craving more time to create things, she said ― pointing out, for example, the growth of meal preparation services like Blue Apron.
"You want the feeling of making it and putting it together," Yaron said. "I think the more people are on their phones, the more people want to use their hands — or want to watch people use their hands. I think our deep-down human nature DNA misses that."
"Making It" airs Tuesdays on NBC.
Support HuffPost
The Stakes Have Never Been Higher
Popular in the Community