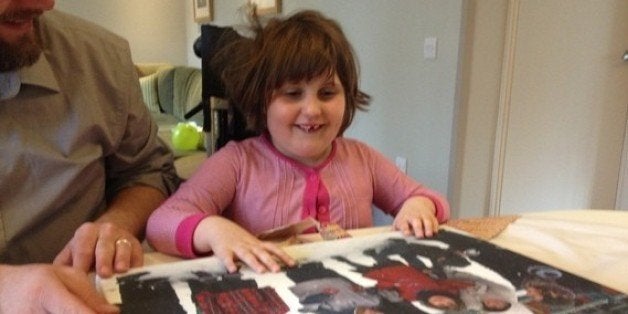 There are 289 shopping days to go until Christmas, yet my two young sons already have their wish lists well underway. One trip along (not even inside) the high street shops last weekend generated several excited squeals of 'ooh look' and 'I would looove', along with the obvious amusement of other shoppers overhearing my rather unseasonal "well, you'll just have to write to Father Christmas" on the first weekend in March. Needless to say, the birthday wish lists are coming along nicely too, and when those long-awaited dates do finally arrive, I am confident that it will take about 20 minutes on any high street (or indeed about 8.5 minutes online) to find a top wish-listed item and guarantee one happy birthday boy.
Not so with The Girl. The Girl, imminently turning 8, is a much trickier customer to please. After all, she can't write a wish list. Nor squeal excitedly. Nor tell me explicitly what she would really, really looove. Which is not to say, of course, that we can't make some educated guesses. Over the last 7.95 years of living, breathing, sleeping, laughing, crying, dancing, eating and every-other-thing with our remarkable little girl, we have learned a thing or two about what she likes and does not like. Wordlessness certainly does not prevent her making her opinions on some subjects fairly well known, as I'm quite sure our neighbours would testify!
But the fact that she can tell me very clearly that she would rather watch "Show Me Show Me" than "Me Too" right now is not much help. Her opinionated shouts to show that she would prefer her brothers' toast to her own cereal don't get me far for her birthday. Her wish list is limited. The high street shops hold little appeal. Toy shops are full of things she will simply bite and then discard. Clothes shops are full of skinny jeans and sparkly strappy tops (yes, even for 8-year-olds) which are simply not designed for a child in nappies. Loom bands require, well, hand function. Wordlessness does make it harder to know what our daughter, beyond having her words back, would really like.
The things we do know and which can be bought have been exhausted: We already own every Olly Murs CD available; there are only so many box sets of "Balamory" anyone can own and watch on repeat; her favorite books are already duplicated to allow for the chewing she subjects them to; and really, tubes of Pringles don't count as an adequate birthday present for your only daughter.
The trouble is, the problem runs much deeper than simply not knowing what to get. The annual brain-racking and search for inspiration has tended to exacerbate the already slightly double-edged approach to her birthday. I have enough close friends with children whose milestones have, like Hannah's, not been reached, to know that I am not the only one who finds birthdays hard. And knowing that I can't simply walk into a toy shop and pick out the age-appropriate-currently-trending-must-have toy is just one part of it. I asked son number 1 what he thought Hannah might like for her birthday this year, and he quickly replied "a Barbie?" While I balk at the gender stereotyping already somehow instilled in a 4-year-old, I kind of can't help wishing he was right.
Fortunately, though, son number one also knows his big sister better than that, and when early this morning he stumbled across a fully-wrapped, giant rectangle of a present, he immediately enquired, "Is that Charlie and Lola pictures?" "Yes," I responded, mildly impressed by either his super-power vision or his intuitive knowledge of his sister. "Ah, Hannah will love that." Let's hope so, since it's taken the best part of two nights, four copies of the same book and one entire Pritt stick to create. And that's only present number one.
A few years ago, you see, the browsing of toy shops and even scouring of special needs toys Internet sites, just got too depressing. And pointless. We pretty much exhausted the sensory toys options, most of which amused the boys (flashing lights, wobbly textures, whale-sound noises - what's not to love?) but seemed to either alarm or bore Hannah. The swing and the trampoline were, admittedly , instant and timeless hits, but you can't really keep up that level of present-buying every year (to be fair, we didn't even keep it up for one year, the grandparents did!) The solution, I realised, was people.
Hannah loves people far more than she loves things (and almost more than she loves Pringles). She's just not a material kind of a girl. Whenever we drag her round a zoo or farm, it is quite apparent that she would be far happier if there were people, not animals, behind the fences. She lights up when she sees people she loves, we have to remind her to take breaths in the presence of people who make her smile so much she forgets to do anything else, and she will shout distinctly at people whose attention she wants if they stop giving it for even a second. She's all about the folks. And so, I ditched the high streets and specialist sites and instead started to think up ways we could 'give' her people.
Four years later, and one week before her 8th birthday, I am once again up at 1am, laminating A5 coloured pages onto which I have stuck individual photos of Hannah with the people she loves, taken since her 7th birthday. One per page, so as not to overwhelm, each one laminated, so as to be more easily turned over but less easily nibbled or torn, all inside a light laminated folder, so as not to be too damaging when thrown. The large picture frame is now traditional too: her current favourite book is bought in duplicate, the key pictures and words are cut up (imagine the guilt - an English teacher deliberately hacking books to pieces with scissors!) and then arranged within the frame (plastic, so as not to be smashed) to tell the story visually. Charlie and Lola will be the fifth addition to her collection, at which she looks and grins every evening. Weeks ago I spent another long night poring through photos to turn into large canvas (so as not to be smashed) prints, again all featuring people who make her smile. Her own smiles, when she opens these, are priceless. She needs reminding to breathe. She also needs more wall space in her room!
Some years, we've gone extra miles with the home-made theme. For her 5th birthday, we spent several preceding months filming all her favourite people singing all her favourite nursery rhymes, then edited it together and ended with a montage of said people dancing (or rather jigging about in embarrassment) to Olly Murs, of course. When she watched it the first time I needed reminding to breathe, she was so happy.
Don't get me wrong, I still kind of wish that the high street would do. I suspect that I'd still want to make photo albums and write journals and create scrapbook montages of my children's years anyway, but I'd also love to just ask my little girl what she wants and then take her out shopping to find it. I'd even quite like to be horrified by the strappy tops and to wonder if she really is grown up enough to be wearing nail polish and lip-gloss. But since the reality is that Barbie would most likely suffer significant hair loss and require fairly extensive plastic surgery were she to find herself unwrapped in our house next week, I'll stick with the late nights and multiple Pritt sticks, and will feel wearily happy to be rewarded with the kind of smiles with which Barbie would never have met. Just so long as I don't forget the Pringles.