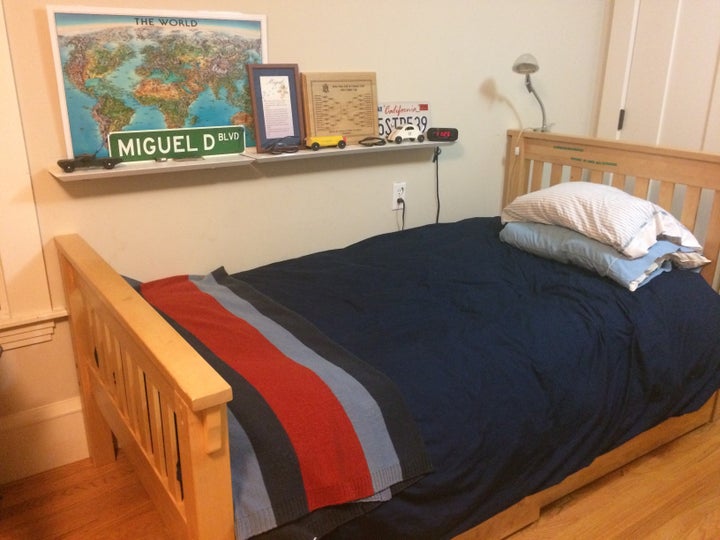 My oldest son is coming home tomorrow. It's hard to believe he's finished his first year in college. When he left last August to enroll in school on the opposite side of the country I really didn't know what to expect. How would I cope without my first-born? What would family life look like with only one child at home? How would he do? I've learned a lot in this past year. Mostly, I've realized my past 18 years of parenting has taught me a valuable lesson: take everything a day at a time and be ready for lots of adjustments.
The first weeks after Miguel left, what I most missed was his companionship. He's the type of kid who would actually ask me, when he came home, "How was your day Mom?" He really meant it and would listen attentively. At meal time, we would occasionally cook together, using recipes he found on the internet. Over the years, he found many great recipes that became staples on our table. We also watched a lot of cooking shows, our favorites being "Diners, Dives and Drive-ins" and "Chopped."
Of course, living with a teenager isn't complete bliss and there were a few things I didn't miss much about his being gone. I didn't miss his staying out late and worrying about where he was or why he hadn't texted us. I didn't miss his laundry or piles of stuff. And I didn't miss some of the difficult decisions, like whether to allow him to have a party at the house.
The first couple of months I fretted about how best to communicate. How often should I text or call? So many things reminded me of him. A song he used in one of his videos came on the radio and I thought about him. I found a great new Chinese chicken salad recipe by Bobbie Flay and I wanted to tell him. I read that James Patterson, an author he had read, was canceling his book about Stephen King, and I thought he might be interested. I realized though, that I needed to give Miguel his space and let him settle into his new life. Fortunately, It didn't take us long to fall into a nice routine. Sometime in October, he began to call me a couple of times a week when he was walking back from his girlfriend's dorm. I was happy with the arrangement and the best part was that it was his idea.
There were some difficult milestones the first few months—my birthday, his brother's birthday. He had never missed our birthdays before. The saving grace was that we had an exchange student living with us during that time and having an enthusiastic, eager guest made those celebrations manageable. I could forget that Miguel was missing—but just temporarily. As soon as I arrived home from those dinners I looked in at Miguel's room and his perfectly made bed and realized he was really gone. I felt a sadness remembering the late night banter we used to have and his insistence that I tuck him in even as he towered over me.
The good thing about parenting is that change usually happens gradually. Miguel had begun claiming his independence his last two years of high school, spending more and more time out of the house with friends. During his senior year we got a taste of college life as he often ate dinner with his friends' families and took off on the weekend for day-long hikes. I probably mourned more for his absence that year than this year, truth be told. Then I had the expectation he might be around the house more, but this year I knew he wouldn't be coming home.
Miguel adjusted well to college life. I'd like to think this was a result of good parenting. But I think this was only part of his success. It certainly helped that he had always felt supported, loved and encouraged—and occasionally disciplined—at home. But being naturally outgoing was probably a key factor. He made a lot of friends and tried new activities, like writing for the school paper. Certainly, he had his share of luck. He was paired with easygoing, likeable roommates. He was blessed with good health all year and a caring girlfriend. All this made his absence easier.
It's funny how as parents, our targets change rapidly. Last year, we were so focused on sending off our son. It seemed so final. Would this be the end of our parenting years? The answer is a decisive no. Now that this milestone is behind us, I realize parenting never ends. Miguel will be home for the summer. He'll want our help as he looks for his own apartment next fall. Next year will bring a whole new set of challenges as he gets deeper into his major, starts thinking about internships, and copes with the fact his girlfriend may be studying abroad.
I don't think I'll ever truly adjust to Miguel's absence. My own mother says she still misses my brother and I. The silver lining is that I get to see him grow, develop new interests and navigate the world. In college he's developed a taste for NPR podcasts and books and that's opened up new conversations between us. He has a passion for his classes and it's exciting to hear him talk about them.
At his core, Miguel hasn't changed. This was what I was most worried about—that somehow his essence would change. This summer, what I'm most looking forward to is hearing that simple, caring question: "How was your day Mom?"
Allison de Laveaga is a freelance writer and bookseller. She writes about parenting, spirituality and travel on her blog, allison@delaveaga.com.
Related
Popular in the Community