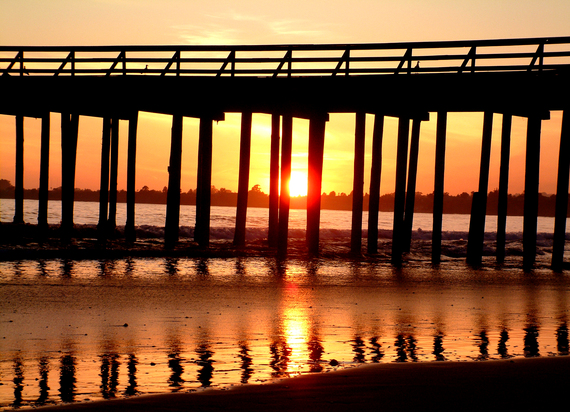 I sat in the social security office recording my thoughts on my iPhone. The past few months were such a blur, I wanted to remember the emotion.
I was in that social security office on the previous Friday with paperwork in hand to change my name legally back to Jennifer Iacovelli. My name for the first 24 years of my life. A name I hadn't used in 14 years. I filled out my form and brought my license, passport, birth certificate and divorce decree declaring the change.
The only problem was that there was no seal from the court on my decree.
And so I found myself back in the car to drive 33 miles to the courthouse and pay $5 for an official seal. I wondered why the woman at the social security office felt each page of my decree so carefully with her hand.
There was a much shorter line on that previous Friday. So, I sat and waited and contemplated and jotted notes in my phone.
The closing on my old house was also on Friday. The sale of that house lifted a massive burden from my life. With that transaction, I was officially split from my ex-husband, legally and financially. No more joint accounts. No more worrying about what he was spending. No more bills on a house far too big and expensive for me and my two boys.
I managed to move our stuff out of a 3,300+ square foot house and into a much more manageable 1,200 square foot duplex. I'm still not sure how I did it. There was a lot of selling, donating, packing and help from friends. My ex-husband came to help get the last of our stuff out of the house before closing. As he got emotional, I did a happy dance in the driveway.
Living in that house while I navigated the divorce was torture. He didn't have to sleep in our bedroom or look at our family photos on the wall every day. He wasn't reminded of the future plans for the house nor did he have to go through all of our belongings.
It was with the finality of our divorce and the selling of our house that I was able to begin to reclaim my life. A life that had, for the previous six months, revolved around separating two people heavily intertwined in a 20-year relationship with children and real estate.
The kids and the real estate complicate things in divorce and require a whole lot of planning and paperwork, not to mention my many consultations with lawyers, accountants, financial planners, real estate brokers and other professionals.
It is all over now though, and I am thankful. I know women who are in year two of separating/divorcing. My six months -- though the most stressful of my life -- was quick. I liken the experience to ripping off a Band-Aid from your skin. It hurts like hell, but once you get past the initial shock, you find relief go back to your normal self.
Divorce is not a fun process. And anyone who says his divorce is amicable is lying. There is far too much emotion involved in a divorce for it to be easy.
I made it to the other side.
On the other side, I felt a happiness I hadn't felt before. It's hard to explain, but I felt complete again. I do not have any regrets, but I was so ready to move into my new life.
My new normal -- one I am still figuring out -- where I can enjoy living life fully on my terms and work on being the best mother I can be to my two boys.

A version of this post was originally published on anotherjennifer.com
Related