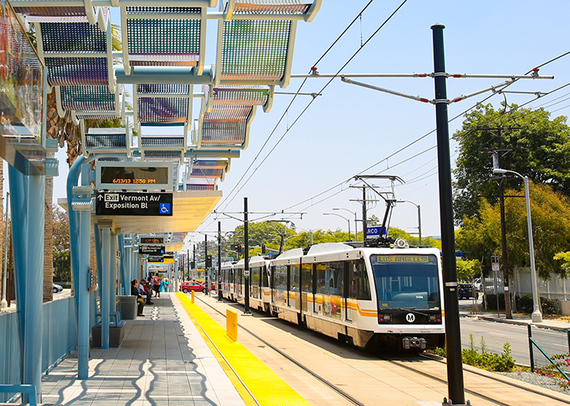 If you know L.A., you know its traffic! With a population of more than 10 million people spread across 88 cities, L.A. County has so many advantages and assets. Yet the legendary "Carmageddons" and crazy commuter traffic give our imperfect paradise a bad reputation as a car-obsessed, isolated culture.
But Angelenos recently got out of their cars and joined together to develop a long-term plan that will help transform the way we live in and get around this diverse, complex region.
Collaboration played a part in the recent decision by L.A. County's public transit agency, Metro, to expand its mission to include affordable housing for the first time in its 22-year history. This means more people who use and depend on public transit every day will be able to live close to it and benefit from it.
What Metro has done is a historic step toward preserving opportunity for all. And it was the result of a collaborative effort among community residents and diverse stakeholders over the last four years.
Let's back up to 2008. That's when L.A. voters approved a sales tax increase that is pumping $40 billion into the public transportation system over the next 20 years, making it the largest construction project of any local transit agency in the United States. It will double the number of stations, create 400,000 new jobs and reduce congestion and greenhouse gas emissions, among other benefits. What an opportunity for the region known for its traffic!
Fast forward to today, and it's to be expected that challenges like soaring housing costs and displacement have come with this tremendous growth. Now that L.A. has the least affordable rental and buyer market in the United States, higher-income residents are searching for neighborhoods where they can purchase or rent newer homes.
Many of these new developments are going up near public transit, which seems great, but the reality is that high income families use transit three times less often than the lower income residents being displaced. Developing expensive housing around transit will push lower income residents away from transportation they need. It also won't solve our traffic, smog and other woes.
Here's what we're contending with:
Regional planners estimate we'll need 634,000 new homes over the next 20 years to house new arrivals and our grown up children.
More than 250,000 of these will need to be affordable to households earning less than $50,000/year.
New apartments today are charging rents affordable to those earning more than $100,000/year.
The California Community Foundation recognized that development tied to public investment must be done with social equity in mind. That was the basis of our Smart Growth initiative, an ambitious effort to help policymakers and the public alike understand what equitable growth really means. We wanted to intensify community residents' voices in land use and policy decisions.
A central tenet of our Smart Growth initiative is collaboration. We joined forces with other foundations like the California Endowment to represent the underrepresented in this cause. Together, we worked for years to bring in partners across the public health, civic engagement, environmental justice and affordable housing sectors.
Building effective collaboratives requires investing time in learning across sectors. The housing groups had to learn about health policies, the health groups had to learn about environmental issues, the people working on bike safety had to think about affordable housing costs and land use policy. Balancing seeing the big picture with work that uses each group's strengths and expertise is challenging.
It is also challenging to suggest that public agencies or foundations make their plates bigger. Asking a transit agency to support building affordable housing as a way of making a neighborhood healthier won't work; linking affordability to increased ridership of the transit system will.
The partners eventually jointly published a study that proposed recommendations for how to address Metro's expansion in an equitable way. The Metro Board of Directors heard the recommendations and adopted some of them in this latest motion.
This story of advocacy and partnership was not easy, nor without compromises.
When the foundation started this work, one resident said, "Nothing good has ever come to my neighborhood from federal transportation dollars." He was referring to the 1960s freeway expansion that divided his community into the haves and have nots, and permanently changed its character. Our partnership wanted to help ensure that this next wave of infrastructure investment benefited those most in need of public support.
We want L.A. to continue to be known as the land of opportunity and great weather. We also want L.A. to be known for its incredible diversity, and to stand out for the equitable way it grows and manages its growth. It's exciting to know that in the foreseeable future, L.A. will become a model community for reducing traffic and increasing affordability.
Calling all HuffPost superfans!
Sign up for membership to become a founding member and help shape HuffPost's next chapter