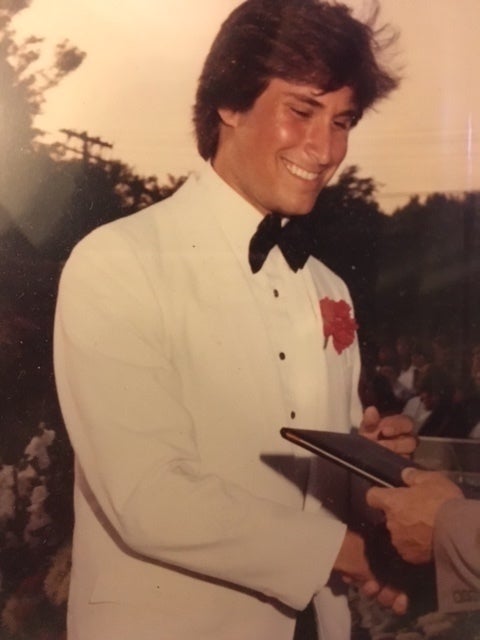 Today marks 13 years since my first husband Brett died of brain cancer, a deadly disease that kills tens of thousands of children and adults each year. 
At the time of his death, our twins Rebecca and Casey weren't quite three years of age. Consequently, they have no living memories of their dad and have only come to "know him" and find the meaning of his life through family photograph and rituals, jokes, favorite foods, and stories that keep his memory alive.  The twins are now 15 years old, just a few years shy of their dad's age in this high school graduation photo.  
Losing a loved one regardless of actual memories shapes one's life. In fact, research shows that childhood grief is one of society's most chronically painful yet most underestimated phenomena. Becoming a young widowed mother certainly molded my path. It's how I came to find my voice as a writer, knowing that I could maybe find the right words to express our family's sorrows so that other families might find strength in our experience. 
Thirteen years after Brett's death, I'm certain that love and grief coexist. Staying stuck in grief, however, does not warrant a good life. The opposite is true. Choose to focus on love even when your heart breaks...especially when your heart breaks and words escape you. 
Love allows you to move forward.
Reach out to me at nsharp@nancysharp.net or via social media and let me know how your own losses -- personal or professional -- give meaning to your life. 
REAL LIFE. REAL NEWS. REAL VOICES.
Help us tell more of the stories that matter from voices that too often remain unheard.
This post was published on the now-closed HuffPost Contributor platform. Contributors control their own work and posted freely to our site. If you need to flag this entry as abusive,
send us an email
.