A year and a half ago, designer Patrick Moberg came to his friend Paul Murphy, a partner at Betaworks, with a great idea for a mobile game. This idea would become Dots, a "brick breaker"-style puzzle game, and lead to the creation of Playdots, Inc., a company that Paul hopes will fill "a gap in the market for well-designed, original-yet-simple, games."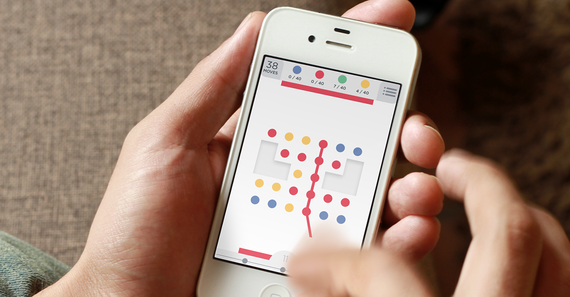 A Screenshot of TwoDots (from Dots' site)
Alex Schattner: How long did it take to develop Dots?
Paul Murphy: Patrick spent four months coding the game, and then we worked together to launch it. Incredibly, he designed and built the first game on his own. I helped with product input and marketing. Now our team has grown to eighteen people, and Dots is an independent games studio.
We brought our people in from all over the country to join our creative and eclectic team. A few people from the team split off and worked to create TwoDots (the Dots sequel). Building that game took six months and we launched it this past June.
How do you know when a game is completed?
A friend described it best "It's never completed; you just release it." We learned that early on. Patrick set the four-month deadline for the first game, and we confirmed a story with Jordan Crook at TechCrunch to ensure we finished on time; so there was going to be an article either way.
It was by no means done when we launched it--it took us another six months before we were happy--but that forced us to get the bare bones features completed, and not worry about unnecessary add-ons.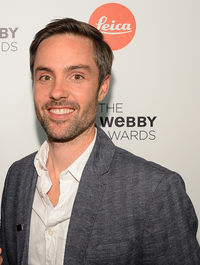 (photo from Dots' site)
What coding languages do you use?
We built the first game in Cocos2D. It was a great language to get something out quick. Now we are working with Unity, which is a cross-platform language that will allow us to use the same framework on multiple mobile platforms.
What were the biggest challenges in the creative process?
The first 10% and the last 10% are the hardest. The first 10% is figuring out, "How am I going to make this beautiful, unique, and addictive?" The last part is perfecting everything, figuring out down to the smallest detail how you want everything to flow.
Do you know how a game will work before it launches?
We have a few layers of testing for usability and understanding. The first is within our team. We play-test everything, everyday. It's pretty fun. Then we share it with family and friends--people like my step-mom or my five year-old nephew. Then we test it in certain markets, like Australia.
How do you make changes after a game has launched?
Small feature changes can be added to our server and immediately show up on your device. Other kinds of changes must be installed through updates.
Once in the Apple Store how do you promote a game?
After Jordan's article, we relied mostly on word-of-mouth. Then the Apple team discovered and promoted it. That relationship helped a lot when we launched TwoDots, in getting the initial word out.
How do you monetize the games?
Making a game free is the best option to build an audience, because it expands distribution. That leaves two moneymaking options: advertising within the game or in-app purchases. We did advertising deals with Samsung and GE, but they weren't long-term. We added new features to the game for those companies. As part of GE's "Lights Out" campaign they promoted an event called "Gravity Day," in celebration of their jet engines. So, we created "Gravity Mode" where the dots dropped instead of disappearing. We used a gravity simulation to have them bounce.
Who are your main competitors?
There are a lot of design studios--bigger ones--who have more money and can turn out games faster, but we're doing well. In June, several studios including King, with 150 million daily users launched new games at the same time as us, but according to AppAnnie, we logged more downloads during our launch month than any other studio. We have only positive things to say about the other studios out there, but it shows small players can quickly shake things up in this industry.
Hollywood is also getting involved, right? Kim Kardashian's game has done very well.
Yes. Kim paired up with Glu Mobile. We're thankful that their partnership has opened celebrities' eyes to this extension of their brand. It can be more lucrative than a movie or fragrance deal. We've had famous people come to us with concepts.
Is that why you're working with Full Picture (PR)?
We met Full Picture after launching the first game. One of our colleagues went to a party at Heidi Klum--whom they represent--'s house, and met them.
We didn't want to work with a traditional PR company, because we're looking more for partnerships than just press placements. Our first collaboration was with Nigel Barker. He took over all our social media accounts, and uploaded pictures with a new perspective.
We're currently teaming up with Russell James, the lead photographer for Victoria's Secret. Nigel and Russell are very active on social media and use platforms like Instagram as extensions of their brands and as a way to communicate with their fans. This was a unique opportunity for them to engage with our millions of players and an appropriate brand alignment because of Dots' commitment to thoughtful design.
What is the theme of pictures?
Dots is "The game about connecting," so we wanted photos about... connecting. Some Russell James photographs showed tribal artisans in western Australia who create objects that later become high-end fashion items.
What's next? Is Dots sticking to puzzle games?
We're going to stay with puzzles for a while. We're aiming to release several games a quarter. We have some [non-puzzle] ideas, but they're only sketches right now. We want to create a game that's an extension of our current brand so we can retain our current gamers, and attract new ones.
Related
Popular in the Community