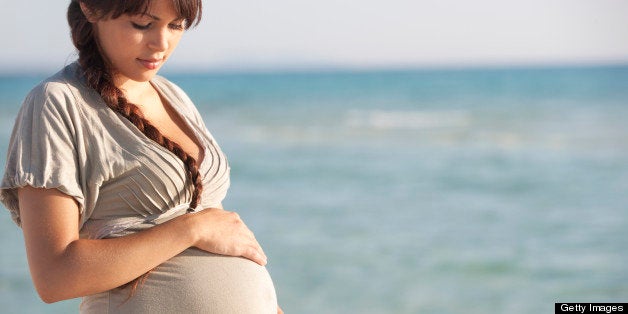 Jasmine Zapata was in the 25th week of her pregnancy when she suddenly went into labor. Hours later, the 23-year-old medical student gave birth to a fragile and weak baby girl weighing a pound and a half. This was yet another premature birth to an African American mother in the U.S.
Three years ago, Zapata relayed her harrowing experience to the Milwaukee Journal Sentinel. "When they were doing an ultrasound, I was mentally preparing myself," she told her local paper. "What if they tell me she's dead?"
Zapata was fortunate. Her daughter, Aameira, survived. She spent three months in the hospital and was released weighing 7 pounds and 6 ounces. But far too many women of color and their families are not as lucky. Black women, for instance, have an infant mortality rate that is 2.4 times the rate of white women. The number one cause of infant mortality is preterm births and studies show that African American women deliver prematurely 1.5 times the rate of white women.
As we celebrate Mother's Day, it's important to understand why women of color have such high infant mortality rates and what women, families, communities and government must all do to address the root causes.
The new direction for maternal and child health is described as a life course perspective. A healthy life for the mother and father will result in a greater likelihood of producing a healthy baby and raising a healthy child. We must live healthier so we can have healthy children. That's the core part of my message to would-be parents: take care of your health if you want your children to be healthy.
For most mothers, many of the determining health factors are in play long before the pregnancy. Diet throughout life and the stress level throughout life have a strong bearing on whether the mother has a healthy pregnancy. This is why it's so critical that we have healthy communities. The life course equation is that healthy communities will result in a healthier population.
What we know is that the environment for newborns is critical for their development. There is rapid brain development during infancy. That's why breastfeeding is so important. It provides the best nourishment and bonds the infant with the mother, creating the best scenario for the baby's development. The quality of the food is so critical in this period.
Birth outcomes are also influenced by the social connections of the mother. Families and communities must figure out how to honor, support and embrace expecting mothers so that their stress is reduced. There must be a loving and nurturing environment for the infant and the mother. Is the baby experiencing love and welcoming throughout the pregnancy, the birthing experience and early childhood? Or is it an environment of adversity and stress? If there's adversity, then there is clear evidence in the data that the child will be affected and face greater challenges.
Recently, studies have begun to document the effects of stress, particularly anxiety caused by experiences of discrimination, on infant mortality and a mother's health.
Dr. Diane Lauderdale, professor of epidemiology in the Department of Health Studies at the University of Chicago, conducted a study of Arab American women after the 9/11 attack and her findings underscored how stress can impact a pregnant mother. She found that there was little difference in the births from most mothers -- whites, blacks, foreign born -- with virtually no difference in the risk of having a low birth weight baby before and after the attack. But Lauderdale found that for 15,000 Californian women with Arabic names there was a significant increase in low birth weight babies from October 2001 to March 2002. She found that these children were 34 percent more likely to be underweight than babies born to Arabic mothers over the same time period a year earlier.
Clearly, the study pinpoints the bias and anxiety felt by Arab American women after 9/11 as a contributing factor in the increase of preterm births.
From research, we know that African American mothers are a high risk for infant mortality or preterm babies in part because of the conscious and unconscious bias they face in their daily life. The racism they encounter helps to explain why married, college-educated African American women lose their children to infant mortality at higher rates than white women who aren't married and are high school dropouts.
The data tells us that black women living in highly segregated areas, living near freeways, living in poor communities all have worst birth outcomes than their counterparts. These elements contribute to a stressful environment.
It demonstrates the need for racial healing in America. We need communities to work to understand their racial histories and bring together individuals and families of diverse backgrounds to create healthy environments where mothers-to-be and their babies can thrive.
We also need for more nurses and physicians to work closer with expecting mothers. Childbirth Connection's Listening to Mothers III survey found that a quarter of the women they surveyed experienced three or more major medical procedures such as labor induction, drugs to speed labor and cesarean section. The clear implication is that many women may not have approved these procedures if they had more information about the need and the risks involved.

As a nation, we must come together as a family, one that can generate the healing required so that families and communities can raise healthy babies and provide an environment where they have equal opportunities to successful life outcomes.
Dr. Gail C. Christopher is vice president - program strategy for the W.K. Kellogg Foundation and leads the foundation's America Healing initiative that is committed to addressing structural racism in America on behalf of vulnerable children.
Support HuffPost
A No-B.S. Guide To Life
Related
Popular in the Community