Over the last six months striking large-scale photographs of mothers have been popping up in cities all over the world -- from Lagos, Nigeria to Barcelona, Spain, and Baku, Azerbijan and San Francisco, USA. Displayed on the walls of market places, city squares, libraries and major buildings, these installations form a major project, Making Mothers Visible, designed by the International Museum of Women to highlight the often unseen issues and challenges that face mothers all over the world.
In every country, local artists, mothers and community leaders have come together to "make mothers visible." By spotlighting mothers' faces and their expressions of maternal love, hope, joy and pain, they call out pressing issues from maternal health to the importance of mothers' leadership and workplace rights.
In doing so, they challenge the idea that our world always "sees" and values the role of mothers. For example, while celebrity mothers are incredibly "visible" in American popular culture, deeper issues of mothers' health, empowerment and leadership are often hidden and not discussed. While we venerate the beauty and aplomb of celebrity moms such as Beyoncé and Jenifer Garner we too often ignore or fail to see the everyday beauty and silent struggles of the mass of moms -- both here and around the world. And those struggles are often significant -- whether they involve the struggle to have a safe pregnancy and birth, the challenges of combining family and work, or the difficulty of getting back into the workforce after maternity leave.
In each city, the Making Mothers Visible photo installations tell the story of moms' often invisible stories, struggles and emotions. In Lagos, Nigeria -- where a woman faces a lifetime risk of maternal death of 1 in 23, accordingly to the United Nations -- mothers tell the stories of health emergencies and dangerous and insecure births. For example, a portrait of Ibironke, with her baby daughter Ikan -- displayed with dozens of others on street walls in Lagos -- serves to highlight her story of how inadequate healthcare and poor sanitation left her bleeding and at extreme risk during her labor. She took part in the Making Mothers Visible project to highlight the need for improved maternal health, to "Advocate for better mentoring and supportive supervision for health care workers, and to call for safe clean water to be constantly available and accessible at maternity centers."
In Kyiv, Ukraine, mothers came together to illuminate the struggles they face getting back into the workforce after taking maternity leave, and the prejudices of employers against hiring mothers and pregnant women. One of the women featured in the portrait series, which was displayed in multiple public venues across Kyiv, was 27-year-old Nataliya. She said, "After maternity leave, I had a keen desire and pressing financial need to come back to work again... In interviews in different companies I was always refused because of my baby, so the new job was found only thanks to my friends. But still I had no chance to be promoted by my new employer, who was convinced that a young mother cannot work properly despite the fact that I was doing very well without errors or omissions." It was only when her son became older that she was able to find a fulfilling full-time job.
Mothers in Bonn, Germany, came together to spotlight the issues and concerns of single mothers in their country. The Making Mothers Visible group leader, Bettina Bab, heighted that the system of "child care is not sufficient in Germany and favors mothers who stay at home and do not work. So we decided to write a letter to the minster of women's affairs and protest against the discrimination of single mothers." The group's portraits were displayed at the entrance to the Women's Museum in Bonn.
And in Making Mothers Visible San Francisco, USA, women highlighted the hidden struggles of emotion and identity that often accompany motherhood -- from the pain of losing a baby to the resilience that is required to protect a child from racism, bullying or discrimination. Perhaps most moving is the portrait of a mother called Nina A. In her accompanying statement she says, "I am 79-years-old and had four children... In 1959, my third child was a stillborn. It was a disaster. Nobody acknowledged the death. I had to ask what happened. Nobody was there for me to mourn. It was as if it never happened." For women like Nina, Making Mothers Visible brings public understanding and recognition to the private and often unacknowledged realities of motherhood.
Sandra, a Making Mothers Visible participant said; "Motherhood has helped me learn acceptance of constant change. It is the most radical, changing part of the circle of life that one can imagine!" For many of these women, motherhood is also a catalyst for creating further change -- beginning with improvements in the healthcare, economic empowerment and leadership opportunities of mothers all over the world. Let's make the real lives and concerns of mothers visible, and press for a world where we not only see those concerns, but act upon them to create a better world for all of us.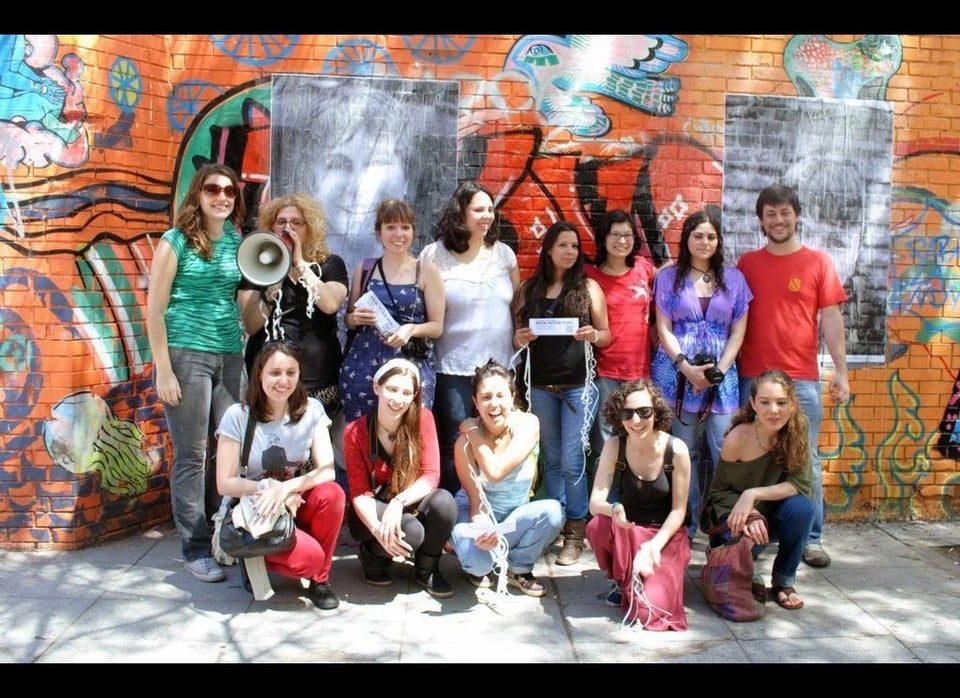 Making Mothers Visible: A Global Art Project
Making Mothers Visible is an 11-country collaboration between the International Museum of Women (IMOW) and global artists and volunteers. Images and videos of the group actions are presented online as part of the Museum's part of the MAMA: Motherhood Around the Globe exhibition. Making Mothers Visible is presented in San Francisco, Lagos, Barcelona, Ottawa-Gatineau, Cameroon, Kiev, Baku, Buenos Aires, Latvia, Bonn, and Puerto Vallarta.
Making Mothers Visible is spearheaded by IMOW in association with the White Ribbon Alliance for Safe Motherhood. It is also part of the INSIDE OUT Project, a global art project that transforms messages of personal identity into pieces of artistic work. It is a movement taking place all over the world using photographic portraits to discover, reveal and share untold stories.
Related
Popular in the Community