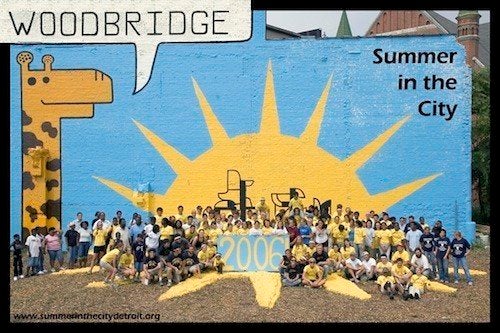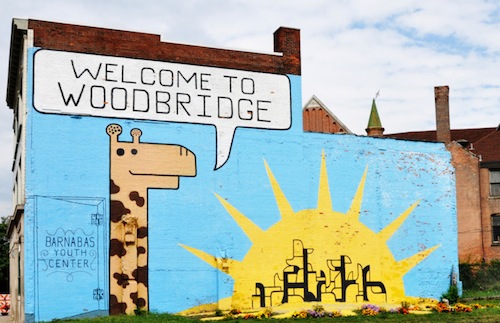 Since co-founding Summer in the City ten years ago, I have had the privilege of collaborating on murals all over the Detroit. Not so much contributing my own artistic vision or talent -- they don't exist -- but rather by convening artists, volunteers and community partners to explore how public art can help them beautify and strengthen their neighborhoods.
"Welcome to Woodbridge" (latex on brick, 2006) is arguably our best-known mural -- aided, in
no small part, by way the Grand River, Martin Luther King and Trumbull conspire to create the
longest series of traffic lights in Detroit, if not the world. It didn't hurt that it was featured for a
couple sweet, staggered seconds in the recent Chrysler 300 commercial:
Like most Summer in the City efforts, this one started with a simple question: How can we help
you do what you do better? In this case, we were talking to our new friend Stan "The Man"
Edwards about how our volunteers and their peers at the Barnabas Youth Opportunities Center
might join forces for some service project somewhere. It didn't take long for Stan to gaze up at
the bare wall and suggest we tackle it.
We kicked around a bunch of different ideas, mine being the worst: an unwholesome pie
with different artists (and, from the look of it, some prominent ones) taking different slices.
Fortunately for everyone, less was more, though "Welcome to Woodbridge" and the "Barnabas'
Open Door" did survive the wreckage.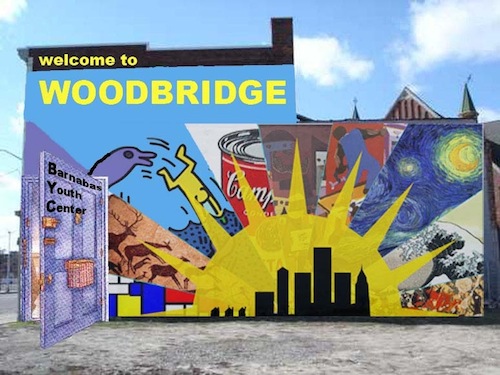 The design eventually evolved from the structure itself. The remnants of a column inspired
the Modigliani giraffe -- already part of Carl Oxley III's menagerie of pop art animals. Mark
Sengbusch, owner and proprietor of the erstwhile 101up Gallery at 2nd and Prentis, contributed
the abstraction of the SITC cityscape. Carl was (presumably still is) afraid of heights, so Mark
actually painted most of the Giraffe with Carl shouting Warholesque instructions from terra
firma.
Not that Carl's acrophobia was our only vertical challenge. At three stories, Barnabas was far
taller than anything we'd painted before. First, we bought an absurdly long ladder, transported
it at great risk to nearby drivers, and tried in vain to prop it stably against the wall. Then a
neighbor stopped by and offered offhand to let us use his boom truck. He brought it right over
and we had a good laugh in the face of Grandma Gravity.
The only problem was that the truck, built in 1968 and still boasting original parts, would die
every half hour or so, stranding us 30 feet in the air. But we got enough done that we were able
to rent a non-vintage cherry picker (also treacherously transported) and paint the talk bubble in
one fell swoop.
At some point along the way, I got an idea I regretted almost immediately: what if the sun burst
-- sunburst! -- off the wall? So, with reclaimed brick and scrap hunks of concrete, we reflected
the sun on the ground. You can see it from space. In a mad dash at dawn on the last day of the
summer, we spread the paint over the whole surface with a leaf blower. All told, we survived;
the same could not be said for the leaf blower.
In the years since, we've received lots of feedback -- mostly positive -- about the mural. WDET
did a piece about it as part of a series on Grand River Avenue. Always a diverse, vibrant
neighborhood, Woodbridge of late has become a destination for people looking for Midtown
mojo with historic character -- and a pub pride. But back then, we got a lot of comments,
including from people who lived nearby, that they knew about Woodbridge but never knew
exactly when they were in it.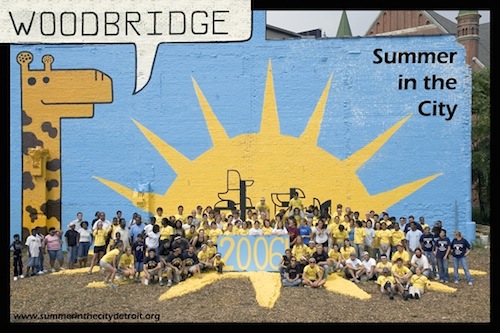 REAL LIFE. REAL NEWS. REAL VOICES.
Help us tell more of the stories that matter from voices that too often remain unheard.