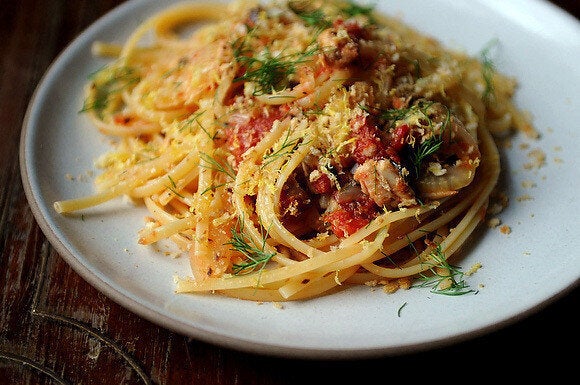 Growing up on a densely packed street full of immigrant families in New Jersey (mostly from Southern Italy) Thursday and Sunday nights were special days. That is to say, for many of the Italian families hailing from Pellegrina, Bagnara Calabra, Grimoldo, and Ceramida, the aforementioned days were designated as pasta nights. My mother, originally from a tiny hilltop village in Calabria, would often make pasta with tomato sauce on Sunday and then a more exotic pasta condiment on Thursday (maybe a ragu of rabbit with pappardelle, for example). Many of the Italian women who immigrated from seaside villages, along the Mediterranean, would make ragus from fresh seafood including swordfish and squid.
Collectively, the pasta expertise found on our street was extraordinary, and I've assembled eight key tips to keep in mind when aiming to make great pasta dishes at home, all emanating from our Italian American community in New Jersey:

1. Buy the best possible dry pasta you can afford.
Like fine dress shoes, you get what you pay for in terms of dry pasta. Good dry pasta usually comes from Italy and is made with 100% semolina (Durham wheat) flour and spring water. The better Italian products are also made by hand. De Cecco is a fine readily available pasta brand. Rustichella d'Abruzzo uses better ingredients and process for a nicer end product and is usually sold at Italian specialty shops, but can be found at some Whole Foods markets, as well.

2. Use lots of fresh boiling water.
I have a dedicated pot when it comes to boiling water for pasta and I always overcompensate when it comes to the amount of water needed. You want lots of water so that the pasta doesn't stick during the cooking process.

3. Use salt.
Salt the water right before adding your pasta and as soon as you have a good, rolling, boil going. Not including a healthy amount salt in your pasta water is the equivalent of eating a tomato without salt, so please use plenty of it!

4. Watch the pot.

Once you add your dry pasta to the pot, stir often and don't walk away from the pot. You don't need to nurse a pot of cooking pasta like risotto, but you should certainly stir every 2-3 minutes.
Most brands include cooking times depending on pasta shapes so it's important to time when you add your pasta to the boiling water. Al dente (or to the tooth) is the golden rule, but I know plenty of dyed-in-the-wool northern and southern Italians who go well beyond the al dente cooking time period, Nonno Scordo, for example, preferred rigatoni and penne at 1-3 minutes over al dente. Like finding your niche in the wine world, you should cook pasta to your taste, but please don't turn it into mush (just keep in mind there should be some give when chewing pasta). Finally don't add olive oil (or any oil for that matter) to your pot.

6. How to dress your pasta: add pasta to the condiment (and not vice versa).
Add your drained pasta to your hot pan containing the condiment or sauce and never vice versa. Adding your pasta to the hot pan containing the sauce will allow you to cook through the pasta for an extra 30-90 seconds. You should also save some of the starchy pasta water just in case you're looking to change the consistency of your sauce. You don't always need to add pasta water to your sauce, as many FoodTV personalities do. Moreover, do not rinse your pasta after the cooking process (again because the pasta contains a coating of starch that allows your condiment to adhere well to the given pasta shape).

7. Finishing the pasta dish.
Finish your pasta with a bit of olive oil as it gives your pasta dish an additional flavor component and simply completes the dish. You can add grated cheese to your pasta during the mixing process and again at the table. You can use Parmigiano-Reggiano, Grana Pa'dano (a great substitute for the more expensive Parmigiano-Reggiano), or Pecorino Romano (note Pecorino Romano is not a substitute for Parmigiano-Reggiano)

8. Portion control.

Watch your portions. Most Italians have pasta as a starter for any given dinner or lunch and not as the main dish. And remember that one pound of pasta typically serves 8-10 people.