Veganism is enjoying a tidal wave of new followers. Many consumers are opting to follow plant-based diets for both health and environmental reasons. Yet this type of diet can often be incredibly time consuming. The laborious process of chopping endless vegetables and whizzing up your own almond milk is not suitable for our modern, busy lifestyles.
It is estimated that around one billion people in the developed world are overweight, leaving them vulnerable to illnesses like heart disease, cancer and diabetes. Overconsumption of red meat has been shown to be one of the leading causes of this issue. Furthermore, rearing animals for meat and dairy products is calculated to be responsible for around 18 per cent of global greenhouse gases.
Becoming a full or part-time vegan has become an attractive option for health and sustainability conscious consumers. In the United States, around 36 per cent of consumers now purchase milk and meat alternatives. But care must be taken to ensure that a reduction or removal of meat and dairy from the diet does not result in missing out on vital protein and nutrient intake.
Pulses have until now been an unsung hero in the food industry. The high levels of protein, iron and zinc in pulses like beans, chickpeas and lentils are an alternative source of nutrients for non-meat eaters. The International Year of Pulses 2016, as declared by the United Nations, seeks to raise awareness of this.
That is why a team of students from my university, Kansas State, have developed a fully vegan, microwaveable black eyed pea and chickpea enchilada, that can be on the table in eight minutes. We just won joint first prize in a nationwide competition searching for the best new recipes that use pulses as a core ingredient, the LovePulses Product Showcase. Despite being meat free, the meal has an impressive 20g of protein per portion, thanks to the pulses.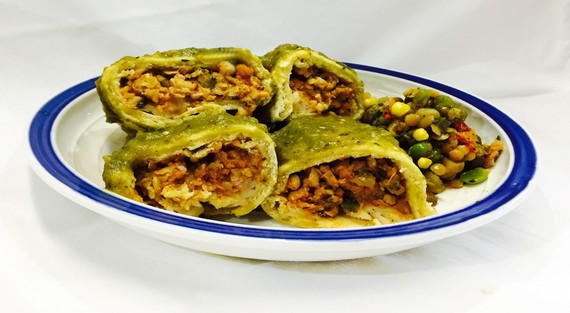 This week, winning teams that took part in the LovePulses Product Showcase will travel to Chicago, to the Institute of Food Technologists Expo, to promote their innovations. We are convinced that retailers will love the product we have developed, and will see the huge potential there is to step up the convenience food market for vegans.
Our recipe is also 100 per cent gluten-free. Up to a third of Americans are now avoiding gluten, finding that foods like bread, pasta and pastry leave them bloated and uncomfortable. Food allergies certainly seem to be on the rise, another reason behind the growing trend to favour plant-based, whole foods. For those that need to avoid certain substances, the convenience market needs to improve greatly. Allergy sufferers are usually unable to grab a snack or a ready-made meal, due to the ingredients that they usually contain. This is another area where our team of food technologists hopes to make a difference.
It is of course not necessary to go completely vegan if you want to do your bit for the environment, or indeed, your own health. Beef, for example, has 14 times more of a warming effect on the planet than chicken, so making this simple switch could also have a big difference. But by bringing tasty vegan food into the convenience aisle, we may convince even more consumers to opt for a plant-based diet at least some of the time.
Hectic lifestyles can lead to poor diet choices. It's time to help consumers make good decisions, by boosting the convenience of healthier food.
Related