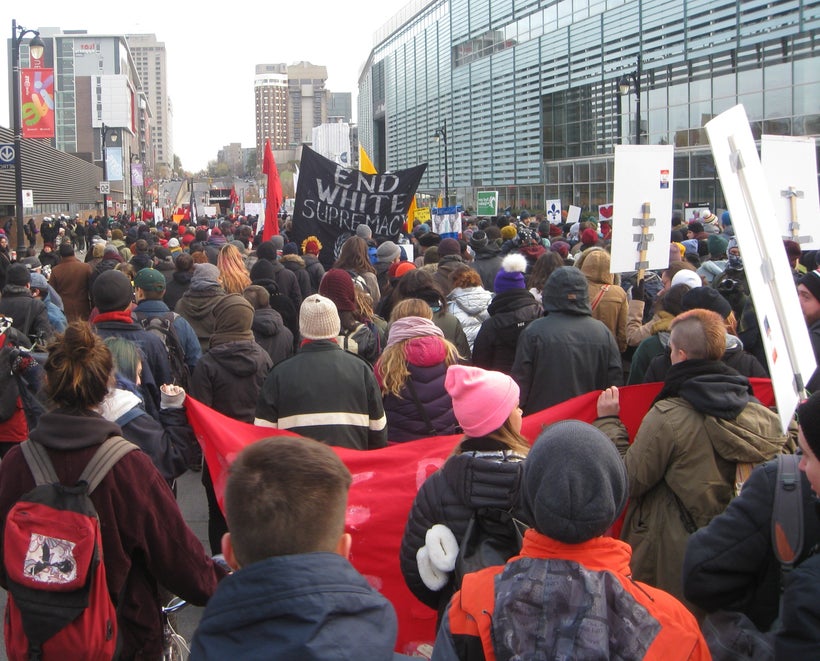 The eyes of local legend Leonard Cohen gazed down from atop a 20-story mural upon a procession of thousands making its way through the heart of Montreal.
I was amongst the crowd as it marched beneath the Berri underpass, a stretch of road, with its high concrete walls on either side, historically used by police to kettle activists; as it chanted and danced past the imposing stone buildings of McGill University, with its alleged and documented history of mind control experiments and Nazi scientists.
Downtown, militarized police barricaded off Holt Renfrew, a high-end fashion store, and the Canadian Imperial Bank of Commerce. Doing what they were created to do, I suppose.
A family stood in formal attire outside a posh hotel, looking on in horror as their limousine pulled up.
"Tout le monde deteste les racistes!" the crowd chanted.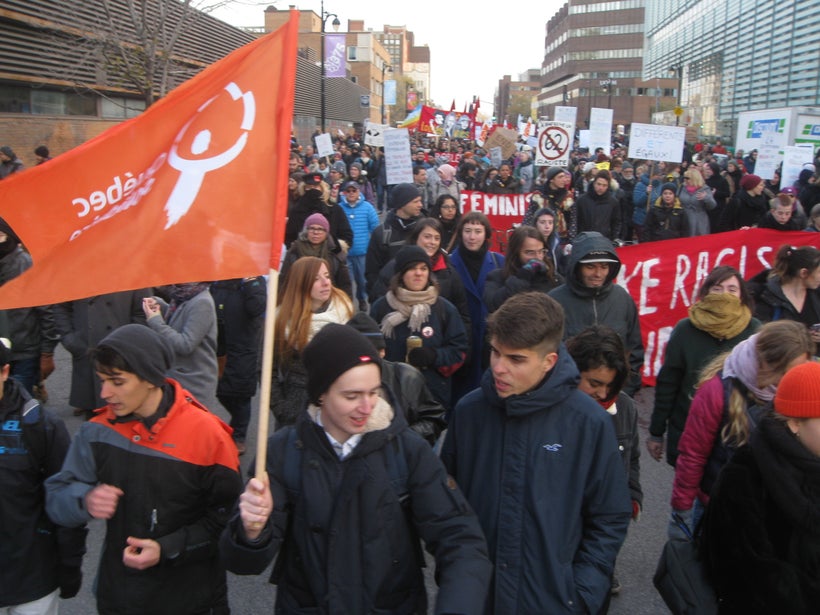 Montreal is a protest town, a kind of mecca for activism – like a Canadian Chicago.
The city where John Lennon and Yoko Ono wrote 'Give Peace a Chance' during one of their infamous bed-ins has civil disobedience deeply entwined in its history. In 1968, demonstrators hurled rocks and other debris at Prime Minister Pierre Trudeau during the city's St-Jean Baptiste Day Parade, on the eve of a federal election. The following year, a police strike would lead to the Murray-Hill riot, also known as "Montreal's Night of Terror."
A riot in 1955 over a transit fare increase, to a riot in 1971 over a newspaper lockout, the sit-ins of the early-90s for LGBT rights, and Occupy Montreal in 2011.
It is a city which for over twenty years has held an annual march against police brutality, an issue now at the front of public consciousness across North America.
Montreal was also home to both the largest antiwar demonstration in the history of the country in 2003 – when upwards of 200,000 people took to the streets in protest of the Iraq War – and what has been called "The single biggest act of civil disobedience in Canadian history" – the 2012 student protests.
Montreal doesn't fuck around.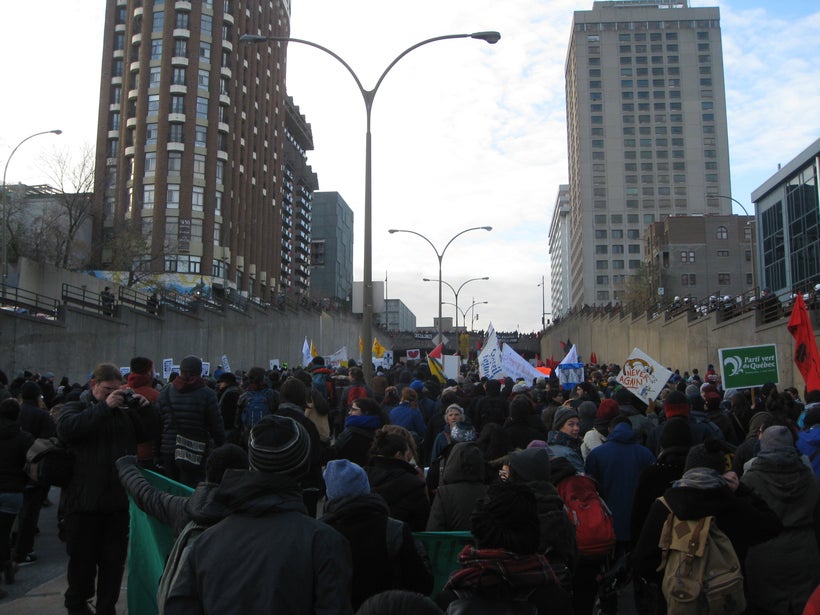 The issue which stirred the masses to action on this particular weekend was the provincial government's passage of Bill 62, the so called "Religious Neutrality law."
In a not so thinly veiled (pun intended) attack on Muslim women who wear the niqab, the law stipulates that an individual will be denied access to public services if their face is covered. The implication is that certain Canadians will be denied access to government jobs and public education, will not be able to ride the bus, or pick their kids up from school, or access healthcare. It appears a frightening attempt at the creation of a codified second-class citizen, particularly so in a province that has had trouble with racism towards Muslim-Canadians in the recent past.
Not even a year ago a Quebec City mosque was the site of a mass shooting which killed six and injured nineteen. The mosque was the same place where earlier a severed pig's head was left on the doorstep during Ramadan.
Already, Bill 62 is being challenged as unconstitutional in Quebec Superior Court. The issue is likely to go to the Supreme Court.
In the era of Donald Trump as leader of the 'free world,' an issue like Bill 62 is not just an issue for Quebec.
Consider 2013, when the previous Parti Quebecois provincial government proposed its 'Charter of Values,' which would have banned public sector employees from wearing "conspicuous" religious symbols. The bill was defeated by a combination of political and public opposition, and the party was voted out in the next election.
When the Prime Minister Stephen Harper proposed a ban on wearing the niqab at Canadian citizenship ceremonies, then doubled down on the campaign trail with his own version of Bill 62, there was a national outcry. The issue seemed representative of the Harper government in general, and Justin Trudeau was elected Prime Minister later in the year.
Now, laws and policy positions which would have seemed ludicrous if not flamboyantly racist only a few years ago are not only being proposed but passed.
As the marching crowd chanted "Make Racists Afraid Again!" I thought about the argument that Donald Trump has emboldened racists.
It's not a bad point. Is the provincial government not afraid of being humiliated in the Supreme Court, or concerned about being replaced in the next election? The answer, to the second question at least, is no. The two opposition parties who voted against Bill 62 did so because they believed it to not go far enough.
But there is another way in which Bill 62 stands symbolic during the age of Trump.
It regards a particular conundrum currently faced by purportedly liberal politicians in both Canada and the United States. Namely: how to oppose, mock, and stick it to Trump whenever possible in order to capitalize on his historic unpopularity, while at the same time protecting the status quo of the political establishment to which they belong.
This is why, on Bill 62, Justin Trudeau followed "I will always stand up for Canadian's rights, I will always stand up for the Charter of Rights and Freedoms. I don't think it should be the government's business to tell a woman what she should or shouldn't be wearing," with, "It's not up to the federal government to challenge this."
Similarly, when Trump proposed his 'Muslim ban' earlier in the year, Trudeau tweeted:
Great dig; beautiful message.
Except the Canadian government had to then engage in an extensive public outreach campaign to inform potential refugees that no, it was not that easy to get into Canada and, in fact, around half of asylum claims are rejected.
In Montreal, now-outgoing Mayor Denis Coderre declared Montreal a "sanctuary city" for refugees and undocumented people early in 2017.
New Mayor Valerie Plante and her Project Montreal campaigned on a platform which took this further: "We must ensure that the designation of Montréal as a sanctuary city, adopted by city council in February 2017, is translated into concrete actions and real changes in practices."
Yet, on Bill 62, Plante, who was elected essentially as the law was being passed provincially, has repeated both her belief that the law "goes against Montrealers' rights" alongside "I agree with the principle of the law."
A Montreal activist put it to me this way: "We are a sanctuary city … so long as you don't leave your house … then you're fine."
Additionally, the asylum seekers crossing the US-Quebec border, the people who forced Coderre's hand as they filled Olympic Stadium last summer, are currently being kept in a temporary settlement near the Lacolle border crossing. They have been given winter trailers instead of tents, however.
Which is kind of the point.
A protest against Bill 62 also felt like a protest against Trump-induced doublethink on the part of the mainstream representatives of the 'left.' The kind of people who proclaim sanctuary, but instead provide a temporary ghetto and the Canadian winter.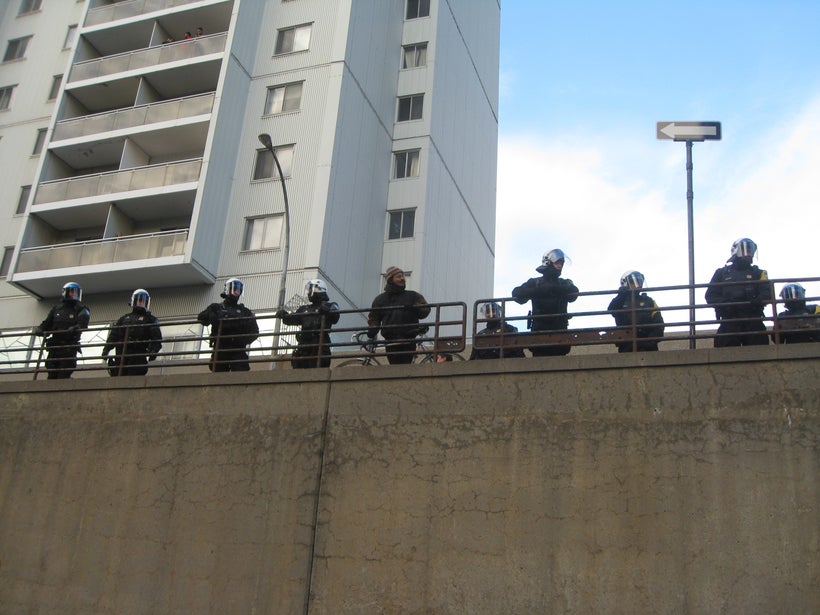 It occurred to me that the police, of which there was a heavy presence at the march, were in the midst of their own conundrum similar to that of the politicians.
They peered down from atop the Berri underpass and walked alongside the march with their armor and their guns. Every few blocks the lollipop guild, with their neon green uniforms, helmets, and gloves, stood at the ready. But theirs was more an apathetic skulking than an antagonistic threatening. Surely they knew they could not very well break up an anti-racism march. There would be no kettling on this day.
I watched as two officers ducked into Starbucks as the march moved past. Stay hydrated, I suppose.
Later, a group of women wearing niqabs incited little more than a sleepy-eyed response from a group of police by approaching them, yelling, and pushing signs in their faces.
At only one point did a whiff of tear gas reach the nostrils of the protestors, but it appeared to be incidental. Perhaps a clumsy police officer dropped a canister.
The real question, of course, is not how police will act at an anti-racism march, but how they will act when presented with a tangible opportunity to enforce Bill 62. Will it be mutiny or complicity? To buck or protect the status quo?
Upon further contemplation, this is a conundrum – the intersection of words and actions – which faces not only politicians and police, but people in general, particularly on the so-called 'left,' during the age of Trump.
"Make racists afraid again." It is a clever dig at The Donald, mockery through a rewording of his own slogan. It feels good to say. Like you are the hero in a historic struggle against inequality.
But the question is what people will do if and when presented with Bill 62 in action. They have already loudly voiced their displeasure in the streets. Now, will someone riding the bus who sees a woman wearing a niqab denied access stand up or silently stew? What if they see a fellow student barred from the classroom, or a fellow parent barred from picking their kids up at school?
If action, through both mass marches and ground floor action is what is going to make racists afraid again, I can't say I am all that eager to bet against the people of Quebec.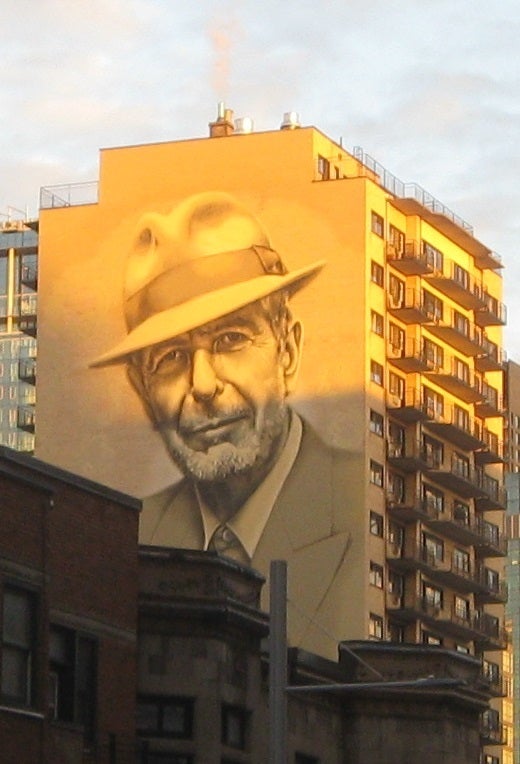 I will return, at some point, to Twain's City of a Hundred Steeples. Montreal maintains, in many places, the old-world tradition in which the cross atop the church is the highest point in the area. This is seen most symbolically in St. Joseph's Oratory, which sits high on Mt. Royal. But, more crucially, Montreal also maintains the old-world tradition of pitchforks and, perhaps, guillotines.
Nigel Clarke is on the road. Check out his book Stories from the Street here.
Calling all HuffPost superfans!
Sign up for membership to become a founding member and help shape HuffPost's next chapter
This post was published on the now-closed HuffPost Contributor platform. Contributors control their own work and posted freely to our site. If you need to flag this entry as abusive,
send us an email
.