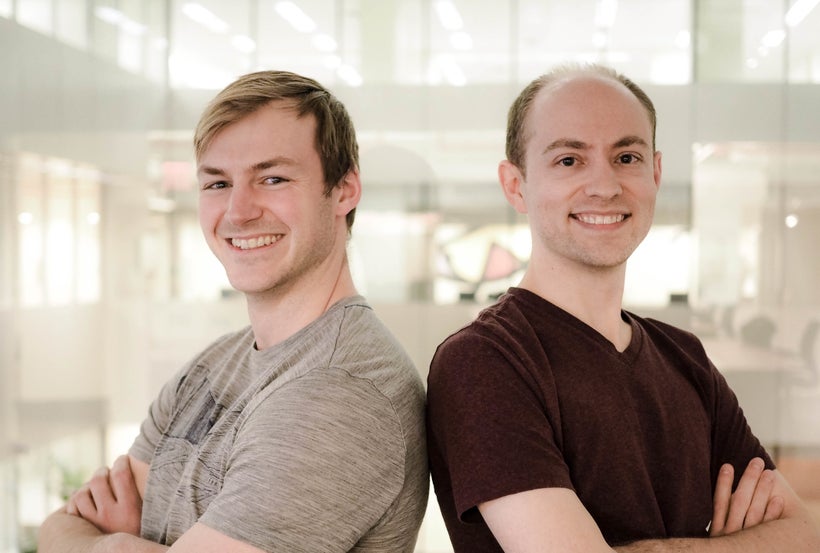 Star Childs and Carl Cornilsen are the co-founders of Citiesense, a technology company creating a map-based Neighborhood Knowledge Platform™ that provides the real estate industry with up-to-date and comprehensive data about city neighborhoods.
Star has over 8 years of experience in the economic development industry as an urban designer, landscape architect and geographic information systems (GIS) expert. He holds a Bachelors of Science in Landscape Architecture from Cornell University and a Masters in Environmental Management from Yale University. Last month, Star spoke at the 4th Annual Wharton DC Innovation Summit.
Carl has over 10 years of experience in the real estate, design and building industry, spanning investment, real estate development, and project design. He earned a Bachelors of Science in Architecture from the University of Michigan as well as MBA and Master of Architecture degrees from Yale University.
I interviewed the duo about their work in New York City. They have plans to expand into two new cities next year, with one likely to be outside of the United States.
How does Citiesense influence real estate development?
Decisions about where, what, and when to build new buildings and redevelop properties in cities depend on local knowledge about the real estate market and how it relates to all of the different data points about a neighborhood. We call it "neighborhood knowledge". To us, it means understanding the local market dynamics of a neighborhood - basic supply and demand metrics. For example, how much space is currently available for a specific use like residential apartments or office space, what the vacancy rates and costs are associated with existing spaces and where demand might be heading based on demographic trends.
In addition to understanding supply and demand for real estate products, development hinges on a number of other factors, such as prevailing financial market trends, local land use policies, existing and planned infrastructure for mobility and utilities for an area, as well as general environmental impacts. Having most of this information accessible on the same map to cross reference and visualize, both saves time in the city planning and real estate development process, and ensures that the outcomes of these processes are a better fit with the real on-the-ground needs of a neighborhood.
Access to better quality local information leads to better development outcomes for cities, particularly at the neighborhood-scale. Our platform connects real estate development decision makers, among others, to high quality local information, provided directly from the most trusted sources available.
What kinds of projects has your platform already influenced?
We receive regular feedback from a range of professionals that find the local information our users share to be helpful for various processes. Some are small business owners searching for new retail store sites and looking for ways to analyze neighborhoods based on demographics about potential customers, available space, and the existing mix of businesses. Others are often looking for better ways to track development activity. These include financial lenders, architects, contractors, and even quite a few technology companies looking to connect with property owners that might have a need for their services. For example, the Long Island City Partnership organizes local data about development activity. This information is helpful to property owners and real estate investors making decisions about whether to build another hotel, an office building, residential apartment building.
In addition to informing supply and demand about existing real estate products and what's in the pipeline, this information is highly useful for groups looking for other details about projects, such as who the developer is and roughly when it will be completed. The neighborhoods currently on the platform use it to provide a visual, map-based story of how a neighborhood is changing and where opportunities exist because of this. For example, retail business owners can use it as a "multiple listing service" to track the availability of commercial spaces that are currently vacant and seeking a new tenant. In addition to finding available space, the business owner or broker can also look up the number of active businesses along a street or block-to-block based on business categories. This helps them understand where they might encounter more competition. Likewise, commercial real estate brokers can use it to track development and reach out to owners about helping them lease up a new space as soon as a new project is proposed. Any one of these use case simply enables a professional to cover more ground in less time by starting the process using data-driven maps with the right information about commercial activity in a neighborhood.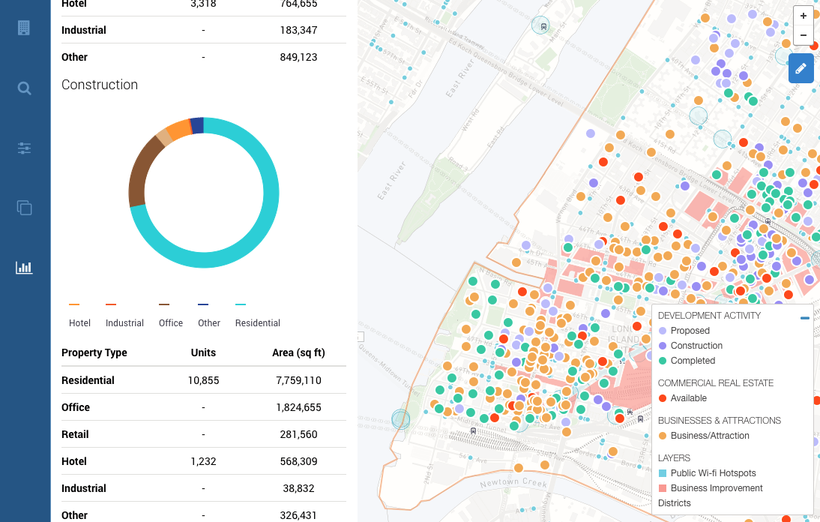 How does Citiesense collaborate with Business Improvement Districts (BIDs)?
Over the past 40 or so years, new types of local organizations, often called Business Improvement Districts (BIDs), emerged and proliferated as a measure of neighborhood resilience. They often formed as the direct result of the neglect many urban centers faced in the 1970's and 80's. During these trying times for cities, when residents abandoned downtowns for the 'burbs, tax revenues were dwindling and public services were stretched thin. Downtown property owners and businesses realized they faced certain bankruptcy unless they took matters into their own hands and cleaned up their neighborhood themselves. So, they organized a collective model to fund the improvement of their neighborhood, with annual costs divided among the members. This model of grassroots community development was successful when the quality of life in North America's greatest cities was at an all time low, and it continues to add value today.
BIDs are uniquely funded. The district's annual revenue comes from a special tax all properties in the district have elected to pay in addition to their annual property taxes to the city. In return, BIDs are responsible to deliver the supplemental services which the local members have decided upon. Their goal is to attract more people to live, work and shop there on behalf of the commercial property owners and their tenants. To achieve this goal and measure their impact, they maintain accurate neighborhood-scale knowledge about all properties, contacts and streetscape conditions inside their district. This is where Citiesense comes in —
For community-based organizations in charge of improving neighborhoods, our platform consolidates all of their team's workflows to a single map-based platform for managing data about the neighborhood, which saves staff members lots of time collecting and analyzing neighborhood data. And as a result, it ensures their data is more accurate and more valuable for data-driven decision making. For a BID, being "data-driven" helps in two key areas: (1) Data to support proposals externally for capital projects and/or public funds; and (2) Data to promote awareness internally of their value to BID stakeholders. Once a neighborhood organization gets set up on the platform, they have the opportunity to launch a portal or hub for local information about real estate and street life that is only accessible to local community members and others they invite to the portal.
What trends do you see in local market demand and neighborhood dynamics?
First, people want to live where they can maintain a high quality of life. For most, this means good access to things they need and good access to things that they enjoy. Needs cover some of the usual - food, recreation, work, sometimes schools. For enjoyment, however, neighborhoods are able to get a little more creative. We see a big trend, as well as plenty of emerging opportunities in the retail and experiential side of neighborhood dynamics.
When was the last time you went to a retail bank and thought to yourself, "Gee that was a great experience - I can't wait to come again!" Probably not recently, if ever... Retailers in general recognize that they need to focus on their customer experience in order to remain competitive today. The Victor Gruen-inspired great American Shopping Mall experiment that lasted decades and sucked the life out of many historic American downtowns is finally over and we have conclusive evidence of the pros and cons. Malls are dying and downtowns are making a comeback, but they face real threats from consumer trends with online shopping and the catch-22 of better mobility to and from cities and suburbs.
The second big trend is the need to be data-driven. In order to drive consumer behavior, both retailers and neighborhood organizations are working together. The trend is neighborhood improvement in general, but specifically to craft a delightful experience for patrons — That means understanding peoples' behaviors and developing a neighborhood-scale experience that compliments it. Sometimes this means attracting the right retail tenants, combining retail uses that are complimentary (some of those boring retail banks now have coffee shops in them), hosting exciting programs and events in parks and on certain streets, branding the place with the right experiential design elements. The ability to craft the right experience for residents and visitors determines the quality of life and demand for a neighborhood. It's how different areas in cities are able to compete with one another, and a lot rides on it. It's a big part of why we work with neighborhood organizations to connect them to data sources that help them collect data about people's behaviors and enables them to analyze data about an area going forward.
What is the greatest risk American cities face?
Accessibility and equality, public security and human rights, environmental risks associated with changing climates, maintaining aging infrastructure and adopting new systems, managing resources and waste streams -- these are all real challenges that cities face. And these challenges are all related to public services that civic society expects the government to provide solutions for. It's fair to say, expectations are high and the capabilities of government agencies are stretched thin. Public Private Partnerships, while not a new or novel concept, are the product of this reality.
We believe the greatest risk cities face in the United States, and elsewhere, is the risk of poor leadership. There are many unique challenges that cities face, and we can't possibly understand the various nuances of all those challenges, place to place. But we believe that basic access to better information and local intelligence about neighborhoods has a positive impact on any challenge a city faces. Regardless of how unique a challenge is to the city or neighborhood community, equipping good leaders with accurate local information about a problem will have a big impact on the success of the city going forward. We're very optimistic about where cities are headed based on what we see happening on the ground with the groups we work with today. Equipping neighborhood groups with the best tools to manage their community's knowledge-base, and better understand the relationships between different data sources on the same map, is our way of helping them tackle any number of unique challenges that they might confront for their city.
How is urban planning and the development of cities uniquely positioned to address climate change-related issues?
As we confront the uncertainties of a changing climate, globally, cities are where our solutions have the most impact, both for matters of resilience as well as mitigation. We just witnessed two back to back category five hurricanes that leveled Caribbean Island communities and the Houston metro area. The tragic loss of lives and capital left in the wake of these storms cannot be replaced, but we can and no doubt will rebuild in these urban areas. We hope these communities can rebuild more sensibly than before, knowing now that the probability of storms like these is higher than it has ever been before. Urban planners and designers are uniquely qualified to analyze this multicontextual system for community development and apply their analysis to a comprehensive solution.
Calling all HuffPost superfans!
Sign up for membership to become a founding member and help shape HuffPost's next chapter
This post was published on the now-closed HuffPost Contributor platform. Contributors control their own work and posted freely to our site. If you need to flag this entry as abusive,
send us an email
.