Being excluded from sports at a young age can have detrimental effects academically and mentally. Participation in team sports help LGBT youth's high school GPA and even help prevent depression and anxiety at a time they are especially susceptible. In particular, LBGT young people are more likely to be depressed and gay males are 55 percent more likely to have suicidal thoughts or commit suicide. Roughly half of these suicidal thoughts are related to their orientation.
The good news is that many school administrators and sports governing bodies understand that team sports should include everybody, regardless of their orientation. Non-discrimination policies and rules against using abusive or homophobic language are now commonplace. Rugby has become especially accepting -- since 2009, three active professionals have come out of the closet and have all received support from their coaches, teammates and fans. This is at a time when there are hardly any other professional out players in men's sports.
Keegan Hirst, the first professional league player to come out of the closet in August 2014 said about coming out to his teammates that "before I'd told them I was dreading their reaction. These guys are my friends who I spend a lot of time with. But as soon as I told them and I saw their faces I knew everything they'd be fine about it. Their support was a help because I knew then that I didn't have to spend time building bridges or reassuring them. I could just carry on with rugby which was what I wanted to do."
In coming out, Keegan and the other gay professional players set powerful examples to be emulated by other professionals and amateurs alike.
My team, the Nashville Grizzlies, will be hosting the world championship of gay and inclusive rugby this May. First held in 2002 and named after September 11 hero Mark Bingham, the Bingham Cup should attract over 1500 players and supporters representing 45 teams from around the world. This will be the first time since 2010 that the biennial Bingham Cup has been hosted in the United States and the first time it has ever been hosted in the mid-South.
The Tennessee Suicide Prevention Network (TSPN) is the Charity of Choice of the 2016 Bingham Cup. TSPN is a public-private partnership of counselors, mental health professionals and community advocates dedicated to the goal of reducing suicide rates in the state of Tennessee. TSPN works across the state to eliminate mental health stigma and educate communities about the warning signs of suicide with the goal of reducing suicide rates.
"For various reasons, LGBTQ people are more susceptible to suicide. They are subject to stressors such as bullying, discrimination, being closeted, and a lack of support from family and friends. Also, they often have less access to mental health resources," says Scott Ridgway, TSPN's Executive Director. "As the Charity of Choice, TSPN will have the opportunity to offer suicide prevention training to players and guests ahead of the tournament, helping to spread the message of suicide prevention across the U.S. and around the world."
To young people who are struggling with depression, Keegan says "I'd tell someone to just try and talk to someone about something. It's probably easier if it's a stranger. Just getting things off your chest is a massive help. I wish I'd have had someone to speak to about things. As soon as I started opening up to people about what I was thinking and feeling I instantly felt better. As much as it's a cliché that's used, it did feel like a weight off."
People struggling with suicidal thoughts should seek help immediately. The National Suicide Prevention Lifeline number is +1-800-273-TALK (8255). Trained counselors are standing by 24 hours a day, 7 days a week.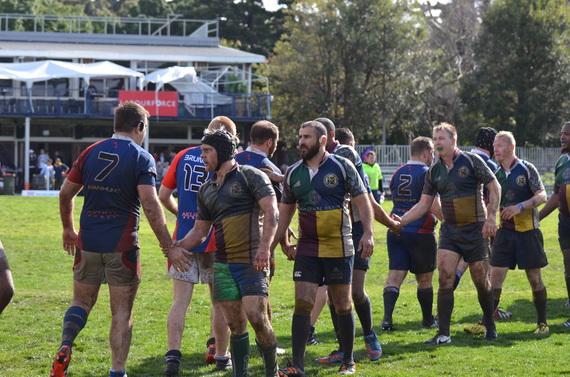 Calling all HuffPost superfans!
Sign up for membership to become a founding member and help shape HuffPost's next chapter