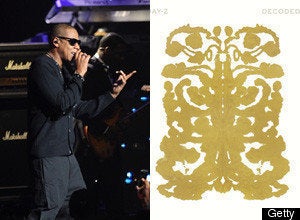 By Paul Holdengraber, Director of LIVE At NYPL
Interviewing Jay-Z LIVE from the NYPL together with Cornel West on November 15 was one of the two or three most transformative moments in my professional and emotional life so far.
I knew nothing about Jay-Z, hip hop and rap until my two boys Sam and Oliver, age 8 and 5, introduced me to his work. In early November I took my older boy Sam on a trip to Italy to visit my elderly but ever so alert and ever so curious Viennese parents, my mother, 86, my father, 92.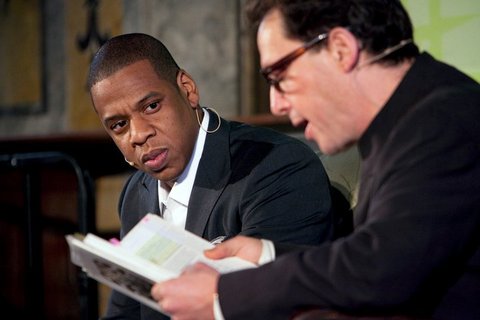 During this trip my father asked me what rap was (earlier in the year he had asked me what a blog was).
I immediately replied that he must ask his grandson. Sam was upstairs in the room and when I told him that grand-père wished to know what rap was, he said, without hesitation, that he would write rather than tell him, as my father is quite hard of hearing.
So Sam decided he would tell my father as best as he could in one page what rap is all about. He did so, eloquently and with emotion. Rap, he wrote, expresses the energy of the street, and though Jay-Z came from poverty, and may now be rich and famous, what matters most to him, Sam said, is his music.
I chose to read a portion of that page to Jay-Z when we were on stage together; upon finishing the reading of the passage, Jay-Z turned to Sam and said that we had a future poet in our audience. You can well imagine Sam's joy and my pride.
A couple of weeks later, Sam sent the attached letter to Jay-Z to wish him a Happy Birthday - Dec. 4 is Jay-Z's birthday, and the title of one of his songs.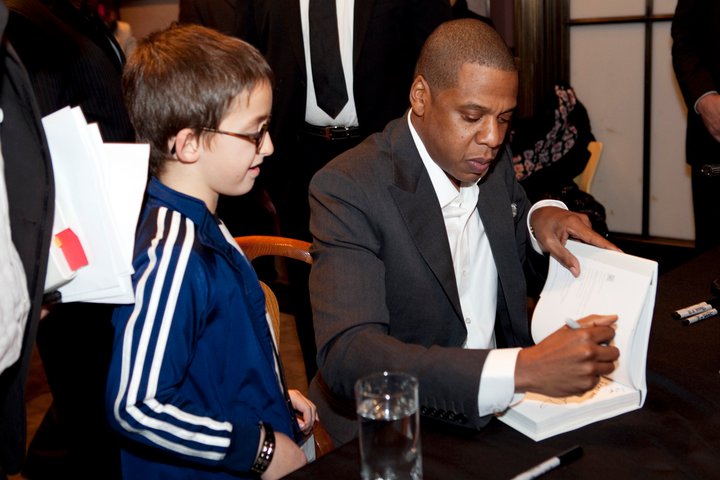 I approach many of my subjects with the Euphoria of Ignorance but here it was nearly complete had it not been for what my children have taught me.
I have listened to most of Jay-Z's CD's. I grew up with no popular culture to speak of. Jay-Z early in our conversation mentioned some rap song which I did not know. I told him that he "may lose me at times." A few moments later, I mentioned to him that I grew up debating with myself which Queen of the Night was the best in all the recordings I had on LP (I think there is no arguing - Wilma Lipp in the Karl Bohm recording with the Vienna Philharmonic of the early 1950's). Hearing this Jay-Z responded that I may lose him at times.
Decoded, Jay-Z's book, is a magnificent achievement--one of the finest books I have read in the last decade. It is in part a Talmudic reading of 36 rap songs--line by line like the best of critics, Jay-Z analyses, comments, contextualizes the rap songs--decodes them to some extent.
The more I learn about Jay-Z and rap through his extraordinary book and the wide-open-eyes and heart of Sam the more I understand what an extraordinarily important art form rap and hip-hop is, as it is so deeply tied to the art of storytelling.
Sam--who is growing up in Brooklyn--intuitively gets the harshness of the street and Jay-Z's troubles just by listening to his songs and walking the pavement. Sam never lived Jay-Z's life. But Jay-Z manages to make those who care listen and take pause and understand, even if they're an 8-year-old boy, as in this case. It's very powerful--Sam knows what it feels to be in that situation.
I spoke with Jay-Z the week that Obama spoke about the importance of empathy. Sam, or I for that matter, will never be able to put ourselves in Jay-Z's shoes. We can't. They would not fit. But we can try. His music and now this tremendous book bring us one step closer to feeling what it was like growing up in the projects.
Sam understands how his life circumstances are different and yet he is able to walk on the bridge Jay-Z created to give us a sense of where he comes from and where he is going. That's an amazing power to be able to communicate and so lyrically to an 8 year old boy growing up in Brooklyn, educated in part by an Austro-Hungarian father who grew up listening mainly to opera and to some Louis Armstrong.

I could not think of a better tribute to the man and his work than to welcome Jay-Z the poet to The NYPL. It was also such a treat to have in the audience Harry Belafonte and observe Jay-Z's reverence for that master. To see Jay-Z honor Harry Belafonte at the talk and for both of them to look with awe at the historic materials that our Berg Collection curator Isaac Gewirtz prepared for them to view before the talk was a deep blessing.
It was also excellent also to have in the audience that night Chris Blackwell, the extraordinary founder of Island Records, which is now celebrating 50 years of existence. Chris Blackwell helped produce Belafonte's early million selling LP Calypso. Blackwell and Belafonte saw each other after the event and embraced. I will be interviewing Chris Blackwell on May 11; I hope Jay-Z comes to hear that interview. I hereby invite him to attend; Chris Blackwell and I will no doubt speak about Bob Marley, who Blackwell helped get started and in earnest really discovered; we will talk about Harry Belafonte who I hope to interview very soon as well, LIVE from the NYPL. I hope he too will attend. But with Chris Blackwell we will also, no doubt continue to speak about Jay-Z and the extraordinary world he helped bring into being.
Jay-Z does not exist in isolation; Decoded's greatest achievement is contextualizing rap into the larger framework of a culture in motion. During the conversation I stated that I thought the NYPL should acquire Jay-Z's archives. Cornel West said, "Immediately!" Wherever they end up, they are part of what makes our culture alive and vibrant. The Library has a responsibility towards the present, not just the past and, of course, in order to survive the Library must keep its eyes towards the future.
As Decoded makes eminently clear, Jay-Z is one of the very best storytellers of the present. One of the greatest gifts life has given me so far is to discover, that in the middle of my life, when our veins and views usually become sclerosed and we turn inward and become closed, I was and continue to be able to discover a nearly totally new art form, to plunge into with pleasure, to remain porous to new influences and feel transformed by them, as I have been by Jay-Z, forever.
Calling all HuffPost superfans!
Sign up for membership to become a founding member and help shape HuffPost's next chapter