Now that the gifts have been opened and the dishes put away, you ponder what to do with the remaining turkey and ham. Below are a few great recipes to transform your leftovers into a brand new meal everyone will love.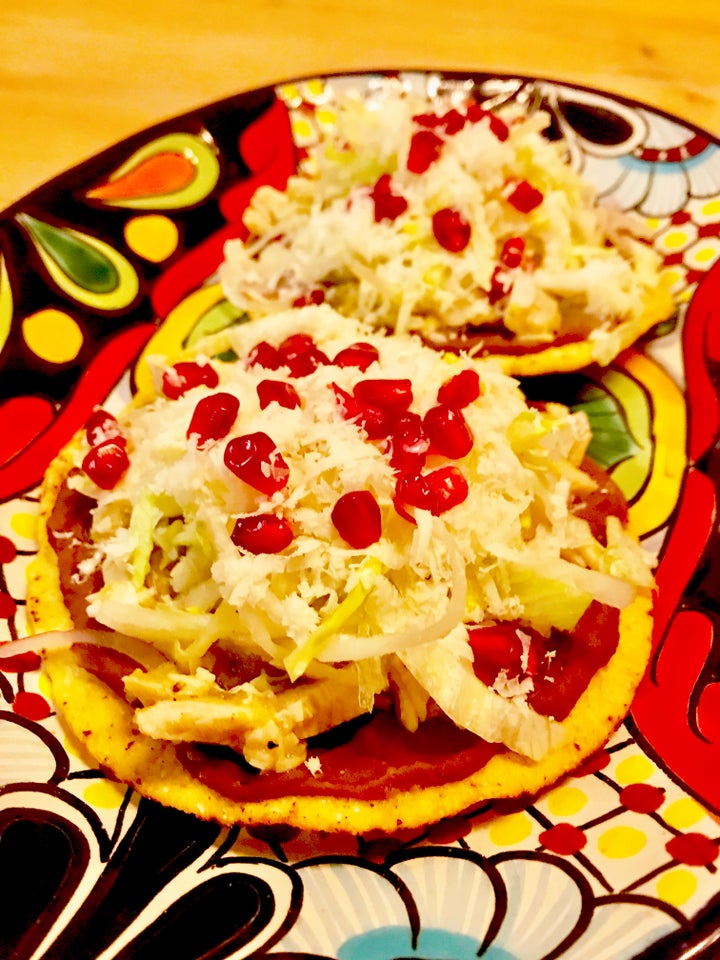 8 ounces Leftover Turkey Breast, shredded
8 ounces Salsa Verde, bottled
½ -16 ounce can Refried Black Beans
8 each Corn Tostadas, baked or fried
3 cups Iceberg Lettuce, shredded
½ cup Red onion, sliced very thin (optional)
1 cup Cotija Cheese, grated fine or crumbled
Place the turkey and salsa in a medium skillet set over medium heat. Let cook until heated through, gently stirring from time to time. Meanwhile, empty the can of refried beans into another medium skillet and set over medium high heat. Stir as they heat to a boil then set aside.
Spoon 1 tablespoon of beans onto each tostada and spread evenly, then top with two heaping tablespoons of turkey. Set the tostadas onto a platter and top with a bit of onion (if desired) then pile up with some of the lettuce. Next sprinkle them with a tablespoon of cotija cheese and finish with a teaspoon or so of pomegranate seeds.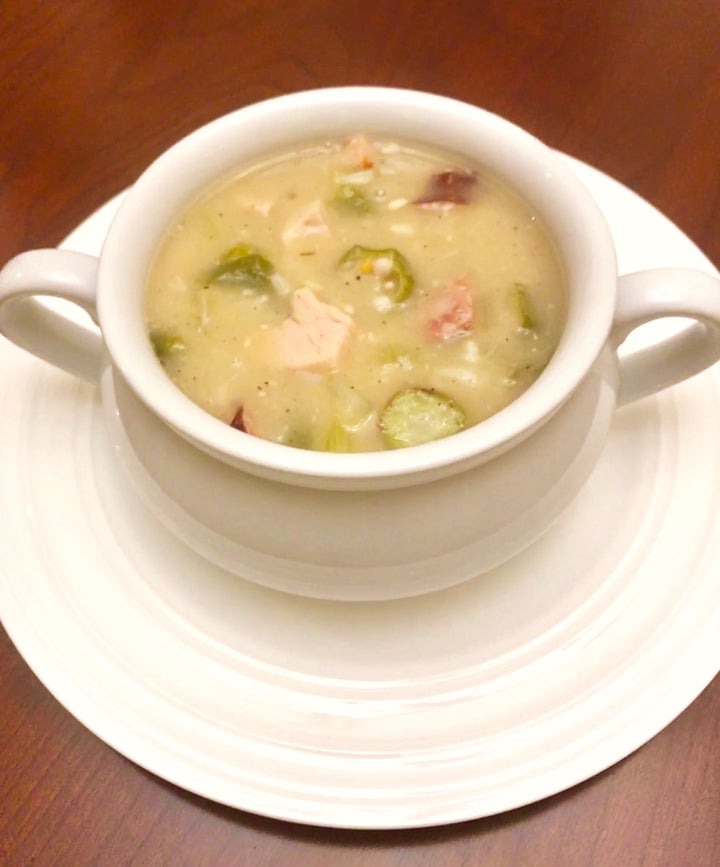 Makes approximately 2 quarts
½ Turkey Carcass, meat removed, broken into quarters
2 ½ quarts Water (approximate)
1 tablespoon Vegetable Oil
1 cup Celery, leaves removed, ½" dice
2 cups Green Bell Pepper, stem, seeds and membranes removed, ½" dice
2 tablespoons Garlic, minced fine
½ teaspoon Black Pepper, ground
¼ teaspoon Sea Salt, fine
6 ounces Andouille Sausage, diced ½" (may substitute another smoked sausage)
1/8 teaspoon Dried Thyme Leaves
¼ teaspoon Worcestershire Sauce
1/8 teaspoon Tabasco Sauce (optional)
1/3 cup Parboiled White Rice
1 ½ cups Okra, cut across ½" (frozen may be substituted if fresh is unavailable)
1 pound Cooked Turkey breast, cleared of bone and gristle, 1" dice
First prepare the stock: Place turkey bones and water in a large soup pot. The water should just cover the bones. Place over medium high heat. Bring to the boil, then turn down to a simmer and let cook slowly about 1 ½ hours. Strain and reserve. It should yield about 2 quarts.
To prepare the gumbo, Place butter and oil in a large soup pt. set over medium high heat. When the butter is bubbling, add the flour and stir until smooth. Let the roux cook, stirring constantly about 4 or 5 minutes, but do not allow the flour to brown. Mix the celery, bell pepper and onion together in a mixing bowl, then add half the vegetable mixture to the roux. Keep the heat on medium high heat and cook five to eight minutes. Stir often during this process. Next add the garlic and keep cooking until the mixture looks shiny, which indicates that the water in the vegetables has boiled away. Next add the sausage and continue to cook about four minutes more. Turn the heat to low and stir a few minutes as the mixture cools. Next add the wine, stirring until smooth. Next add the turkey stock, stirring well. Turn heat up to medium high, stirring often as the mixture approaches the boil. Add bay leaf, thyme, Worcestershire and Tabasco if using. Stir in the remaining celery, bell pepper and onion mixture. When the gumbo reaches a full boil, turn heat down to medium and let cook at a quick simmer for at least an hour but no more than 1 ½ hours. After simmering, add the rice and continue to cook for five minutes, then add okra and turkey. Bring to a boil then reduce heat to a simmer and let cook slowly for fifteen minutes, stirring occasionally. Correct seasoning if desired with salt and black pepper and perhaps a dash of Worcestershire.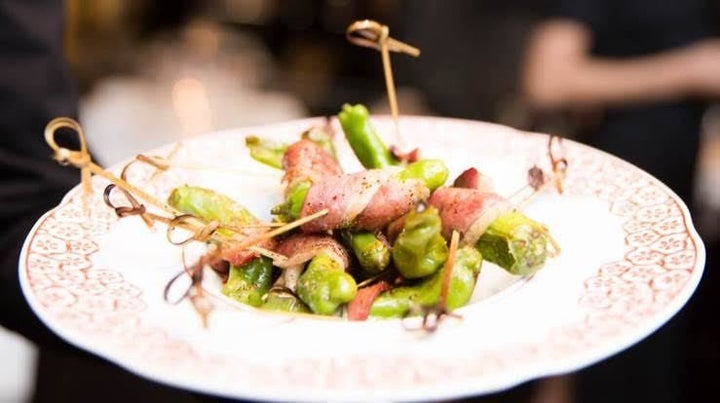 Chef Geoffrey Zakarian's Honey Baked Ham Wrapped Shishito Peppers
2 tbsp Honey Baked Ham Trim or Scraps, small dice
30 pieces 1"x2" Slices Honey Baked Ham, as thin as possible
30 pieces Shishito Peppers, stems removed
Fresh Ground Black Pepper, to taste
2 tbsp Fresh Parsley, mincedPreheat the oven to 450 degrees F.
In a small pan, over medium to low heat, combine the olive oil and ham trim or scraps and gently heat for 4-5 minutes to render the ham and infuse the flavor. Strain and reserve the olive oil for use.
While the olive oil and ham infuse together, wrap the thinly sliced ham around the pepper and pierce through the middle with a wooden toothpick to secure the ham.
In a large mixing bowl, toss the wrapped peppers with the infused olive oil. Season with salt and pepper.
Line a large baking sheet with aluminum foil and arrange the prepared peppers around without overlapping.
Roast in the preheated oven until lightly charred, about 10-15 minutes.
For a clean presentation, remove the toothpicks that have been roasted and replace with new toothpicks.
Place into a bowl for serving and top with the minced parsley.
Related
Popular in the Community