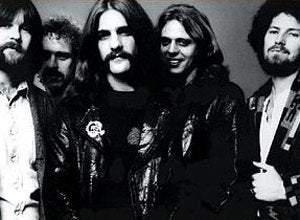 The Austin City Limits Music Festival, since its launch in 2002, has made a case for being the best music festival in the nation. Starting on Friday -- a Friday that has pretty much become an unofficial city holiday -- and ending on Sunday, ACL brings around 70,000 people to a mammoth park just across the river from downtown Austin, with a wide mix of music that is loosely grouped in the Americana and indie camps, but touching other genres and bringing in a crowd comprised of teens, middle-agers, parents with kids in town, and even an AARP-eligible contingent for the one big-name blast-from-the-past act ACL typically features.
ACL has become such a trusted brand name among festival-goers - especially for locals - that the show typically sells out its three-day pass allotment before the line-up is even announced. This year, when The Eagles were announced as the final day headliners, a number of the alterna-gentsia collectively groaned, even though past headlining acts like Bob Dylan and its track record of artists from the festival's roots -- the PBS-aired TV show -- separates it from festivals like Coachella, Lollapalooza, Pitchfork, or Sasquatch.
But this year's lineup had plenty for the indie fan -- standbys like Spoon (local favorites who were their solid, assured live selves), LCD Soundsystem (bringing a slightly more reflective take on their typical dance party, but joyous nonetheless), Ted Leo and the Pharmacists (exuberant in an early afternoon performance on Sunday, in which audience numbers throughout the festival were at an ebb tide), and the Black Keys (which caused a mass migration to Zilker Park to make the 4 p.m. Friday set, hailed as one of the festival's high points by pretty much everyone there.)
There might have been even more indie fan pleasing on the third day, but Minneapolis supergroup Gayngs had to cancel its set because the band's bus driver made off with their bus and gear, pretty much a festival first. (They were replaced last minute by an act called -- I wish I were joking -- Lance Herbstrong.)
M.I.A. and Muse held court in Saturday headlining spots, with Muse awing a huge crowd with overwhelming rock excess -- including a "Star-Spangled Banner" guitar solo and a Death Star worth of lasers -- while M.I.A. was thrilling a select group of hundreds and confounding thousands in a performance so disconnected that a Austin American-Statesman reviewer wondered if she was even physically there. Friday's headliners were a contrast in styles. While The Strokes brought back early '00s nostalgia (assuming that now exists) in a 45-minute set packed with short, catchy songs, Phish played one of their typical long and winding sets to a crowd fully expecting that.
Sonic Youth's Friday set -- serving as a de facto opening act for The Strokes, coming right before that show on an adjacent stage -- was outdueled in audience numbers by the Vampire Weekend show happening at the same time across the park, and its scheduling might have seemed a bit anticlimactic, as it came a year after they were slated to play the 2009 fest, only to cancel when guitarist Lee Ranaldo broke his wrist. Still, they played what was arguably the best set of the entire festival, following a reportedly-stellar Austin City Limits TV show taping the night before.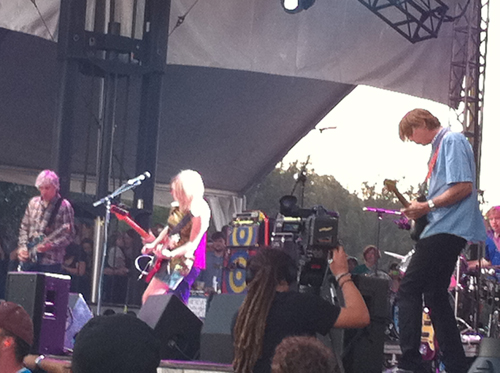 It's staggering to think that the band's kept to its core sound and essentially to its core membership (Ranaldo, drummer Steve Shelley, and Kim Gordon and Thurston Moore, perhaps rock's most normal married couple) for nearly 30 years now. They've maintained a career despite influencing and/or breaking ground for a number of bands that have already seen rising and falling trajectories. Friday's show indicated that they're doing far more than just maintain.
Though focusing largely on The Eternal, the band's latest album, Sonic Youth made a full archeological dig through its discography, with Goo's "Mote," Sister's "Stereo Sanctity," and the set-closing Daydream Nation duo of "The Sprawl" and "'Cross the Breeze" shining in particular. The sounds they scare out of their guitars, from an array of beat-up, alternately-tuned Fender guitars, are disconnective and alien and overwhelming -- more a swarm of hornets than a series of notes -- but they unfurl these sounds within the framework of either careful pop songs or mini-symphonies.
On stage Friday, they kept mostly steady demeanors, occasionally physically moved by the sounds they created to give in to rock exuberance. In other words, they're serious people who are unpretentiously, not shoegazingly, but seriously, at work. At one point, in the proceedings on Friday night, Moore smashed into a mike stand and rendered his guitar useless, jovially exchanging words with a roadie while the rest of the band soldiered on -- but it functioned as a fun, unpredictable moment running counterpoint to an affair that was far more rock ceremony than party.
Austin, in particular, has been no stranger to '80s/'90s indie rock nostalgia over the past few weeks. The Pixies took its Doolittle tour through Austin for two dates Sept. 21 and 22, recreating the 1989 album -- and even its B-sides, for those of us old enough to remember what a B-side is -- in its entirety from start-to-finish. Pavement played one of the last shows in its reunion tour in Austin on Sept. 28, but not on an ACL stage, which is where fans thought they might end up before the ACL lineup was announced. And Guided By Voices, a sort of living, breathing Portrait of Dorian Grey touring its original early '90s lineup and drinking and smoking their way through cleverly-named hits, played a new Austin venue, the Eastside Drive-In, Sept. 30.
In fact, Pavement and GBV and Sonic Youth all converged in Vegas the weekend before last for Matador at 21, a three-day series of concerts celebrating the record label that helped articulate indie as a genre more than a pejorative. Strangely, Sonic Youth is a newcomer to Matador, spending the '90s on major label DGC as "the band who crossed-over," and the band whose example Nirvana followed in 1991 when they signed to DGC for Nevermind and then All That Happened.
In the context of nine Austin City Limits Music Festivals, it'd be hard to put Sonic Youth's set into a category of best ever or living legend showcase or most important. Yet, for indie music fans, many of whom are approaching if not already in their 40s or even 50s, Friday night was a joyful reminder that there's a third option available in the burn out or fade away rock equation. At the risk of overstating, Sonic Youth being in this world makes this world a little more reassuring.
Calling all HuffPost superfans!
Sign up for membership to become a founding member and help shape HuffPost's next chapter