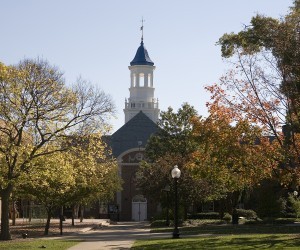 "I'm excited about college, but how do I make the right choice?"
I think a lot about high school seniors facing this question. You've taken AP classes, led student clubs, worked part-time, and made your families proud. Now you've got a big decision.
I suspect some well-intentioned adults may be offering thoughts about what's best for you: Stay close to home. Price matters most. Choose based on rankings. Pick the college whose graduates have the highest starting salaries.
Rather than obsessing about the "right" decision, how do you make your own decision? Many of us make lists of pros and cons. The problem, of course, is that you could fill a notebook with such deliberations and still not resolve this question. One's college choice requires the proverbial "leap of faith" into a future you cannot know, but will create with the resolve to learn, give, and grow.
That's why I'd encourage you to consider three factors especially predictive of a terrific college career. Maybe these ideas will help you find the right college fit.
1. Access to Rigorous Curricula in Small Classes
The courses you take in college should stretch your mind and build your brain for a lifetime of learning, citizenship, and professional growth. When you're able to take small classes right away, you immediately engage complex ideas and learn how to articulate and support your views. While small classes typically foster a love of learning and prepare you for the intellectual depth of your major, they also provide an academic springboard that will help you compete for opportunity in graduate school and your career.
2. Opportunities to Work Closely with Faculty
In his book, Making the Most of College, the scholar Richard Light shows that the college graduates who value their education the most later in life are those who enjoyed direct mentoring relationships with faculty. Besides providing instruction and a guiding presence, such faculty play a powerful long-term role, sometimes over decades, helping graduates build trajectories of success. Even though I graduated from college 30 years ago, I constantly draw upon the teachings and examples of my undergraduate professors, sometimes hearing their words again as I try to frame or solve a problem.
3. A Vibrant and Cohesive Community of Meaning-Making Peers
Many graduates report that their college years were especially formative because they learned with and from fellow students. It's an awesome feeling to be surrounded by interesting friends with their diverse talents, passions, and personalities. There's no doubt that students benefit from being in communities where their peers are invested deeply in making college count. That brings out the best in us. Here are some questions you might explore about a college you're considering: Is there a participatory culture with students creating clubs, playing on teams, performing on stage, and serving in the community? Do students from many walks of life talk about ideas and current events outside of class? Can you be valued for who you are and how you'll grow?
I think these three factors are components of a transformational undergraduate experience. All things being equal, if you find these elements in the college you choose, you are on a path to an empowering education.
So, I encourage you to choose freely. Say yes to a college where you believe you can create the education that you seek. That's the "right" choice, and its wisdom will be clear for the rest of your life.
Related
Popular in the Community