In moments of candor, I admit I happened upon the cause of sustainability almost by accident. As a young man, I had always been a corporate guy from a corporate town doing (for the most part) whatever it was my corporate bosses wanted me to do.
But one day, those bosses turned their focus on both my company's internal and external environments and asked me to head up a new department they were establishing to focus on environmental marketing. And when they did that, lo and behold almost overnight my world became a much bigger place -- while, ironically, at the same time the world outside became a much smaller one.
Tom Darden III didn't have that path. He's one of those people a friend of mine calls "sustainability natives," born with sustainability DNA in their blood. No surprise there. His dad, Tom Darden Jr, is CEO of Cherokee, the leading private equity firm investing capital and expertise in brownfield redevelopment, and a long-time advocate for improved environmental practice.
Tom III, as you may know, is the head of Make It Right, the not-for-profit organization founded by actor Brad Pitt and architect/activist/sustainable guru William McDonough, and dedicated to the proposition of rebuilding post-Katrina New Orleans particularly devastated Lower Ninth Ward with an emphasis on green resilient design. And at its core are more than 100 individual homes that are LEED Platinum and constructed using McDonough's "cradle to cradle" philosophy of building, design and materials.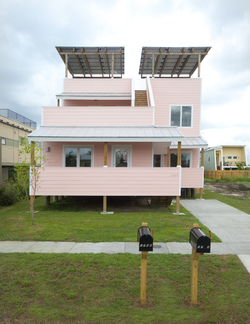 What can I say? Watching Tom Darden work in his adoptive hometown of New Orleans -- even from a distance -- seems to be like watching a man who is to his field what Paul McCartney is to music, Bill Clinton is to politics, Willie Mays is to baseball or Jimmy Fallon is to late night television.
In other words, when it comes to sustainable building, the man is a natural.
That, of course, is just one of the many reasons why so many supporters and sustainable building advocates flocked to New Orleans this past weekend to enjoy the annual Make it Right benefit gala. There were also all those A-list celebrities that were hand, including Pitt, his wife and partner, Angelina Jolie, emcee Chris Rock, comedian Jim Gaffigan, actresses Sandra Bullock and Sofia Vegara, and the musical entertainment for the night, Bruno Mars and the Kings of Leon.

There was all that great New Orleans-style food, both at the gala itself and at so many of the iconic eateries in and around the Big Easy (not to mention the one-of-a-kind music, people and vibe so often found at those eateries).
But above all, there was a chance for people of all ages, walks of life and social standings to financially support Tom's foundation, and for sustainable believers the world over to take a moment to thank him and his staff for all the amazing and often selfless work.

Regrettably, I must admit that duty called this past weekend and I find myself writing this, even now, in a hotel room in Sweden, some 5,000 miles across the Atlantic from New Orleans. But I didn't want the distance deter me from doing these two things:
Congratulate Tom (both Jr. and III), Brad, Bill and everyone at the foundation for yet another year of a job well done and yet another year of "making things right" (And now not just in New Orleans, but also Newark, Kansas City and the Fort Peck Reservation in Montana.)
Remind everyone that Greenbuild 2014, USGBC's annual conference, is rapidly approaching, and it will be held in -- you guessed it -- New Orleans.
While you are there, I strongly urge you to not miss this rare opportunity to witness history being made. Visit the magic that continues to unfold in New Orleans' Lower Ninth Ward.
See for yourself how one noble idea -- an idea that each and every day is being given depth, texture and substance under the watchful eye and careful stewardship of a most remarkable man -- proves you can, indeed, change people's lives, if not the entire world, one building at a time.
*Photo credit: James Ewing
http://makeitright.org/media/
Calling all HuffPost superfans!
Sign up for membership to become a founding member and help shape HuffPost's next chapter