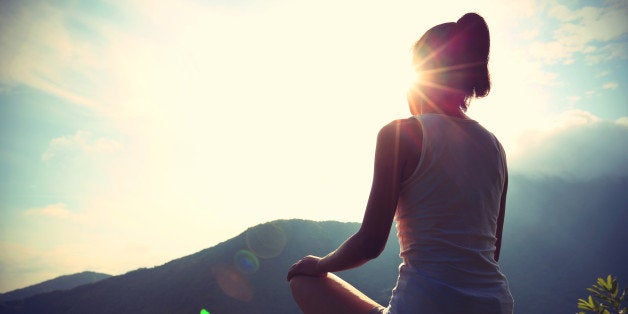 "Mommy, how was yoga?" My daughter and I are walking out of her nursery school when she asks me this question. It is a warm day for the fall and I am relieved to have her hand in mine after our morning apart.
"Oh, I didn't make it to yoga. I just went to the gym," I answer. She gives me a quizzical look, but the conversation is forgotten a few minutes later when she starts telling me about school.
Even after two months, I still find it strange that we spend our mornings apart, but I am starting to appreciate and treasure these two-and-a-half hours to myself. After I drop her off at school, I drive right to the gym to work out. The remaining hour of my time is spent running errands in town while carefully watching the clock to make sure I am not late to pick her up at noon.
Most days, my daughter asks me about yoga, even though I rarely go when she is at school. Yoga classes are longer than the other classes at the gym, which are generally 45 or 60 minutes. The yoga classes are at least 75 minutes. Every second of my morning while my daughter is in school is carefully planned out, and I find it difficult to allow myself that extra time to attend a yoga class. Even though I know it is not really that much extra time.
I am not sure when my daughter got it into her head that I attended yoga those three mornings a week, but she asks me about it regularly. She also tells me about her own yoga classes. Every Monday, her nursery school does yoga as part of their curriculum, and she often demonstrates the poses that she learns.
It is early afternoon and my daughter and I are in the playroom. She suddenly abandons her legos and she starts doing yoga.
"Mommy, do yoga with me?" she asks. I nod and come into a downward dog beside her. I think about the cues from the many years of yoga classes I have taken: heels down, hips back, shoulders away from my ears, fingers spread wide.
I notice that my breath has slowed down; I can feel it in my back, moving down to my sacrum. For a moment, I close my eyes, but my daughter is already onto a new activity: climbing on top of me. I drop down to my knees and give myself a minute before getting up to help her with the art project she has pulled out of the drawer. I feel more centered and my breath is slow and even.
Like most busy women, I spend most of my day trying to multi-task and not enough time breathing. As soon as I walk out of school drop-off, I start thinking about all of the tasks I want to get done. My goal is often to maximize every free moment that I have without my daughter on my hip because it is so hard to accomplish anything with her underfoot.
But lately, I have been thinking about what it gift it would be to allow myself that extra time to breathe on a yoga mat. So, I am making it a priority to include yoga as a regular part of my life, just like it is for my daughter.
I don't get to yoga class every day, or even every week, but I go when I can. This requires me to turn off the voice in my head that says, "you don't have enough time for a 75 minute yoga class." Because, I do have enough time. I am making enough time. I deserve that time.