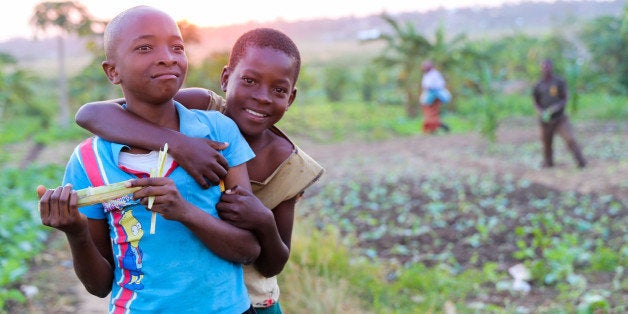 Toilets need to compete with mobile phones and televisions as desirable lifestyle products in order to achieve sanitation for all.
For one-third of the world's population, a clean, safe toilet -- something many of us take for granted -- remains out of reach. The Millennium Development Goal target of halving the proportion of people without sustainable access to basic sanitation wasn't even nearly reached. In fact, the target has been missed by almost 700 million people.
The proposed sustainable development goals (SDGs) include a standalone goal dedicated to water and sanitation -- Goal #6: "Ensure availability and sustainable management of water and sanitation for all," and targets to end open defecation and halve the proportion of untreated wastewater. So how do we ensure the success of this goal?
Firstly, it is crucial that we are clear that for this goal to succeed, we will need to see a clean, safe toilet and sanitation being USED by all by 2030.
As we work to improve access to sanitation across the globe, it is critical that we address sanitation behavior. It will not be enough to simply ensure access to sanitation -- people need to be using toilets in order to realize the health, dignity, economic, and gender benefits of achieving 100 percent sanitation coverage. Installing toilets in India, for instance, without addressing behavioral change, has resulted in thousands of free toilets becoming storage sheds or chicken coops, while the owners continue to defecate outside. A survey by RICE found that in India many still consider open defecation to be preferable and "part of a wholesome, healthy, virtuous life."
Driving behavioral change is key to ending open defecation. Rational messages used by educational campaigns in the past have not gotten through. Toilets need to compete for priority on an emotional level, rather than a rational level. We need to motivate people by appealing to their pride and dignity, and position toilet use as aspirational, associated with improved social status.
Generating desire for toilets among BoP ["bottom of pyramid," or world's largest but poorest socio-economic group] populations is crucial. The chief obstacle in promoting sanitation is not the ability of BoP populations to afford it, but that they do not prioritize sanitation over other investments, like cell phones and televisions. While only 40 percent of Indians have an improved sanitation facility, current statistics show that around 77 percent have a mobile-phone subscription.
Toilets need to be able to compete in terms of desirability with lifestyle items like a mobile phone for people to prioritize investing in improved sanitation.
In order to drive demand, the image of a toilet will need to be transitioned from dark, dirty, smelly to bright, clean and happy. And we need the reality to match this image. We need to design the toilet to be a wonderful place to visit, and provide populations with a product that is well-designed, well lit and ventilated, and easy to clean -- a much more comfortable, convenient and enjoyable option than open defecation. And simultaneously, we have to ensure the supply of good quality and affordable toilets.
The product needs to be so desirable that people will want to own and use a toilet. And we can appeal to people's sense of pride, and their competitive nature, encouraging them to decorate their toilets, painting them with bright colors, using stencil designs on the outside walls to show off to their neighbors. Owning and using a toilet needs to become a trend, and eventually the norm.
Tackling the sanitation taboo
As we work to see sanitation prioritized by the end-users, we also need to continue working to ensure that sanitation is a top priority for global leaders. Sanitation and water being included as a standalone goal signals that the issue is starting to become more of a global priority. Sanitation has slowly become more of a priority for world leaders in the 14 years since World Toilet Organization was founded on the 19 November 2001 (now celebrated annually as UN World Toilet Day). However, the current level of prioritization is still far from what is needed, especially given the scale and impact of the sanitation crisis. It's time for toilets to be treated as an urgent global priority.
We need to continue to address the taboo nature of sanitation, by calling a toilet a toilet and not being afraid to talk about shit. As former Secretary General of the United Nations Kofi Annan said, "No other issue suffers such disparity between its human importance and its political priority."
I have a vision of a world with clean, beautiful, safe and "happy" toilets being used by all. By addressing behavioral change, driving demand for improved sanitation and continuing to advocate for sanitation to be prioritized at the highest levels, I'm confident we can achieve this vision and reach one-third of the world with improved sanitation, positively impacting the lives of some 2.4 billion people.
This post is part of a series produced by The Huffington Post, "What's Working: Sustainable Development Goals," in conjunction with the United Nations' Sustainable Development Goals (SDGs). The proposed set of milestones will be the subject of discussion at the UN General Assembly meeting on Sept. 25-27, 2015 in New York. The goals, which will replace the UN's Millennium Development Goals (2000-2015), cover 17 key areas of development -- including poverty, hunger, health, education, and gender equality, among many others. As part of The Huffington Post's commitment to solutions-oriented journalism, this What's Working SDG blog series will focus on one goal every weekday in September. This post addresses Goal 6.
Related
Popular in the Community