It started out as an ordinary Wednesday. Over the hump day is how I remembered it from my working days. But it delivered a delightful surprise.
I'd been playing the cello for more than seven years and was ready for the next step, scary but exciting—maybe a community orchestra to make music with. I knew that a friend had joined one recently and I called to ask if an outsider could come to a rehearsal. Better than that, the very same orchestra was playing that same Wednesday afternoon in a performance of the pieces practiced during the fall quarter.
The South Bay Community Orchestra in Mountain View, CA is really a class offered to 55+ adults through that city's continuing education program. No audition required, just a small fee and you're free to bring your instrument and attend a weekly three-hour session. Of course you need to read music and feel confident enough in your playing to reveal your skills in public. I wasn't sure I was there yet so I went to the concert to see first-hand.
Not expecting much, I got there shortly before the conductor, eighty-two-year-old Vince Gomez, took his place on the podium. Amazingly, the oversized room at the Mt. View Senior Center was filled with bridge chairs almost entirely occupied with gray-haired listeners. I squeezed into the only single seat I could find. "Well, of course", I thought, "seniors have time on a cold Wednesday afternoon in December." But I set the listening bar low which may betray a tiny bit of ageism, I'm not proud to say. Still, I was impressed by the sight of the only double-bass (the largest instrument in the orchestra aside from the harp) played by a woman in her 60s or 70s.
Without a break that one might expect to find in a concert, the marathon performance lasted 75 minutes and presented works from the Baroque period, Vivaldi, opera selections from Bizet, Russian works by Tchaikovsky, and ended with two pieces from The Firebird Suite by Stravinsky. There were even a few winter holiday songs thrown in to complete the set.
Energetic and entertaining, the orchestra played well together under Mr. Gomez' baton—which he put down at one point, turned toward the audience and as spry as a man half his age, crooned in a polished baritone voice, the words to Tormé and Wells song about "Chestnuts roasting on an open fire…."
The audience responded with delight and I felt inspired. I came away wanting to join this group and spend my Wednesday afternoons practicing with other gray-haired musicians who choose to do this. No pay, no promising music career to work toward, no fame or glory—just the satisfaction of doing what you want, what gives you pleasure, in the here and now, with other like-minded folks who have no where else they'd rather be.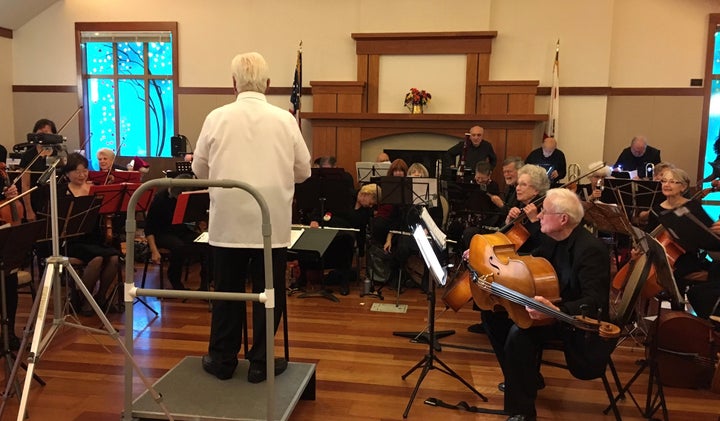 Popular in the Community