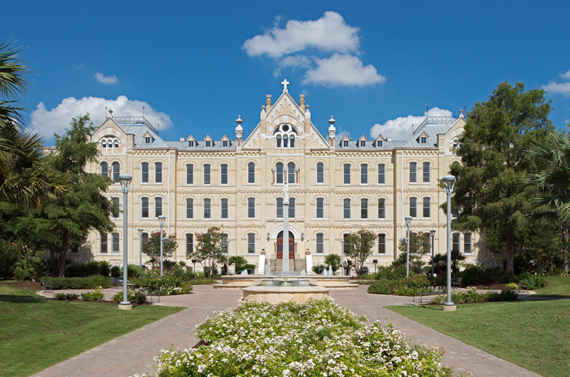 A few days ago I was reminded of Hoosiers, a favorite sports movie of mine. Hoosiers is the 1986 film about a high school basketball team from the small rural town of Hickory, competing with an urban giant for the Indiana state championship.
In a memorable scene, Gene Hackman, who plays the Hickory coach, calms the anxiety of his awestruck players, who have just stepped onto the court of an enormous basketball arena. Hackman measures the distance from the rim of the basket to the floor -- 10 feet -- and from the free-throw line to the basket -- 15 feet. The coach points out to his players that these measurements are identical to those at their tiny gym in Hickory. Hickory improbably goes on to slay the urban giant and become state champs.
A few days ago, the Brookings Institution, a renowned independent think tank, ranked St. Mary's University in San Antonio 17th among the nation's four-year universities for its contribution (or "value added") to the financial success of its mid-career graduates.
In so doing, Brookings placed St. Mary's in the same league as MIT, Stanford and Rice and slightly ahead of Harvard, Yale, Notre Dame, Texas A&M and UT Austin. How did this happen? Why did tiny St. Mary's and its graduates compete so well compared with the behemoths listed above?
Permit me to offer two reasons. First, St. Mary's University, like so many other great universities, requires all its undergraduates to take a core curriculum, which helps students develop the so-called "hard" skills of effective writing and speaking, critical thinking and problem solving. All our students -- whether they major in computer science, accounting, electrical engineering or history -- must successfully complete an array of common courses.
These core classes broaden their knowledge and transform students' understanding of their place in the world and their social responsibilities. These courses also happen to develop the crucial skills all employers are seeking in new professional employees. My point is a simple one: The recently much-maligned liberal arts curriculum, taken seriously, is a ticket not only to a first job after graduation, but to a leadership position in the most challenging professions.
Second, as a Catholic and Marianist university, St. Mary's fosters the formation of deep Christian faith in our students and educates ethical leaders for the common good. For more than 160 years, our Marianist brothers and lay faculty and staff have gently mentored young men and women to leave St. Mary's with generous spirits and humble hearts, and to view their professional careers as vocational journeys, not simply jobs.
These qualities too -- the enduring values of integrity, respect for others, humility and a collaborative orientation -- are uniformly prized by employers, patients, clients and customers. Little wonder then that our graduates overachieve in the workplace and are financially successful. A graduate moves forward and outward after St. Mary's, not with the narrow goal of personal gratification, but aspiration to a life purposefully lived.
There are many other universities and colleges besides St. Mary's in Texas and throughout our great country who ready students for professional careers by preparing them to make meaningful contributions in the workplace and community. The lessons of Hoosiers and of St. Mary's University are that once you step onto the court, it's the same game for everyone. Our workplaces value a selfless dedication to the team and a commitment to fundamentals, which at St. Mary's University began more than 160 years ago and continues today.
St. Mary's University, founded in 1852, is the first institution of higher learning in San Antonio and the oldest Catholic university in the Southwest. It offers 75 programs, including doctoral and law programs, and has a diverse student population of about 3,800 of all faiths and backgrounds. Its vision, as a Catholic and Marianist liberal arts institution, is to become one of the finest private universities in the region, a gateway for graduates to professional lives as ethical leaders in Texas, the nation and the world.