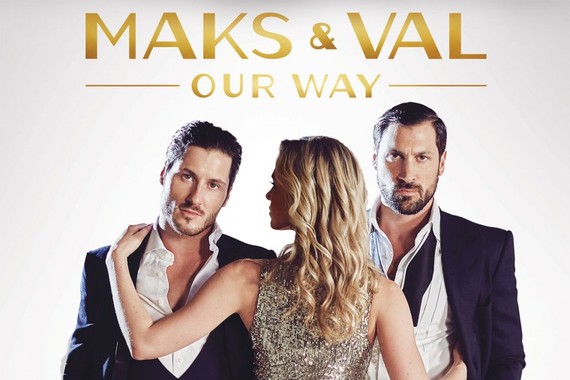 Move over, Donny and Marie! There's a new sibling duo in town and they are dazzling audiences in their own way. Maks and Val Chmerkovskiy are dancing and storytelling through 46 cities all over the country this summer in Maks & Val: Our Way.
The show is a beautiful tribute to growing up as a Chmerkovskiy. It is a story of family, ambition and overcoming struggle to reach the American dream. Through dance, audience participation and minimal dialogue, Maks and Val take the audience on a journey from the beginning of their lives in Ukraine, moving to Brooklyn as immigrants and starting their professional careers as dancers. One of the most memorable moments of the show was when the cast recreated prom night for Maks, who in real life, had to miss his prom in favor of an international ballroom competition. It's no surprise that this is an audience favorite, because it was an opportunity for one lucky lady to join the cast on stage and be Maks' date for the prom.
Maks & Val: Our Way gives the audience a real, inside look into the lives of the Chmerkovskiy brothers, and not what is gathered from the media. There is not a single mention or tribute to Dancing With the Stars, which was a smart decision to make because the lack of that detail helps maintain focus on their own personal story. The bad boy generalizations about them have been stripped away and the audience is left with a story that's raw, real and emotional. It's not often that a "sibling act" can provide so much depth, thoughtfulness and production value on top of pure talent. It's not just a fun show for the fans, it's a captivating story told by the people who lived through it. The constant theme for the show is a motto that they live by, and that's "family over everything." The audience sees the real relationship between the famous brothers, and how their lives' journeys were based on trust, love and dependence on each other while achieving the American dream. Spoiler alert: they're doing just fine.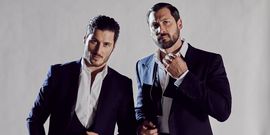 It's undeniable that the Chmerkovskiy brothers know how to entertain and keep the audience's attention. Maks and Val, who won 'Dancing With the Stars' seasons 18 and 20 respectively, showed the audience what a good time looked like. The dancing told a unique story that words simply couldn't. The show doesn't feature only the brothers. There is an ensemble of incredibly talented dancers to support the production. Amy Bennett, Emily Crouch, Tracy Shibata, Taylor Banks, Magda Fialek, Janaya French, Vlad Kvartin, Kiki Nyemchek, Teddy Coffey and Ivan Paulovich fit seamlessly with the story of Maks and Val, while showcasing incredible talents of their own.
There is still plenty of time to catch Maks & Val: Our Way. The tour will conclude on August 14 in San Jose, California. The show is unlike anything ever performed before. Audiences are constantly describing the show as inspiring and there is nothing closer to the truth. In a time of great sadness and tragedy in the world, Maks and Val Chmerkovskiy provide 90 minutes of pure joy, inspiration and entertainment for audiences of all ages. If you didn't already love them prior to the show, you certainly will upon exiting the theater.
After purchasing tickets at maksandvaltour.com, check out Maks' interview with JT Simon about the Maks & Val: Our Way tour on AOL Build here.
Support HuffPost
The Stakes Have Never Been Higher
Popular in the Community