Sandy and Eli don't like to go clubbing -- they prefer to go on road trips in Puerto Rico with their friends, eat fried food, swim in rivers, and buy arts and crafts from local artists. They want to adopt someday but the government won't let them. They would also like to get married but that option is not yet available to them, since Sandy is a pre-op transsexual. Sandy also wants a vagina, but as a sex worker, she's afraid her clientele will lose interest in her post-op body -- and she needs the income to support her household and save up to open her first business, a bakery with Eli. To continue her male-to-female transition and become a business owner, she wants and needs to leave sex work behind. However, finding a job is proving difficult because there is no anti-discrimination law in place to protect her from potential employers refusing to hire her. So Sandy and her friends start the Butterflies Trans Foundation to fight for a new anti-discrimination law to protect all Puerto Ricans from being discriminated on the basis of their gender identity and sexual orientation. Sandy takes a small, but meaningful step forward towards the crystallization of her and Eli's dreams.
At 22, when Dan Sickles and I set out to investigate the transgender community of Puerto Rico, this was not at all the story we were told. When we started asking questions about what it meant to be "transsexual" and "transgender" in Puerto Rico, we discovered that the myth, or widely held idea of the "transsexual" and "transgender" individual, was much foggier and fragmented. If anything, it was an amalgamation of sensationalist news stories, rumors, health statistics, judgements, and speculations forming from a vacuum of information and lack of formal gender education. I'd experienced this before: driving home from church on Sundays when I was growing up in Puerto Rico, there'd be a lack of words to explain the shadowy figures I'd see peeking out of alleys and waiting on the street corners of the town of Santurce. Why were they there? No one knew.
We set out to tell a new kind of story with Mala Mala -- focusing on the humanity of Puerto Rico's trans and drag communities, breaking them free from any pre-prescribed binaries. For three years, we explored the trans myth, taking apart the words "transsexual," "transvestite," and "transgender" to understand how they were shaped and and collaborating with the community of Puerto Rico to build a new type of myth that could represented them authentically and with respect. Until Mala Mala premiered last week at the Tribeca Film Festival, the full story of the community had not been fully told and this Getty portrait of Sandy and Eli did not exist. Now, whenever someone wants to write about the "translatin" topic or wants to know what its like to be trans and in love in Puerto Rico they can go on Getty Images, pay a low fee and and use the image of Sandy and Eli embracing each other in a studio in New York. The same studio that shoots stock imagery of "women" (1.5 million stock images of "women" are available on Getty) and men (1.4 million images) can now add 1 more picture to its batch of "transsexual" stock images (135 available). The purpose of our libraries, beyond just the mediums of books and pictures, is to hold all the symbols of the world so that we can make sense of it. What happens to the symbols that have been left out, or that have yet to be created? How can certain stories be told without the words and images to tell it? Mythologist Joseph Campbell describes the importance of our symbols and myths: "It has always been the prime function of mythology & rite to supply the symbols that carry the human spirit forward, in counteraction to those constant human fantasies that tend to tie it back."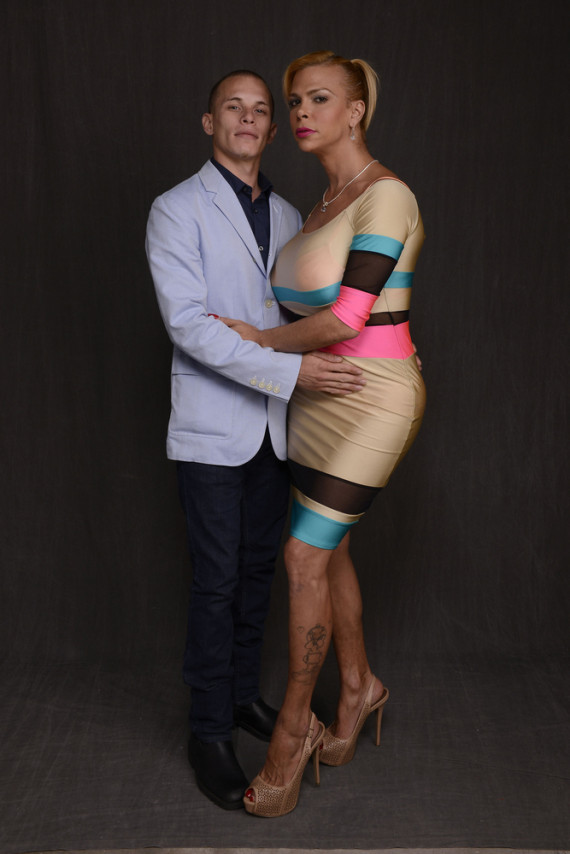 If we could see a map of global media import and export patterns, there would be a lot of arrows pointing from the U.S. to the Caribbean, accounting for all the shows, movies, magazines, commercials imported to Puerto Rico and very few arrows pointing from the island towards the States. While historically Puerto Ricans have been both represented in limited tropes and largely excluded from the perpetually ongoing conversation of American Media, Puerto Ricans have also been absent in the production of their own portrayals. Now, amongst Getty's 243,471 stock images of "love", in the pool of pictures of hands holding hearts, hands forming hearts, hands with heart tattoos holding heart balloons, and a baby monkey kissing another baby monkey, you may find Sandy and Eli as another symbol of the possibility of love, one watermarked jpeg amongst a million other jpegs.
REAL LIFE. REAL NEWS. REAL VOICES.
Help us tell more of the stories that matter from voices that too often remain unheard.