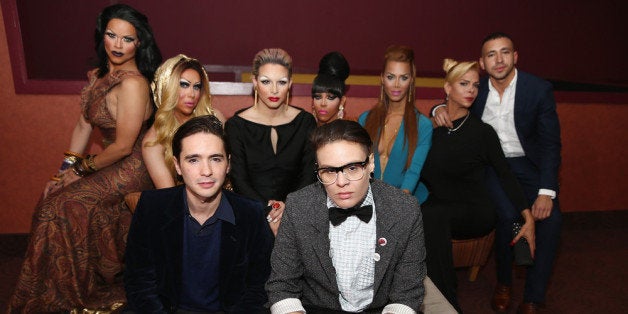 The 2014 TriBeCa Film Festival has just concluded, and after an immense, fantastical, and tumultuous two weeks of Mala Mala's premiere. I'm still in shock.
... Maggie McMuffins, the inspiration for Mala Mala, was here. The whole cast and crew of the film descended upon the city from Puerto Rico and the chaos the night they arrived.
... grabbing Oreo's at the nearest bodega in an attempt to provide Ivana some comfort during her stay, and when Paxx arrived at my apartment from the airport -- it felt like reuniting with a sibling.
... April Carrion's dress on the red carpet the night of the premiere, the film credits printed in white on her long black gown, a symbol of the support she'd given us all these years. I remember the electricity generated from having everyone in the same room at the same time.
... the numbness I felt as I sat in the screening. Nearly three years had been leading to this moment, and as the lights dimmed, so many dreams I'd had as a boy became an instantaneous reality.
... blurs of people from my past and from my present, conversations with strangers, and so, so much talking.

... my aunt making leaps and bounds as my surrogate maternal hero in the absence of my parents and the gift basket she brought... how it was bigger than my body.
... waking up alone in a hotel room the day after the premiere -- looking like a zombie in a shredded red-velvet tuxedo the impulsive cab ride back to Brooklyn, spending money I didn't have.
... when Antonio called me about the flood in the drag queen's apartment, immediately following our first press junket. Simultaneously panic-inducing and hilarious, it was reminiscent of our days spent in production. I remember discovering I could love our partnership more than I already had.
... the West Way Drag Ball: Sandy and Ivana hosting a packed crowd celebrating their courage and conviction, Zahara Montierre stopping her performance for America Ferrera who happened to be in the audience, and Shayne Oliver spinning tracks until the early morning. This was the most vibrant cultural exchange I've ever been a part of in New York City. It was nuclear, it was compact, and dare I say, legendary. Queen Bee Ho's performance of "Drunk in Love" nearly made lower Manhattan implode on itself -- if you're one of the few hundred people that were there to witness it, you know exactly what I'm talking about.
... having brunch with university professors and talking about the film. The experience Mala Mala seeks to provide as the living, breathing content that it is. It will always be an honor to be included in the conversation.
I remember the exhaustion, and I remember the pride.
And I remember that this is only the beginning of Mala Mala.
REAL LIFE. REAL NEWS. REAL VOICES.
Help us tell more of the stories that matter from voices that too often remain unheard.