A group of celebrities and global activists are flexing for the camera to remind the world "poverty is sexist."
The ONE campaign's #Strengthie movement, launched on May 13, is encouraging supporters to post a photo of themselves to social media outlets mimicking women's rights icon, Rosie the Riveter. The movement is part of the group's larger "Poverty Is Sexist" campaign.
Since the #Strengthie movement launched, there's been more than 17,000 posts on Facebook and Twitter in support of its message, the campaign told The Huffington Post.
As the initiative's website points out, women are impoverished around the world at disproportionate rates due to a variety of reasons -- girls who are forced into marriage, for example, cannot attend school, and many farmers are prevented from owning the land they maintain because of their gender.
The campaign -- which commenced this week with the launch of a music video, "Strong Girl," recorded by nine African artists -- calls on supporters to sign a petition asking world leaders to fight economic inequality by prioritizing girls' and women's rights.
As of Friday afternoon, it had garnered support from more than 148,000 people.
U.N. Women, a United Nations entity established in 2010 to advocate for global gender equality, believes that achieving gender equality would have "enormous socio-economic ramifications."
According to the group, women are too-often denied an education and adequate health care, suffer from violence and discrimination, and are left without a voice in their communities' political systems -- all factors that can affect their economic potential.

"Empowering women fuels thriving economies, spurring productivity and growth," U.N. Women's website reads. "Yet gender inequalities remain deeply entrenched in every society."
The ONE campaign was also behind a letter released on International Women's Day this past March that called on global leaders to advocate for women's rights. The letter was signed by Beyoncé, Lady Gaga and HuffPost founder and Editor-in-Chief Arianna Huffington, among others.
To learn more about the ONE campaign, click here.
To take action on pressing poverty issues, check out the Global Citizen's widget below.
Related
Before You Go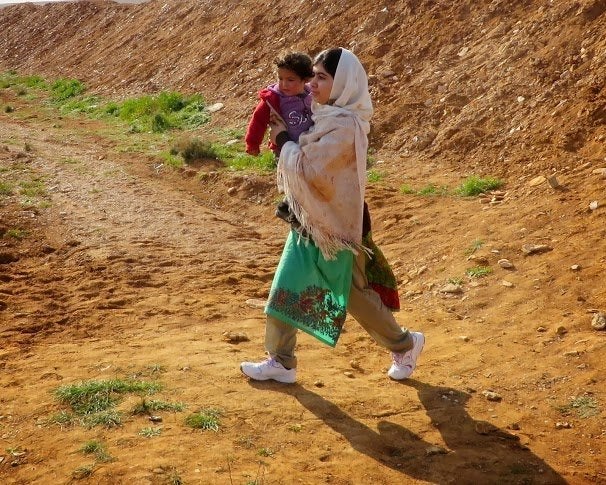 Malala Helps Syrian Refugees Cross Border